Managers should watch out for these signals in their employees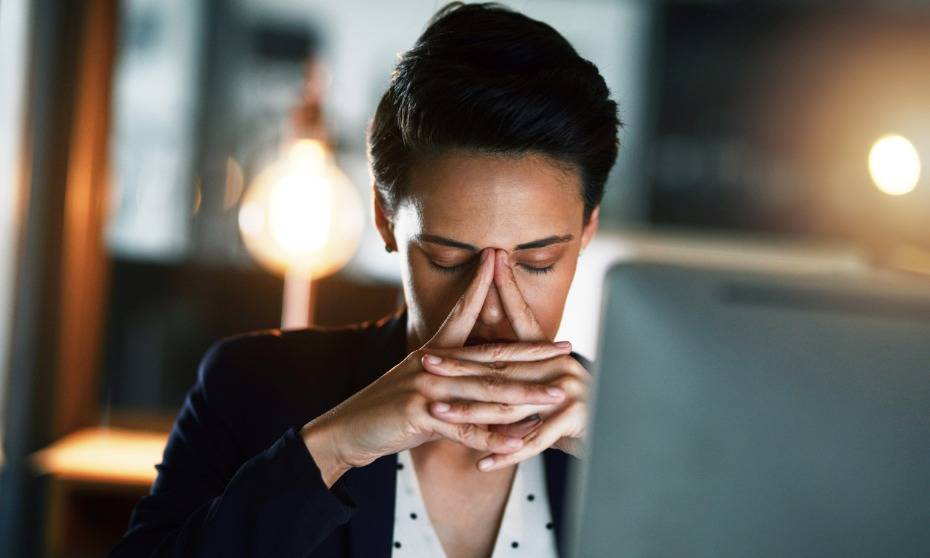 Signs of burnout may surface unnoticeably as just part of another workday: when an exhausted employee is teetering between feeling overwhelmed and feeling drained.
But that occasional misstep you notice in a worker dealing with fatigue or stress can form into a pattern of behaviour.
When it's no longer just one bad day out of the week – but one bad day after another – it's time for managers to step in.
Signs of employee burnout
Ben Fanning, author and expert on burnout in the workplace, has identified tell-tales signs of when an employee is about to hit a wall:
#1: After their shift, they are too exhausted to do anything meaningful and enjoyable with peers or family. They would rather retreat into their safe zone than socialise.
#2: When asked about how they're doing at work, they simply respond with "Fine" and struggle with explaining exactly what they've been up to.
#3: They cannot wait for the work week to wrap up, and feel relieved when the weekend rolls in.
#4: When the weekend is over, they stress about going back to work on Monday. They often experience the Sunday Scaries.
READ MORE: Do your staff suffer with the 'Sunday Scaries'?
#5: Sleep is also a struggle since most stressed employees have inconsistent sleep patterns. Fanning observed, some workers trick themselves into waking up bright and early by setting the alarm earlier than usual, but they purposely hit the snooze button to 'steal' a few extra minutes of sleep. This fragmented sleep cycle, however, leaves them feeling even more exhausted.
#6: They feel tense and are unable to relax in the workplace. Some noticeable signs include the employee clenching their jaw or their fists, or crossing their arms, when interacting with colleagues.
#7: Because of the effects of stress and anxiety on their physical health, some keep a personal stash of medicine on their desk, particularly antacid and painkillers. Hyperacidity, migraine or tension headaches, and stiff muscles are common symptoms of burnout.
#8: Venting is a typical coping mechanism among stressed employees. When they find themselves in the company of people they trust, whether their partner or close friends, they will often complain and share too much information in the process.
#9: They have trouble identifying the last time they accomplished something big for their team. Every workday is all about getting the job done fast that they rarely have the time, focus or energy to celebrate professional milestones.
Why employees burn out
"You can be sitting in burnout and still be hitting targets, knocking over KPIs and even winning awards on a regular basis," said Alison Hill, psychologist and co-founder of Pragmatic Thinking.
When the employee loses sight of their purpose, they become susceptible to burnout.
"It can be that the purpose has either changed or gotten lost amongst the tasks that just need to get done," Hill told HRD. "Now more than ever we are seeing individuals racing from one busy moment to the next before collapsing into bed, then getting up and doing it again tomorrow."
How managers can help employees deal with burnout
Allow workers to take a break – even on the busiest days
Hill recommends managers set an example of how to de-stress: they should enable their team to pause from work and break away from the routine together.

"Stop and have a cuppa together, have walk-and-talk meetings outside, change the location of your team meetings, picnic in the park, celebrate the small victories along the way, and inject humour and laughter into the day as much as possible," she said.

"Find ways to feel refocused, even on the busiest of days and in the middle of the hardest projects."
READ MORE: Three steps to address burnout in the workplace
Connect individual goals with the corporate vision
"Your team knowing the 'why' behind their work and having a clear intent behind their actions can help keep them focused and energised – rather than exhausted and burnt out," Hill said.
Her advice: managers should skip preaching about big concepts such as 'innovation' and 'productivity' and instead ask about personal values, such as trust and support, which mean more to employees.

Reach out to your team
No industry is immune to burnout, said Lucienne Gleeson, Senior Associate – Employment Law at Baker McKenzie. "What one employee finds thrilling and mentally challenging, another employee will be highly stressed and anxious about," she said.
Managers need to communicate employee support programs clearly and reach out to workers proactively at the first sign of stress and anxiety.
"Make sure your company's employment assistance program is well publicised and out and used," Gleeson said. "Check in with employees who appear stressed or exhausted and suggest taking annual leave."
"If burnout is raised and not properly handled – particularly if you have an employee complain about an issue such as their longer working hours or their manager's behaviour – and you fire them for such complaints, this could result in an adverse action claim," she said.