The luxury car dealership was sentenced earlier today following safety failures which saw one young worker seriously injured.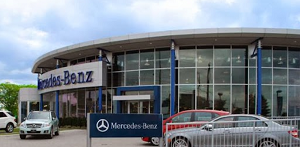 An Ontario luxury car dealership was sentenced earlier today after pleading guilty to safety failures which saw one young electrical worker seriously injured.
M-B Oakville Autohaus was fined $65,000 after an employee of an electrical company fell almost 22 feet while attempting to determine the source of an electrical short problem in the dealership's rooftop heating unit.
The employee, along with an electrical apprentice, was attempting to run wires through a conduit located at ceiling height – both workers were using a scissor lift supplied by the defendant.
The electrical apprentice attempted to leave the area to unravel new wires but when he hit the button to open the door, the breaker switch for the door had been left on and therefore had power. The door opened on its overhead rails and knocked over the lift with the young worker on it.
Neither the dealership nor the workers themselves had locked and tagged out the electrical installation while work was being performed in the area, nor had the dealership alerted the workers to the hazard created when the door was opened.
An operations manager for the dealership later told a Ministry of Labour inspector that when their workers used the skyjack, they would disable the door if working nearby and the company's maintenance worker would always lock and tag out the door when using the scissor lift so no one could open the door.
While the electrical services company had previously done work on the site, the court ruled that the dealership failed to acquaint the two workers of the hazard, contrary to Section 25(2) (d) of the Occupational Health and Safety Act.
Andrea Electrical Services Ltd. pleaded guilty and was fined $25,000 on June 22, 2015 for failing to ensure equipment that could endanger a worker had been locked out.
In addition to the fines, the court imposed a 25-per-cent victim fine surcharge as required by the Provincial Offences Act. The surcharge is credited to a special provincial government fund to assist victims of crime.
More like this:
What HR can learn from Woody Allen
$82K fine for negligent employer
How staff evaluations may promote workplace lies