Executives confirmed the new contract would cost the company an eye-watering $600M in the fourth quarter alone.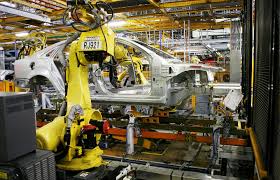 Earlier this year, the US operations of a major car manufacturer made a renewed deal with the United Auto Workers union – now, executives say the revised contracts will cost the company a staggering $600M (CA$801M) in the fourth quarter alone.
Ford said the figure is so significant as a result of the signing bonuses it just granted employees. The amount also includes the cost of backdating wage increases to September 15 in addition to improved benefits for workers, particularly those at entry-level who are now eligible for the same health care as senior staff members.
The four-year contract may appear extravagant, but it increases labour costs by less than 1.5 per cent a year, CEO Mark Fields said on a conference call with analysts.
Labour costs now sit at around $60 an hour (CA$80) including benefits, which means the company has closed the gap with Fiat Chrysler and achieved parity with rival General Motors.
However the agreement – which was accepted by just 51.3 per cent of Ford workers – does give the company some increased freedom in terms of hiring.
The new contract now allows Ford to hire an unlimited number of entry-level workers, who may be entitles to the same benefits but also start at a lower wage than veterans. This new approach eschews the previous limit of 20 per cent of its workforce as new hires.
In addition, Ford said it will be able to use more temporary workers, who also are paid less.
More like this:
Is this the worst time to fire an employee?
How to get your employees to report misconduct
Adidas shares 5-year HR plan