Jump to winners | Jump to methodology
Building diverse and inclusive workplaces
Human Resources Director Canada acknowledges the 5-Star Diversity, Equity and Inclusion Employers of 2023 that have successfully fostered healthy, diverse and inclusive working environments.
The most diverse and inclusive companies nationwide actively engage employees in their DE&I efforts and hold themselves accountable for continuously improving.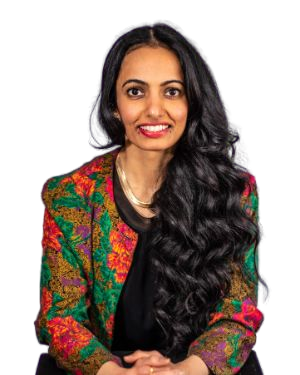 "This isn't about a political agenda; it's about doing the right thing, treating people like human beings and being respectful"
Neetu Sidhu
Moneris
By embedding DE&I successfully, the 5-Star employers are reaping measurable rewards, according to industry expert Kelly E. Mawhinney, partner and Toronto careers leader at Mercer Canada.
Those rewards include:
increased employee engagement and trust


a greater sense of belonging that empowers employees to thrive


a stronger corporate brand


access to larger talent pools

"These employers become more resilient and adaptive," Mawhinney says. "Because of the DE&I initiatives they've undertaken, they become better at attracting and retaining resources, and foster innovation to build their business and expand their customer base."

Factors driving the 5-Star winners' favourable results

Moneris
Employee satisfaction with the DE&I strategy: 92 percent
Fintech company Moneris embarked on a listening tour in late 2021 to gather employee opinion and input on its first DE&I strategy. That initiative engaged 75 percent of its workforce and proved far-reaching for the company, whose blueprint for equity and inclusion became a top corporate priority.
"We wanted to engage the over 2,000 employees and ask what their experience of equity is, what's working well and what isn't, and people opened up with the ongoing listening activities," explains diversity, equity and inclusion director Neetu Sidhu. "A key part of our strategy is to do this deeply and sincerely by listening and building the strategy with the people."
That genuine dedication to ensuring employees are engaged and heard was instrumental in the development of Moneris's DE&I strategy, which exceeded its goal by 104 percent in 2022.
That strategy includes:
growing awareness of equity and inclusion


redesigning systems to advance equity and inclusion


prioritizing Indigenous reconciliation


engaging all stakeholders

Moneris drives meaningful change by fostering a psychologically safe workplace where employees can be authentic and say what's on their minds without fear of reprisal. The company takes a data-driven approach to diversity and inclusion that focuses on how employees who identify as marginalized feel about different parts of their role in the workplace.
"After two years, we see that these people are feeling a greater sense of belonging," Sidhu says. "They're more engaged and feel that their leader has their back."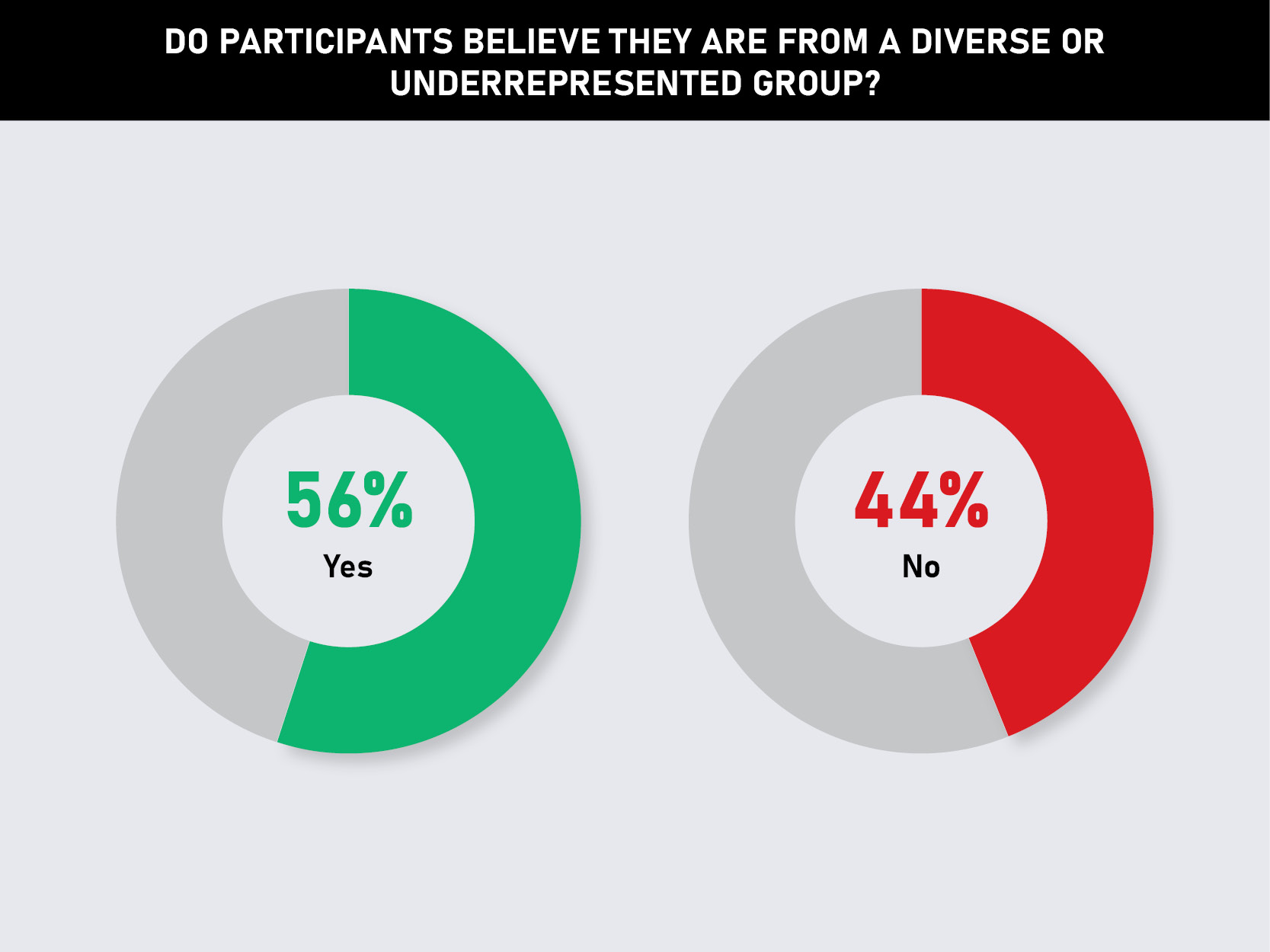 Inclusive culture fosters belonging for best DE&I employers
One of the challenges Sidhu has had to overcome in her role as DE&I champion is to guide leaders and employees through the inherently uncomfortable nature of the conversations.
"That's the barrier I think many companies face; you have to be willing to talk about the hard things and be able to take action in ways that maybe you never did before," she adds.
HRDC's survey results suggest that Moneris fosters a positive culture where employees feel empowered to report inappropriate behaviour based on diversity. The company's commitment to building a safe and inclusive workforce also ranked highly across various metrics, instilling confidence in employees to recommend Moneris to a friend or colleague from an underrepresented group.
Survey respondents also indicated:
"Leadership support is evident, sincere and committed."


"The DE&I team is engaged and always looking to bring training and awareness to the forefront so we can take action."


"We are doing all we can to foster an inclusive culture where every team member feels a sense of belonging."


"We have a roadmap, and we are executing well against it."


"Moneris has made DE&I an integral part of our culture."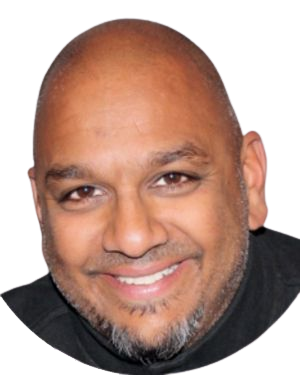 "We work hard on our approach, and the beautiful thing is it doesn't feel like work"
Leeno Karumanchery
MESH/diversity
The best diversity and inclusion employers lead by example

MESH/diversity
Employee satisfaction with the DE&I strategy: 99.5 percent
Building equitable and inclusive workplaces where everyone thrives is the business MESH/diversity is in. The 5-Star DE&I employer hones its science-based insights and metrics internally, improving how it advises other organizations while weaving its own outstanding DE&I practices within its company.
"What DE&I is at our organization, first and foremost, beyond anything else, is this is good for us all," says Leeno Karumanchery, co-founder and head of behavioural sciences. "It helps us to be better teammates and leaders, and it helps us to be at our best for ourselves and each other."
MESH/diversity achieves the near-perfect employee satisfaction across all metrics by:
building a healthy culture that leads to systemic, scalable and sustainable DE&I practices


prioritizing safety, belonging and inclusion


conducting quarterly assessments of how employees are experiencing the culture

The prominent sociologist, who has worked in the DE&I space for three decades, notes that the company's approach bucks the traditional model. MESH/diversity's expertise in what it calls the "diversity intelligence approach" has propelled it to the forefront of workplace culture transformation.
"Our MESH platform provides us with an organizational view, team culture view and individual metrics, and that allows us to take the politics out of everything," he states. "We can focus and keep our eye on the ball, so we know where we want to be as an organization from a cultural perspective."
According to survey participants:
"We use our science-based data and platform to measure and track metrics for individuals and their training journeys. Leadership openly presents the data, results and plans to address areas that may not be tracking the high scores and results that we hold ourselves and our organization to."


"I believe my company sets the standard for how DE&I should be fostered within organizations, and we live up to that standard every day."


"As a minoritized person, I can say with certainty that we authentically and intently walk the talk."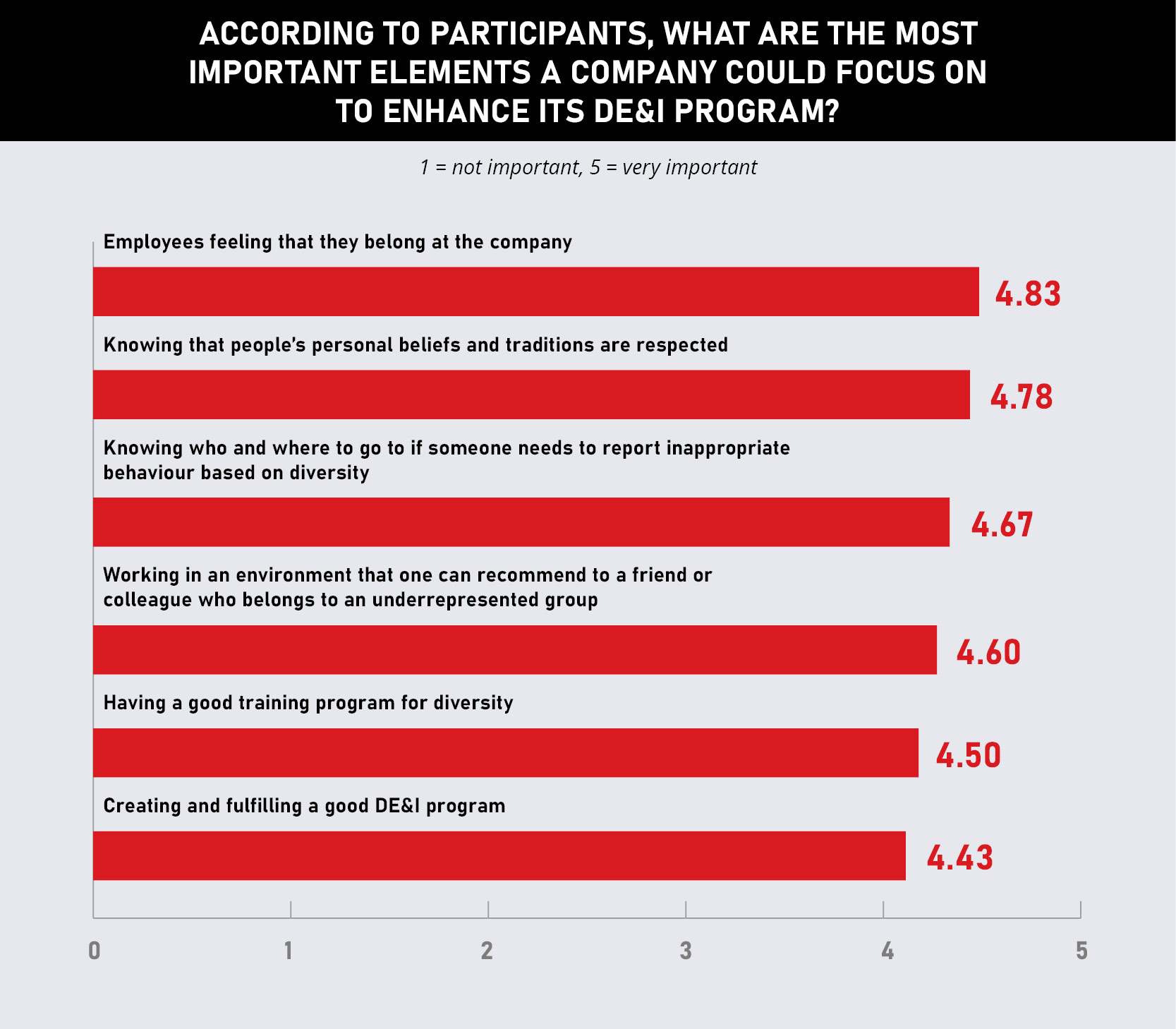 This year's cohort of the most diverse and inclusive companies has demonstrated an unparalleled commitment to training, education and promoting a safe, equitable and inclusive environment where employees can thrive.
Mercer's Mawhinney offers professional advice on how organizations can continue developing industry-leading DE&I policies:
conducting a thorough needs analysis, including what is hoped to be achieved


creating a plan for training


tapping into career-focused leadership


practising targeted recruitment that covers DE&I considerations


creating diversity manager roles and employee working groups


conducting reviews, and adjusting initiatives and programs

"Working groups can bring employees together safely to share ideas and converse openly," she says. "They help identify up-and-coming leaders, and they can address company-wide challenges, so there's opportunity to deal with any kind of discord or issue."
1–99 employees
JT Insurance Services (Canada)
MESH/diversity
The Mutual Fire Insurance Company of British Columbia
100–499 employees
Coast Mental Health
Rakuten Kobo
500–2,499 employees
BC Lottery Corporation
Fidelity Canada
Hootsuite
Linde Canada
Moneris
3,000–10,000+ employees
To be considered, each organization had to gather a minimum number of employee responses based on overall size. Organizations that achieved an 80 percent or greater average satisfaction rating from employees were named 5-Star Diversity, Equity and Inclusion Employers for 2023.
The 5-Star DE&I Employers 2023 special report is proudly supported by the International Personnel Management Association (IPMA) Canada.
IPMA Canada believes it is essential that HR be involved in the strategy, development and core operations of an organization. The Association offers an inclusive and cost-effective solution to the certification and continuing development of HR strategies and solutions by increasing the competence of individual and organizational members so they can keep abreast of changes in HR, society and workplaces. IPMA Canada offers the following programs and services to support the development of its members: