Indulging in a workplace romance is acceptable to both men and women, but when it comes to which colleague they're prepared to slip home with there is a difference in the ranks.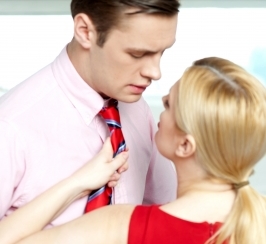 Neither sex is shy when it comes to finding love in the workplace a new survey reveals, but it also shows men and women have eyes on very different prizes.
It turns out not just any colleague will do, with 73% of women questioned saying they'd rather date a man in a senior role. Furthermore, 61% admitted a powerful man outranked any others in attractiveness.
However for men they have their eye on the junior member of the team, and 80% admitted that they "loved it" when female colleagues came to work in "sexy" outfits.
The Daily Mail reported that the survey by Flirt.com, which surveyed 2,000 men and women, found 80% are happy to look for love in the office, saying it's easier as it cuts out the getting-to-know-you stage.
And despite openly admitting to seeing nothing wrong with an office romance, the majority would keep any affair on the down low until they have established it if is serious or just for fun.
As for those thinking of kick-starting an office romance, don't look to make your first move at the office Christmas do.
Of those polled, 62% said this was a no go, not only because of the copious amount of liquor on hand to be consumed, but because nosey colleagues can watch your every move.