When a car dealership splurged on street dancers for its latest TV ad little did they know they already had a star among their ranks.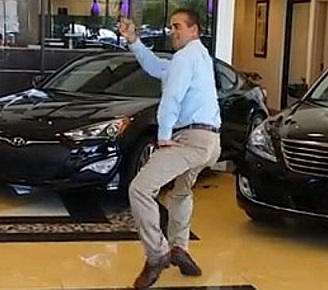 An American car dealership who hired street dancers to jazz up its TV commercial shouldn't have bothered – they already had a talented groover in their midst.
After watching the hired help bust their moves Sales Manager Joseph Barzelay said to a one of the dancers "Let me show you what I used to do in the day."
"At that point, I pulled out my phone, because I was expecting something bad," colleague Charles Matthews told AL.com. "We had no idea he was going to break out and do what he did that day."
Barzelay shocked his colleagues by pulling off his own version of the moonwalk with a bit of Egyptian walking and twerking thrown into the mix.
Matthews was so impressed he posted the video of Barzelay dancing to YouTube to share with all the employees. The video has now gone viral and gained the dancing employee nationwide media attention.
And it's likely Barzelay dance moves will be gracing American TV screens soon with the dealership planning on including the 20 second clip in its commercial.
Check out Barzelay's moves below: