If you're still playing 'Words with Friends', prepare yourself for an app that's going to get you a lot hotter under the collar.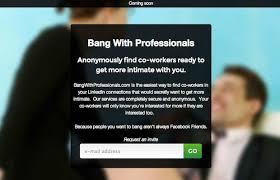 Long gone are the days when office liaisons would start by reaching for the same coffee mug in the tea room. Heck, even swapping suggestive emails or a 'sext' seem like out-dated courtship rituals.
Enter 'Bang with Professionals' – a new app that is quickly gaining notoriety. Some 30,000 people have already signed up.
With a tag line reading "Because the people you want to bang aren't always on Facebook", this new sex app leaves no ambiguity surrounding its purpose.
Users of the app are only notified when there is mutual interest, eliminating red faces and awkward moments in the lift. According to the creators, the service is "completely secure and anonymous" and HR doesn't have to know about it…