It's the second round of cuts this year for the California company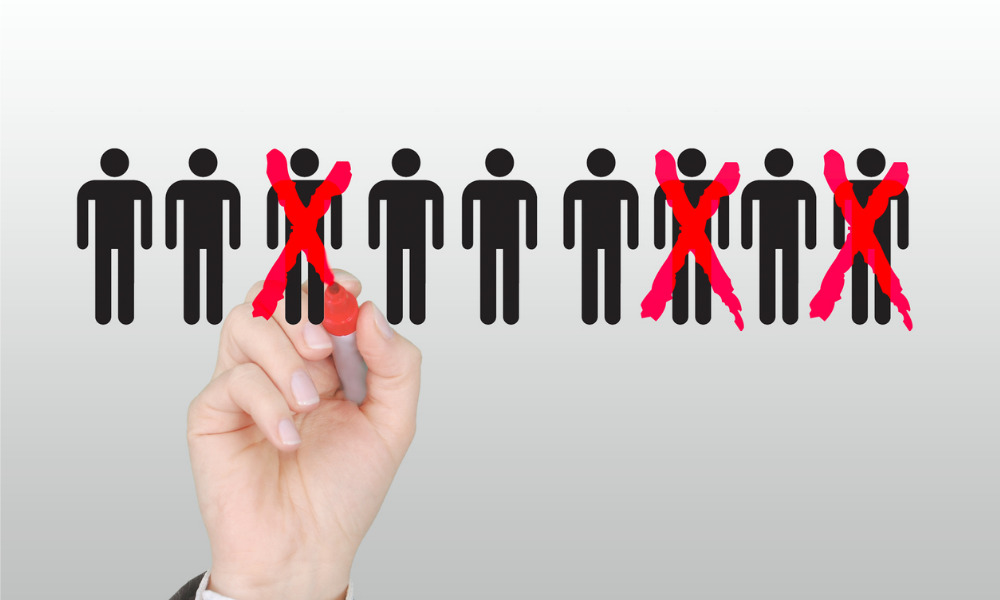 The hits just keep on coming for Robinhood.
On Tuesday, the Menlo Park, CA-based company announced plans to lay off 23% of its workforce. In April, the online trading platform reduced its headcount by 9% after company shares hit a new low, CNN Business reported.
In a blog post on the company's website, CEO Vlad Tenev said the layoffs will affect employees across all functions of the company, with operations, marketing and program management positions being hit the hardest. The company planned to notify all employees via email and Slack with their status. Laid off employees are being offered the opportunity to remain employed with Robinhood through Oct. 1 and receive their regular pay and benefits, including equity vesting.
Read more: How HR leaders should manage layoffs ahead of recession
They'll also be offered cash severance, payment of COBRA medical, dental and vision insurance premiums and job search assistance, including an opt in Robinhood Alumni Talent Directory. Plus, they'll be able to schedule time with the HR team to discuss their "specific situation." Tenev added that the company is offering wellness support to everyone to cope with the events.
In its second-quarter earnings report, also released Tuesday, Robinhood showed a 44% drop in revenue from a year ago. Meanwhile, monthly active users in June decreased by 34%, or more than 7 million.
Tenev blamed the layoffs on the "additional deterioration of the macro environment," with inflation at 40-year highs and the crash of the cryptocurrency market.
"Last year, we staffed many of our operations functions under the assumption that the heightened retail engagement we had been seeing with the stock and crypto markets in the COVID era would persist into 2022," Tenev wrote. "In this new environment, we are operating with more staffing than appropriate. As CEO, I approved and took responsibility for our ambitious staffing trajectory – this is on me."
Of course, Robinhood isn't alone. Many major employers in the United States have been trimming their workforce ahead of an anticipated recession.
Last week, Vox Media laid off 39 employees in the sales, marketing, recruiting and editorial departments, CNBC reported. Additionally, the mass media company with offices in New York City and Washington D.C. will be slowing down hiring and reducing non-essential expenses. That came after CNBC reported that 7-Eleven has eliminated about 880 corporate jobs in the United States. The Dallas-headquartered company's Irving, TX and Enon, OH, support centers were impacted, as well as field support roles. The workforce reduction comes roughly one year after the convenience store chain completed its $21 billion acquisition of rival Speedway.
Meanwhile, Bloomberg News reported that Apple plans to slow hiring and spending growth next year. Google told employees that it'll be "slowing down the pace of hiring for the rest of the year," according to an internal memo by CEO Sundar Pichai obtained by The Verge. Pichai said the Mountain View, CA-based company isn't freezing hiring entirely; it'll still hire for "engineering, technical and other critical roles." But the pullback will mean "pausing development and re-deploying resources to higher priority areas," according to the memo.
The memo came on the heels of Meta, formerly known as Facebook, giving engineering managers a deadline to identify anyone on their team who "needs support" and report them in an internal HR system, The Information reported. "If a direct report is coasting or is a low performer, they are not who we need; they are failing this company," wrote Maher Saba, the company's head of engineering. "As a manager, you cannot allow someone to be net neutral or negative for Meta."
Last month, Meta CEO Mark Zuckerberg told staffers during a companywide call that not everyone was meeting the Menlo Park, CA-based company's standards and that some might want to leave voluntarily, Reuters reported. Zuckerberg added the company planned on reducing plans to hire engineers by at least 30% this year.
"If I had to bet, I'd say that this might be one of the worst downturns that we've seen in recent history," Zuckerberg said. "Realistically, there are probably a bunch of people at the company who shouldn't be here."
Over the past couple months, JPMorgan Chase & Co., the biggest bank in the United States, and Coinbase, the biggest crypto currency exchange in the country, have both laid off hundreds of employees. Streaming giant Netflix followed suit, announcing its second round of cuts within two months. Tesla went one step further by closing its San Mateo, CA-based facility, laying off hundreds in the process. With the housing, crypto and tech markets all facing upheaval, more companies are expected to trim their workforce in the months to come.
Three out of four (78%) American workers are fearful they will lose their jobs, according to a survey from Insight Global, a national staffing services company. Meanwhile, 56% of American workers say they don't feel financially prepared for a recession or they don't know how they would prepare for a recession. More than half (54%) would be willing to take a pay cut, even with inflation at a 40-year high, to avoid being laid off if there were a recession.
"It's unfortunate we're already seeing some companies turn to mass layoffs because I believe layoffs should be the absolute last resort," said Bert Bean, CEO of Insight Global. "Instead, I encourage leaders to consider other solutions, such as building a plan that avoids layoffs and helps you grow through a recession. Get your employee base executing on that, because when you bounce back from a recession, you'll need your people more than ever."
Of course, HR leaders who experienced the global recession of 2008-2009 are better positioned to weather this potential storm. They've learned what works and business leaders will be turning to them to take the helm. As for HR professionals who are about to enter uncharted territory, this will be trial by fire.
"You never know how long these scenarios will last," Jaemi Taylor, managing director in the HR practice of Allegis Partners, told HRD. Before joining the New York City-based executive search firm, Taylor spent nearly 20 years recruiting HR leaders, having worked for Robert Half, Beacon Hill and ChapmanCG.
"I've worked with HR leaders during COVID who asked the CEO or the board for more time, whether that's a quarter or a month, before making drastic cuts," Taylor says. "You want to review critical hiring, determine critical business initiatives and most importantly, avoid knee-jerk reactions."
Related stories