Our Engagedly review explores how the platform stacks up as employee engagement software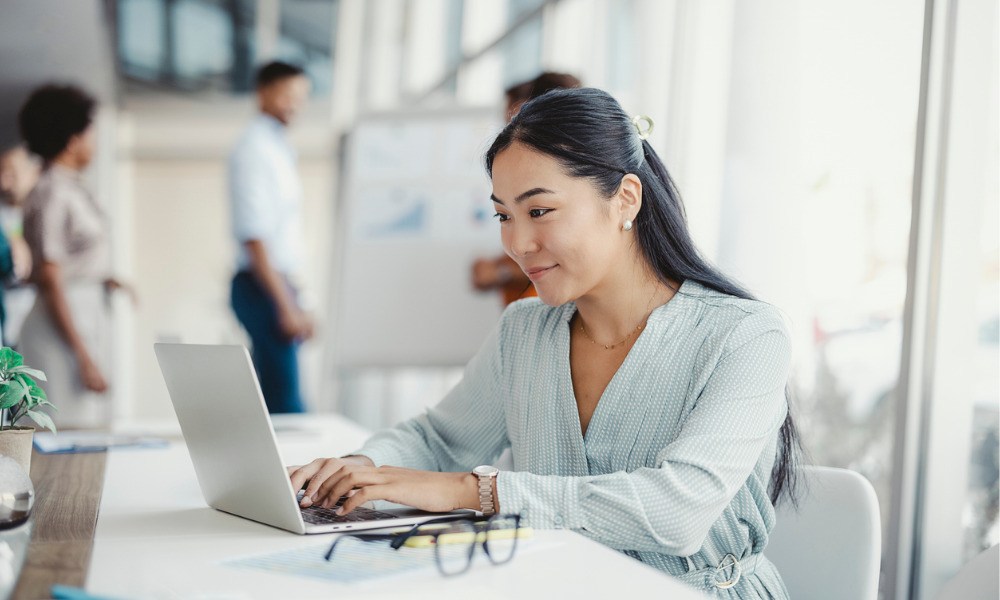 Engagedly is a cloud-based workforce management solution that offers integrated applications to manage on-boarding, employee learning, performance review, and goal management. Engagedly provides a number of features that make it a valuable tool for businesses, including 360-degree feedback, continuous performance reviews, and employee engagement tools.
In this Engagedly software review, we will take a closer look at how it stacks up as employee engagement software. We will discuss its features, pricing, potential drawbacks, and overall use features.
Engagedly is a performance management, development, and engagement platform that helps organizations drive successful business outcomes. Built upon best practices and decades of research, Engagedly's E3 unified platform combines the power of business strategy execution, talent enablement, and employee engagement into one easy-to-use software solution.
Engagedly helps drive engagement by:
Measuring and enhancing employee engagement: Engagedly's employee surveys, goal-setting module, badges tool, and social platform allow HR professionals to accurately measure and improve employee engagement.
Encouraging and rewarding innovative ideas: Engagedly's ideas feature, gamification tools, and goal-setting module helps managers ensure that great ideas are recognized and rewarded.
Improving communication with employees: Engagedly's social platform, bulletin board feature, and org goals tool can help upper management stay connected with their employees.
Fostering cultural alignment: Engagedly's badges tool, real-time feedback, employee surveys, and social platform help HR managers reinforce culture-centric behaviors across their organization.
In this section, we will delve into the employee engagement features of Engagedly, namely:
Remote work collaboration
Employee surveys
Recognition & rewards
Gamification
Team Pulse
Let's get into each of them below.
1: Remote work collaboration
Engagedly simplifies communication among employees by providing real-time communication, peer praise, knowledge sharing, and status updates.
With Engagedly, employees can easily stay connected with their team members, regardless of their location. They can also share knowledge and ideas and get feedback on their work. This helps to improve productivity and collaboration, and ultimately, the company's bottom line.
Key features:
Performance management
Social platform
Bulletin board
Org goals
Knowledge sharing
Status updates
2: Employee surveys
Engagedly's e10 employee engagement survey is a science-based tool that helps HR teams and organizations measure employee engagement. The survey was developed in collaboration with HR domain expert Edie Goldberg Ph.D., Industrial / Organizational Psychology.
The e10 survey is anonymous, which allows employees to provide honest feedback in a safe and confidential environment. The results of the survey can be used to identify areas where employee engagement is low and to develop initiatives to improve it.
Key features:
Demographic level reporting
Engagement index
Favourability score
Gaps
Analytics and heatmaps
Action plans
3: Recognition & rewards
Engagedly makes it easy to recognize employees for their hard work and accomplishments, both publicly and privately. Users can send praise, give kudos, and award points for meeting goals, going above and beyond, helping out a colleague, and more.
Engagedly also makes it easy to reward employees for their contributions. Users can redeem points for a variety of rewards, such as gift cards, prizes, or time off.
Key features:
Ideas tool
Goal-setting module
Gamification tools
4: Gamification
Engagedly's gamification feature uses points, badges, and leaderboards to add a layer of fun and friendly competition at work.
Employees can earn points for completing activities that are aligned with company values. They can also earn badges for achieving certain milestones, such as completing a certain number of training courses or making a specific number of sales.
Employees can also see how they rank against their colleagues in terms of points and badges.
Key features:
Gamification-based points and scoring
Custom badges
Leaderboards
Public praise
Gift card catalog
5: Team Pulse
Team Pulse is a continuous listening tool by Engagedly that helps organizations measure employee engagement in real time. It does this by sending out recurring surveys to employees on a set frequency. These surveys can be customized to ask about a range of topics, such as employee satisfaction, morale, and productivity.
Team Pulse also allows employees to provide anonymous feedback, which can be helpful for identifying areas where the organization can improve.
Key features:
Nudge-type questions
Real-time engagement data
Check-ins
Marrisa AI
Reports
Check out this video walkthrough of how your team can set up Engagedly:
Looking to incorporate Engagedly into your current HR tech stack? Engagedly integrates smoothly with various HR software, enabling a seamless user experience for customers who want to use the platform alongside other tech.
Here are some popular software that integrate with Engagedly:
Headquarters address: 7420 Manchester Ave, Maplewood, USA, MO 63143
Year established: 2015
Number of employees: 100+
Global locations: Offices in the US, UK, and Southeast Asia
Key people: Srikant Chellappa (President and Co-Founder), Jayashankar Balaraman (Co-Founder), Pankaj Singh (CTO)
Engagedly is a leading provider of SaaS (Software as a Service) solutions for People Strategy. Engagedly's mission is to help organizations create a more engaged workforce. The company believes that engaged employees are more productive, more creative, and more likely to stay with their organizations.
Engagedly review: FAQs
How much does Engagedly cost?
Engagedly does not publicly list their plans or prices. The value of their plans can vary depending on the number and type of features needed by your company.
Here is a screenshot from Engagedly's website that shows the plans that they offer: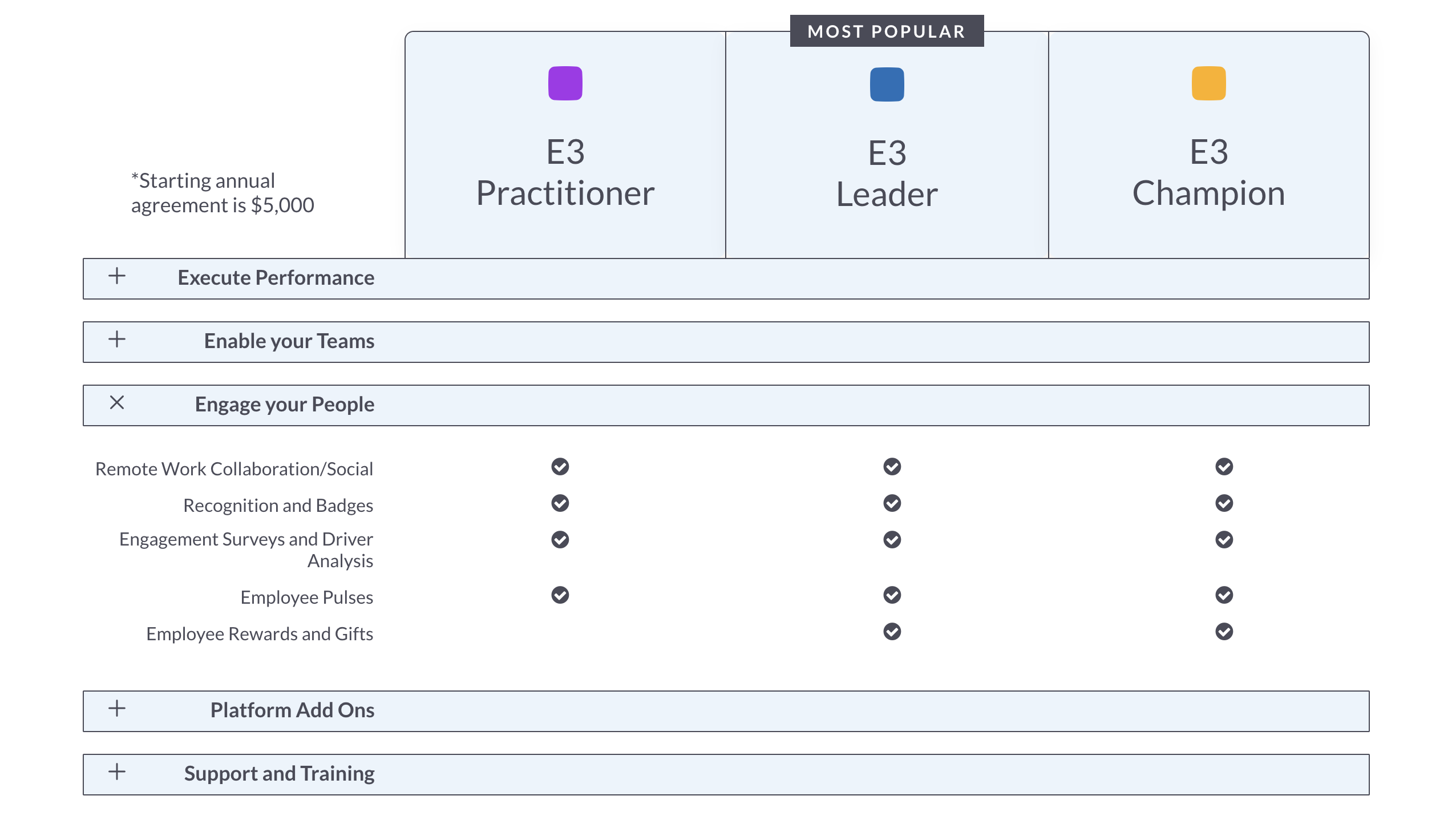 This approach allows Engagedly to tailor their pricing to the specific needs of each customer, which can lead to a more cost-effective solution for everyone involved.
Does Engagedly have a free trial?
As of the moment, Engagedly does not offer a free trial for their products. Interested customers can, however, request for a free demo through their website.
What companies use Engagedly?
Engagedly's customers include businesses of all sizes and from various industries.
Here's a screenshot from Engagedly's website that highlights some of their clients:

Does Engagedly have an app?
Yes! Engagedly offers an app that's compatible with both Apple and Android devices.
Some of the features on Engagedly's mobile app include:
Pending activities
Feedback (both incoming and outgoing)
Goal tracking
Achievements
Employee profiles
Organization directory
What are the potential drawbacks of Engagedly?
Here are some potential drawbacks of Engagedly that we've gathered from online users:
Slow page response time: Some customers have reported that the Engagedly platform can sometimes be slow to load.
Lack of customization: Some customers have requested more customization options for Engagedly, such as the ability to change the font and color of the homepage.
Can be complicated to navigate: Some users have found the platform to be a bit complicated to navigate, especially if they have had multiple promotions throughout the year and are trying to respond to the right manager for their performance review.
Overall, Engagedly seems to be a well-liked platform with a lot of potential. However, there are a few areas where it could be improved, such as page response time and customization options.
What are the competitors of Engagedly?
Not sure if Engagedly is the ideal fit for your business needs? Consider the following employee engagement software options instead:
Engagedly is a good fit for companies that are looking to improve employee engagement, productivity, and performance. The platform is easy to use and user-friendly, and it has been shown to be effective in improving employee engagement, performance, and reducing turnover.
Engagedly can help increase employee engagement by providing a platform for employees to connect with each other, give and receive feedback, and celebrate their successes. Engagedly can also help reduce turnover by providing a positive and supportive work environment where employees feel valued and appreciated.
If you are looking for a cloud-based workforce management solution that can help you boost employee engagement in your company, then Engagedly is a great option.
Not sure if Engagedly is the right HR software for your team? Check out our HR software reviews section to explore other options.
Do you have experience using Engagedly? Share your own Engagedly review in the comments section below.