Are you looking for a reliable payroll and HCM solution? Look no further than ADP. Read our review to know more about ADP's products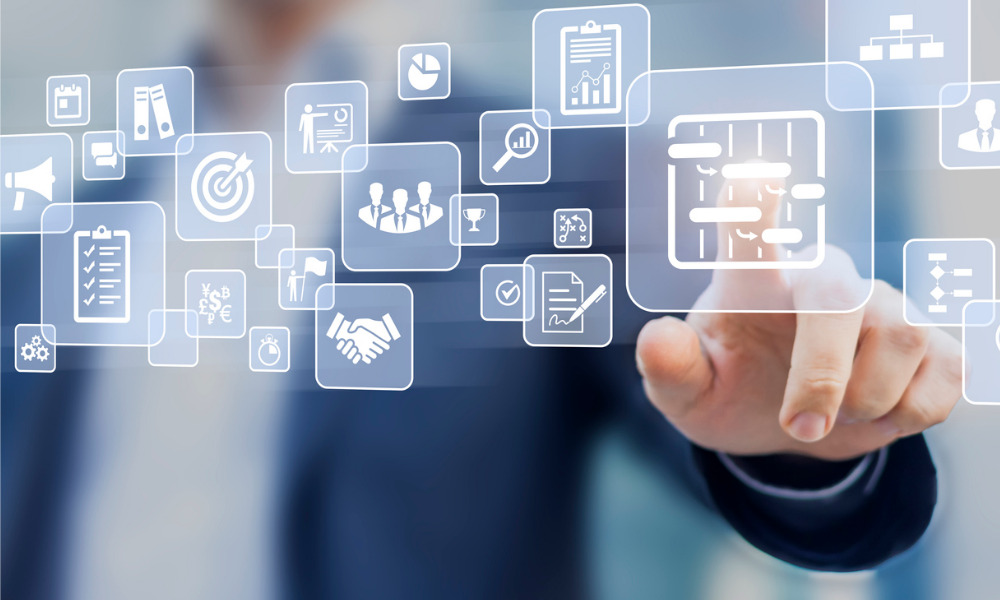 ADP been providing human capital management (HCM) solutions to businesses for many decades. ADP's software solutions are designed to address the constantly changing needs of today's workforce, offering integrated technology platforms to support all aspects of human capital management.
This ADP review will provide a brief overview of ADP's top products, their features and benefits, pricing, and implementation. For the purpose of this review, HRD will take a look into ADP Payroll, RUN Powered by ADP, ADP Vantage HCM, and ADP Next Gen HCM.
ADP offers solutions and expertise to support the goals of organizations of all sizes, from small businesses to global enterprises. Their services cover a range of areas, including:
HR services: Providing best practices, advice, and consulting for human resources.
Benefits: Offering employee benefits, flexible administration, and business insurance.
Talent: Supporting organizations with recruitment, performance management, and retirement planning.
HR outsourcing and PEO: Allowing businesses to focus on what matters most by outsourcing payroll and HR tasks.
Time management: Providing tools to track hours worked, manage time-off requests, and integrate with payroll.
Payroll: Offering fast and easy payroll and tax services to save organizations time and money.
ADP's payroll platform offers a flexible and highly customizable payroll solution that seamlessly integrates with HR.
What are the advantages of ADP's Full Service Payroll?
Intuitive design: ADP has designed its payroll platform based on feedback from clients, making them intuitive and easy to use.
Compliance and support: ADP has a dedicated team of compliance and support specialists to stay on top with local, state, federal, and global payroll and tax regulations, tax reform, and more.
Support: Businesses have access to a certified team of experts, whether they need assistance in getting their payroll up and running or simply have questions that need answering.
Key capabilities of ADP Payroll
In this section, we will explore the capabilities of ADP Payroll.
Pay Options
ADP offers a range of flexible pay delivery options that cater to the evolving needs of today's workforce, including:
Direct deposit
Check delivery
Print your own checks
Wisely™ Pay Paycard
The platform is capable of handling various pay scenarios, from salaried to bonus to hourly to contingent, ensuring your workforce is paid accurately. ADP also offers automation to streamline the payroll process, such as automating employees' deductions for retirement, insurance, and other common payroll tasks.
Tax and Compliance
When it comes to tax and compliance, ADP has your company covered. This includes automatically calculating your tax liability, withholding and paying taxes to the appropriate authorities, managing reporting liabilities, and issuing tax documents.
With operations in more than 140 countries, ADP is equipped to handle taxes and compliance challenges in different jurisdictions.
Reports
With ADP Payroll, your HR department can:
Access a variety of standardized reports that can be easily downloaded with just a few clicks.
Get reporting services that cover compliance requirements, ensuring that you are on top of regulations such as FLSA, ACA, EEOC, and more.
Track payroll by job, making cost accounting much easier.
Self Service
The ADP mobile app enables management and employees to perform various tasks such as clocking in and out, viewing pay statements and editing personal information, requesting time off, approving timesheets, and more.
Check out this video feature:
Software Integration
ADP provides flexible HCM solutions that can be integrated with various systems. If your company has programs that are not integrated with their current suite, ADP offers tools and APIs to connect with them as well. Additionally, businesses can explore more options with ADP Marketplace.
Outsourcing
ADP offers full-service payroll outsourcing options, such as ADP Comprehensive Services, and professional employer organization (PEO) services. With a PEO, businesses can rely on ADP to stay on top of compliance and regulatory issues, while also providing Fortune 500®-caliber benefits to their employees.
What other payroll solutions does ADP offer?
ADP also offers global payroll solutions to help companies manage their global workforce:
ADP Global Payroll: Ideal for 1,000+ global employees
ADP Celergo: Ideal for 50-1,000 global employees per country
ADP GlobalView Payroll: Ideal for large multinationals
For small business owners, managing their operations can be quite challenging. However, ADP offers a solution in the form of RUN Powered by ADP.
Let us get into each of RUN's features.
Faster, easier payroll
RUN provides a personalized payroll experience that allows companies to pay their employees in a matter of minutes. It offers the following features:
Personalized dashboard for quick access to essential information and easy navigation.
Flexible pay options, such as direct deposit and the option to enroll in Wisely® Direct, an ADP-exclusive debit card.
Access to 24/7 support from certified payroll experts for added peace of mind.
Tax and compliance built-in
RUN anticipates the needs of businesses and helps solve problems before they arise. It includes the following features:
Automatic calculation and filing of payroll taxes, including benefits and retirement deductions, with customized settings based on the location of the business and its employees.
AI-powered error detection that learns about your company's payroll process, proofs data, and flags potential errors before they occur, avoiding costly mistakes.
Expert HR support and hiring
ADP offers tools and expertise to help businesses create an exceptional employee experience. The platform includes the following features:
Flexible pay options, employee assistance services, and consumer discount programs that help provide meaningful rewards to employees.
Quick and easy creation of employee handbooks to clarify expectations and policies.
A centralized database that allows easy access to employee records, including personal information, pay history, and performance reviews.
Seamless add-ons and integrations
RUN offers seamless add-ons and integrations that allow businesses to manage multiple tasks from one integrated platform. These features include:
Business insurance and health benefits, including workers' compensation.
Retirement solutions that provide competitive retirement plans.
Time and scheduling tools that simplify compliance and control labor costs.
Here is an overview of the software packages that RUN offers.
Plans Overview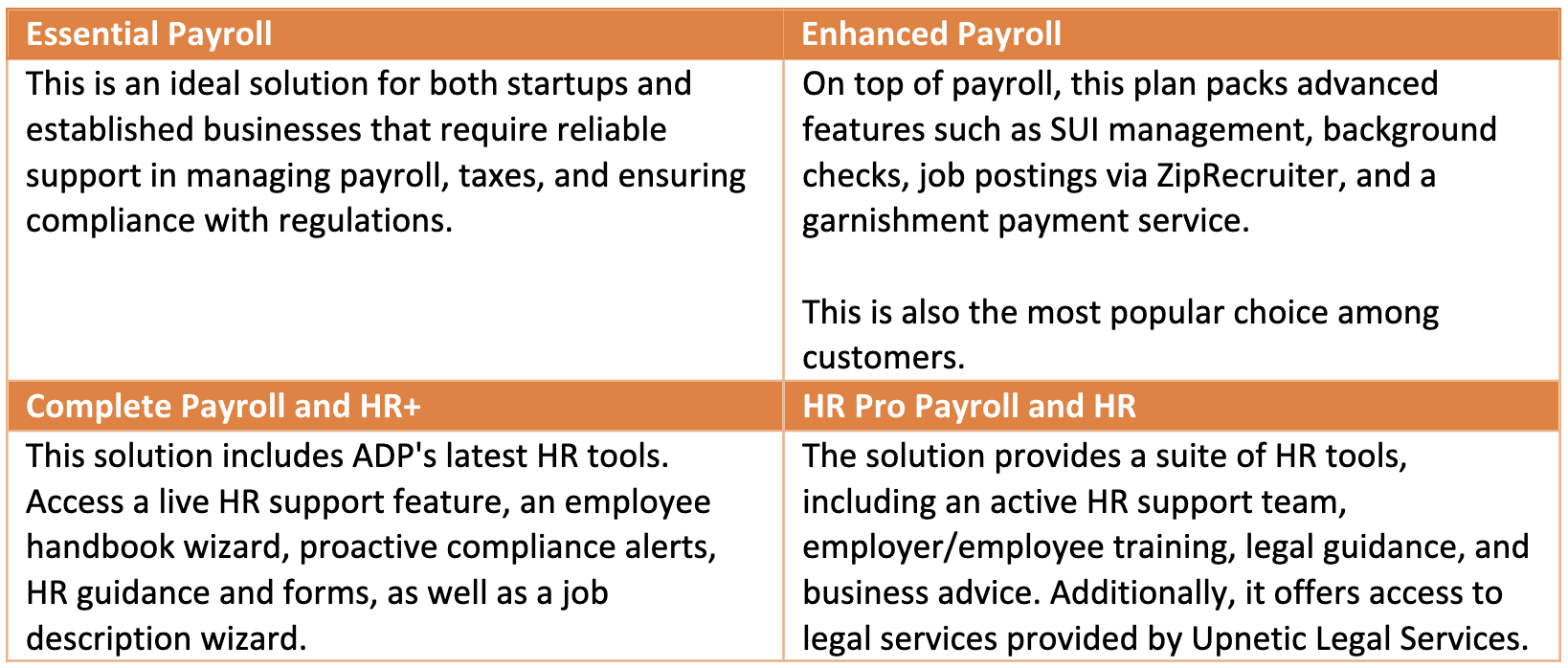 ADP Vantage HCM is an all-in-one, open-architecture HCM solution designed specifically for large multinational businesses based in the United States. Vantage HCM offers a reliable and robust system that comes equipped with automated processes to help companies effectively manage talent, payroll, time, and benefits.
With ADP Vantage HCM, companies can:
Leverage technology and insights to attract top talent and connect talent strategy to business priorities, including performance, compensation, and succession planning.
Streamline benefits administration, provide benefits education and enrollment, and ensure Affordable Care Act (ACA) compliance and annual reporting.
Let us get into the features of ADP Vantage HCM.
Talent
Vantage HCM offers a range of features related to employee recruiting, talent management, and employee performance.
With the help of technology and insights, employers can attract and retain top talent, provide an exceptional talent search experience, highlight their company culture, and identify future leaders through succession planning.
Benefits and ACA
Vantage HCM streamlines the benefits administration process, including benefits education and enrollment, ACA compliance, and annual reporting. Additionally, Vantage HCM provides tools to help employers clarify benefits and simplify the open enrollment process for employees.
Time and Attendance
Vantage HCM aims to improve productivity, manage costs, and ensure compliance with regulations. By leveraging workforce management analytics, businesses can improve operational efficiency and remain on budget and schedule.
Payroll
Vantage HCM provides faster and more accessible payroll, helping businesses better manage compliance and gain critical insights into their payroll processes.
Service
Vantage HCM provides businesses with expertise, accountability, and transparency throughout their entire HCM life cycle with specialists, offering personalized support.
Vantage HCM also utilizes The Hackett Group's research and expertise to provide best practices in human capital management.
ADP Next Gen HCM is a flexible platform that caters to the way people work in today's world. The platform is built with scalability in mind to ensure long-term success for your company.
Designed to support the way teams work, enabling them to overcome silos, enhance engagement and performance, and foster a culture of connection within the organization.
Built to quickly adapt, scale, and integrate new features to support your company's evolving needs.
Key capabilities of ADP Next Gen HCM
Core HR: Next Gen HCM has been developed from the ground up with a global and flexible approach to support HR teams and their workforce.
Global Payroll: Next Gen HCM simplifies and ensures accurate sourcing, administration, and delivery of payroll services in various currencies for employees worldwide.
Connected Talent: Empower managers to motivate and inspire their teams. This tool can help HR departments streamline recruitment and boost team morale.
Workforce Management: Manage workers' time, monitor time off, and gain insight into scheduling dynamics and cost of labor.
Benefits and Wellness: This benefits administration tool reduces the workload on HR teams while improving employee engagement.
Analytics and Benchmarking: Next Gen HCM provides global insights from a vast database of over 740,000,000 ADP clients, with 2,400 normalized job types, and more than 30 million unique employee HR records. These insights can be used to drive strategic business decisions and stay ahead of the competition.
Check out this video:
If you are looking to use ADP's software solutions, they offer four different plans to choose from: Essential, Enhanced, Complete, and HR Pro. However, the cost for each plan is not publicly disclosed.
Customer can get a price quote by filling out a quick form on ADP's website or by chatting with one of their sales reps who can help you figure out which plan suits your company's needs.
ADP offers hands-on implementation support, with personalized, one-on-one training by an ADP expert or ADP account manager, rather than a third-party vendor.
Headquarters address: 1 ADP Blvd, Roseland, NJ 07068, United States of America
Year established: 1949
Number of employees: 60,000+[MY1]
Global locations: 140 countries and markets
Businesses served: 1 million clients worldwide
Number of users: 2+ billion annual logins to the ADP Mobile Solutions App
Key people: Maria Black (President and CEO), Jimmy Adams (Interim Chief Technology Officer), John Ayala (Chief Operating Officer), Gus Blanchard (Chief Marketing Officer), Paul Boland (Interim Chief Human Resources Officer), Michael Bonarti (Chief Administrative Officer), Laura Brown (President, Major Account Services and ADP Canada), Chris D'Ambrosio (Chief Strategy Officer), Joe DeSilva (President, Global Sales), Sreeni Kutam (President, Global Product & Innovation)
ADP is transforming human resources from a back-office administrative function to a strategic business advantage. With over 70 years of experience, ADP has been at the forefront of defining the future of business solutions and has been recognized as one of FORTUNE Magazine's "World's Most Admired Companies®" for 16 consecutive years.
Through its deep insights, unmatched experience, and cutting-edge technology, ADP is paving the way when it comes to tech companies shaping the world of work.
ADP provides solutions tailored to specific industries such as restaurant or hospitality, manufacturing, professional and technical services, construction, financial services, retail, health care, government or education, non-profit or social services. The challenges faced by companies in these industries can vary widely, and ADP takes industry input and uses benchmarking to help its clients stay ahead of the competition.
Here are some of their success studies:
Here is a video case study featuring Amazon.
If you are considering alternatives to ADP, it is essential to explore your options and find the best fit for your business needs. We have rounded up a list of ADP's top competitors that are worth considering:
For small businesses looking for a straightforward payroll processing solution, ADP is a reliable option, although it may be a bit overpowered as it is designed for large multinational companies. Its established reputation as a market leader in the industry lends it credibility that newer companies lack.
If you are looking for a payroll service that can be tailored to your specific business needs and comes with personalized customer support, ADP RUN may be the right fit for you. Additionally, if you are a small business that anticipates future growth, ADP RUN can seamlessly transition your company to ADP's enterprise platforms when you reach over 50 employees.
If you are a part of a larger company, ADP Vantage HCM may be a good fit for your business. This solution comes with an array of integrated tools to help manage tasks such as recruiting, talent management, time management, payroll, and employee onboarding, all in one place.
ADP Next Gen HCM is a robust solution that integrates advanced cloud-based technology, data analytics, and offers a platform that can evolve as your business expands. Furthermore, this solution ensures global compliance, making it ideal for businesses with a presence in different countries.
If you are not entirely sure if this HCM platform is the right fit for your company, we have a helpful article that explains what to consider when purchasing HCM. It is possible that your company might require a different software altogether, in which case, make sure to look through our HR software reviews to discover other options.
Does your organization use ADP? Are you thinking of investing in ADP for your company? Let us know your thoughts in the comments below.