Namely provides a platform where HR leaders at mid-size firms can simplify payroll, benefits administration, and talent management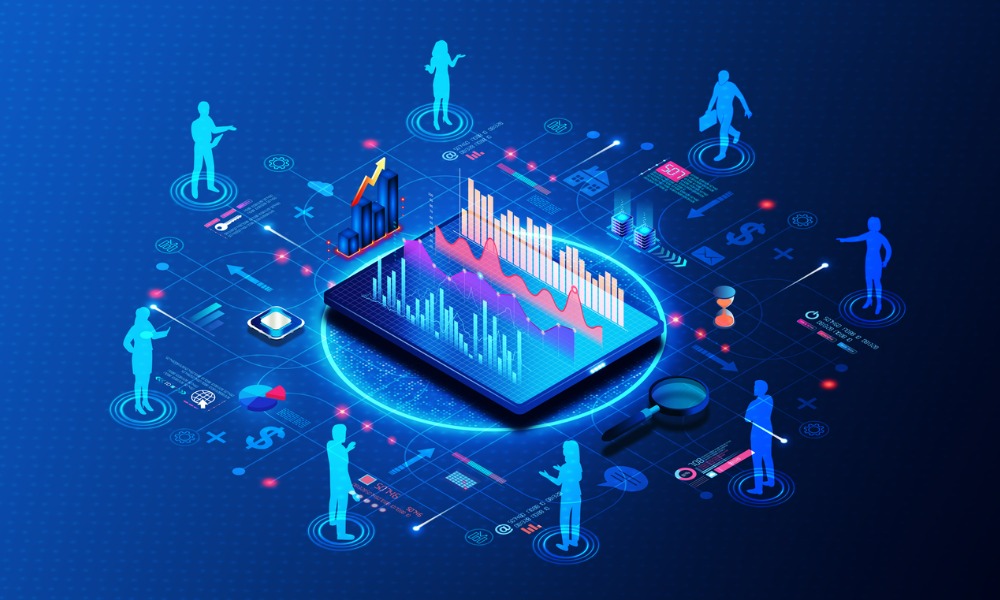 HR teams at mid-size businesses are faced with a unique situation – they must often deal with big-company challenges using small-firm resources, which is a tall order, especially with the constantly evolving HR landscape. But with the right tools, these professionals can stay on top of their roles and focus on the most important component of their businesses – their employees.
This is what human resources management system (HRMS) platform Namely is designed for.
In this Namely review, HRD discusses the key benefits and features the software offers, what other platforms it integrates with, and its main competitors in the market. If you're an HR leader at a mid-size company, you can use this article as a reference in your search for the right tool that suits your firm's people management needs. Read on and learn more about this HRMS platform in our Namely review.
Launched in 2012, Namely is a cloud-based HR platform designed for small and mid-size businesses employing between 25 and 1,000 staff. It serves as a one-stop digital tool to help HR leaders in these companies manage several of their core functions, including:
Talent management
Benefits administration
Payroll and tax services
Time and attendance
Regulatory compliance
We will discuss these functionalities in more detail later in our key features section.
The platform was created to be "as intuitive as social media, but powerful enough to support the complexity of today's workforce," which is among the reasons why it has gotten positive reviews for its user-friendly interface. And while Namely does not cover all core HR functions, the platform integrates with a comprehensive line-up of third-party partners to fill in these gaps and comes with an open API.
Namely typically takes between six and eight weeks to implement and requires configuration work from one of the company's administrators. After this, HR teams can access various customization options, allowing them to scale the system based on their business' requirements. The platform also comes with a strong permissions engine that enables companies to establish layered access to specific data, reports, and functionalities, protecting these from unauthorized personnel.
The main purpose of the Namely HR platform is to help businesses boost efficiency and employee engagement. In this part of our Namely review, we will give you a walkthrough of the different solutions the platform offers. These are:
1. Online HR software
Namely provides a customizable HR system that allows HR teams to simplify their processes and can be used by all employees. Namely's online HR software assists businesses with the following:
Onboarding: Allows companies to automate tasks, store new hire forms, collect e-signatures, and maintain compliance through integration with E-Verify.
Employee self-service: Connects employees to their personal HR data, allowing them to request PTO, administer performance reviews, and appreciate coworkers, among others.
Employee database: Stores an unlimited amount of staff data and integrates seamlessly with various payroll, benefits, and talent management platforms.
Time-off tracking: Streamlines vacation requests, approvals, and reporting.
HR mobile app: Allows HR teams and other employees to access the software even if they do not have their work computers with them.
2. Benefits administration
Namely's benefits administration software helps companies simplify the process of administering and managing employee benefits. Its key functions include:
Enrollment wizard: Enables paperless enrollment via an intuitive portal.
Mobile benefits: Allows employees to view their benefit plan information through the Namely HR mobile app.
Plan configuration: Helps HR teams manage plans, eligibility, and rates.
Open enrollment: Enables HR professionals to run a streamlined open enrollment process and access real-time insights.
Payroll integration: Automates benefits deductions and integrates these into payroll for processing upon approval.
3. Payroll and time tracking
Namely offers a range of payroll, tax services, and time management features, which include the following:
Personal payroll data hub: Employees can access and update their personal payroll data, including direct deposit information and last paystub, in one central location.
Payroll dashboard: Provides payroll administrators with one platform for all payroll-related tasks.
Payroll wizard: Allows accurate and timely payroll processing using a simplified procedure.
Time management: Enables HR teams to easily spot and take action on tardiness, late approvals, and approaching OTs, among others.
Time tracking: Lets businesses implement the time tracking system that they need.
4. Compliance
Namely's platform helps HR professionals to keep abreast of the constantly changing industry regulations, mitigating their businesses' exposure and risks. Among the core features are:
Compliance library: Provides resources on current and pending employment regulations, as well as tools to keep companies stay compliant.
Law alerts: Gives a state-by-state comparison of different employment regulations, making it easier to manage a multi-state workforce.
Learning management: Consists of more than 300 training modules to help with employees' learning and development. Businesses can also upload their own training modules for workers to access.
Live advisors: Provides unlimited access to certified HR advisors, who can answer questions on a range of compliance issues.
5. Talent management
Namely gives mid-size businesses access to a talent management software that can allow them to compete with larger companies in attracting and retaining talent. Among the platform's key features are:
Newsfeed: Lets employees share important announcements, celebrate work and personal milestones, and appreciate colleagues. Directly integrates with Slack.
Continuous feedback: Allows business leaders to provide constructive feedback and recognize outstanding work to boost employee engagement.
Performance review: Simplifies assessment cycles with configurable and intuitive performance appraisal forms.
Goal tracking: Manages and monitors goals of the company and every employee.
Mobile app: Candidates can apply, and get interviewed and hired using their smartphones via the Namely mobile app.
6. HR analytics
Namely allows HR leaders to transform raw data into meaningful insights, which, in turn, enable them to make informed decisions. These include figures on diversity, attrition, and time off. Users can also access an ad hoc report writer to help them create custom reports without the need for technical support.
Apart from its HR platform, Namely offers managed services where they conduct payroll processing and benefits administration on the company's behalf. Although these services can add to the cost, they allow companies to save on employee-related expenses they will incur from hiring specialists to their team.
Namely's custom-built solutions are used in almost every industry in all states. The HR tech firm also offers platforms tailored for the following sectors:
Life sciences
E-commerce
Finance
Non-profits
Technology
The table below details the technical specifications of the Namely HR platform.

Because Namely's platform can be customized to suit a business' requirements, it may be difficult to provide a general pricing for the package the HR tech firm offers. The best way to know how much the Namely HR platform will cost your business is to get in touch with the company's sales representatives or get a quote from its website.
Namely offers two kinds of packages:
1. HR Fundamentals
This package contains "required" features and may suit companies with a limited budget. The features included in the package are:
Analytics
Appreciations
Company news feed
Compliance database
Custom fields
Employee directory
Employee profiles self-service
eSignature
E-Verify integration
Onboarding
Org chart
Reporting
Performance/goals tracking
Task lists
Time off
2. HR Complete
This package contains several advance features that businesses can add, with a corresponding impact on pricing. These functionalities include:
Payroll services
Benefits administration
Compliance advice and action
Time and attendance
Recruiting
Businesses can subscribe to the Namely platform on a quarterly or yearly basis.
Although Namely covers a comprehensive range of core HR functions, it does not cover everything. But one of the biggest benefits with using Namely is that it integrates with popular third-party platforms. These include:
More than 1,200 small and mid-size businesses currently use Namely HR platform. The company's client base includes the following: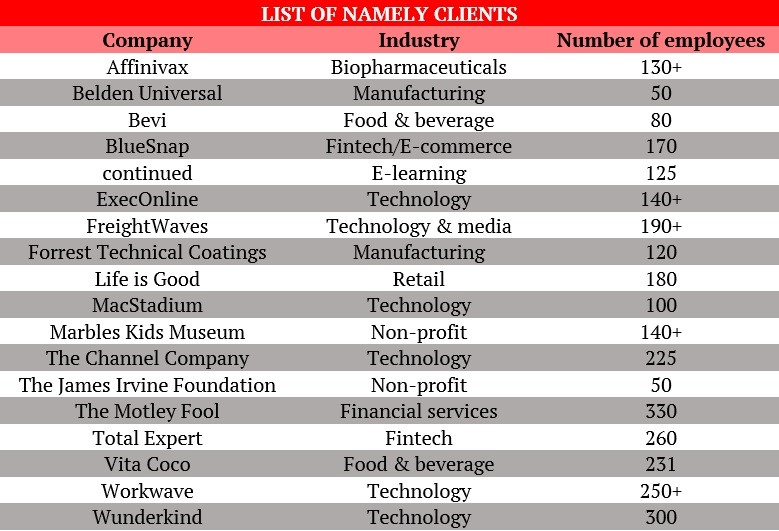 Namely offers one of the top HRMS platforms available in the market, but it has its share of competitors. If you are looking for a good alternative to the solutions Namely provides, you can consider the following HR software platforms:
Deel
Monday.com
Paycom
Paylocity
Payworks
Personio
Rippling
Headquarters address: 195 Broadway 15th Floor, New York, New York 10007, United States
Year established: 2012
Size (number of employees): 500
Number of users: More than 1,200 mid-size companies
Leadership: Gary Noke (CEO)
In 2022, Namely announced that it was merging with the company that was created with the combination of PrismHR and Vensure Employer Services (VES). Both firms are backed by private equity holding company Stone Point Capital. Terms of the deal were not disclosed. Namely CEO Larry Dunivan stepped down not long after and was replaced by Gary Noke, who also serves as PrismHR's chief executive.
Commenting on the transaction, Noke said they have been eyeing Namely for a while as the firm's focus on mid-market employers fills a gap for both PEO-focused PrismHR and VES, which is also a PEO.
Namely has received positive reviews for its user-friendly interface. One of the features that have gotten high marks from clients is the platform's employee self-service function, in particular benefits enrollment and time-off, which are easy to perform. Namely also boasts strong integration capabilities with several third-party tools, helping fill in the gaps that the platform has in terms of coverage.
These gaps include a lack of pulse surveys, which plays a crucial role in getting employee feedback, and an applicant tracking system (ATS), which explains its partnership with several providers, including JazzHR, Jobvite, LinkedIn Talent Hub, Workable, Greenhouse, and Hire. Namely has also received some critical reviews for customer support, with some users even describing the service as slow.
If you're still looking for the right platform that matches your company's HR needs, our comprehensive line-up of HR software reviews can help guide you in your search.
Do you have any experience in using the Namely platform? What did you like best and the least? Post your own Namely review in the comments section below.