Making the case for using an HRIS solution for your company? BambooHR might just be the HR software solution you're looking for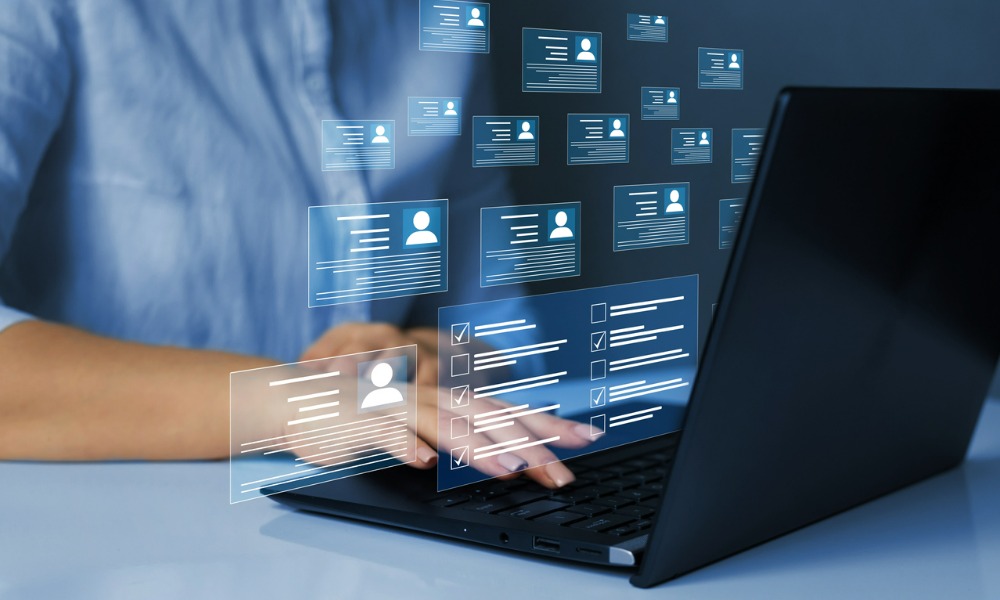 HR remains one of the most admin-heavy departments in any organization. Dealing with a daily workload that uses vulnerable, confidential information about your workforce shouldn't be left to manual processing alone. This is where HRIS software comes in.
A human resources information system, or HRIS, helps companies transform tedious HR processes like payroll, time tracking, employee benefits administration, and applicant tracking, into a system you can easily use with just a few clicks. Modern HRIS software solutions can automate workflows seamlessly — all while providing a user-friendly experience for both employers and employees.
In this HR software review, HRD looks at the benefits of one HRIS in particular: BambooHR. We'll look at its key features, integrations, and how it can fit into your HR workflow. If you've looking for a software solution that can automate your HR processes, this handy guide can help you skip the endless search for the right HR software.
BambooHR is a cloud-based HR software tool that helps HR professionals streamline daily tasks with its wide array of functionalities. HR managers can oversee hiring, onboarding, payroll, benefits, and offboarding — all in one platform. With BambooHR, you can rest easy since all your employee information is safe in a single, secure database.
BambooHR helps you understand and manage employee data with powerful features. Get access to:
Employee records
Workflow and approvals
HR reporting and analytics
Applicant tracking
Onboarding and offboarding
Time tracking and payroll
Benefits administration
Employee satisfaction and wellbeing
And more!
According to their website, BambooHR has over 20,000 customers in more than 50 industries — that's 1.8+ million HR professionals and employees that use BambooHR!
Here's a fun fact: Over 80% of BambooHR's clients are small to medium-sized businesses (SMBs).
Want to know an even funner fact? This is actually the software used by Key Media, the company which owns HRD!
BambooHR collects, organizes, and analyzes all your employee data throughout the entire employee life cycle, from hiring and onboarding to payroll and performance reviews. BambooHR has over 50+ third-party integrations, making it easier for you to create tailored workflows, approvals, and even custom access levels. BambooHR centralizes all your employee data in one place so that you don't have to worry about recordkeeping and filing ever again.
The BambooHR platform revolves around 5 key features: HR data and reporting, hiring, and onboarding, payroll, time, and benefits, integration marketplace, and employee experience and performance.
BambooHR is designed with simplicity in mind, making it a breeze to use. It comes with a wealth of ready-made templates, offering plenty of choices for customization, and provides well-organized and visually appealing workflows. With BambooHR, you will be able to:
Effortlessly handle employee data and gain insightful analytics.
Find, recruit, and onboard top talent with ease.
Streamline payroll management, time tracking, and benefits administration.
Evaluate employee performance and engagement to enhance the overall employee experience.
Seamlessly integrate third-party tools with pre-built integrations.
BambooHR continuously improves its capabilities by introducing new features and integrations every month, ensuring it remains a versatile, comprehensive, and customizable solution for HR management. Users can expect ongoing enhancements that streamline HR processes and improve the overall HR management experience.
BambooHR Platform Main Features
BambooHR is one of the most robust HRIS systems we have seen. It covers the following features:
HR Data and Reporting: Keeping up with employee data and uncovering insights about your people doesn't have to be an overwhelming or time-consuming task. BambooHR offers a secure and centralized database with over 40 built-in reports. Its goal is to help you make data-driven HR decisions.

Hiring and Onboarding: BambooHR is designed to simplify the entire talent acquisition process of finding, evaluating, hiring, and onboarding top talent, ensuring a smooth and efficient experience. With a focus on personalization and creating positive first impressions, BambooHR enables organizations to attract and retain top talent with ease.

Payroll, Time, and Benefits: BambooHR enables you to manage all your HR processes, including tracking hours worked, recording time off, managing benefits, and running payroll, all from a unified platform. With no more manual data entry and approval processes, you can ensure smooth and accurate paydays for both you and your employees.

Integration Marketplace: The BambooHR Marketplace comes with integrations in a variety of app categories. Explore integrations for payroll, performance management, applicant tracking systems, time tracking and scheduling, learning and training, benefits administration, and more.

Employee Experience and Performance: BambooHR's feedback tools help you foster a culture of transparent and constructive communication, enabling timely action from HR and setting the foundation for growth and an exceptional employee experience. BambooHR wants to help you understand what matters the most to your people.
The BambooHR Mobile App
BambooHR's mobile app allows employees and managers to access key HR features anywhere, anytime.
Employees can easily request time off, call in a sick day, search for a colleague's contact information, and more. On the other hand, their manager can approve time off requests, check their team's timesheets, review who is working from home, and more, all in real-time.
In today's remote work world where half of your workforce can be working from home, and the other half could be based all around the world, a mobile app proves to be a huge advantage.
You are an HR person likely sitting in an office at some point in your day. This is not the case for all employees, and this video was a reminder of how HR professionals need to plan for what will work for their entire team and not just those in the office.
BambooHR does not offer a free plan. Pricing depends on the number of employees your organization has and the features you will choose for your company. BambooHR offers a free price quote on its website for interested parties. The general pricing structure is:
20 employees or less: Per-employee, per-month basis
More than 20 employees: Monthly flat rate
BambooHR offers two plans: Essentials and Advantage. BambooHR also offers a variety of add-ons in four categories: payroll, benefits administration, performance management, and time tracking.
BambooHR Software Plans Overview
Here is an overview of the software packages that BambooHR offers.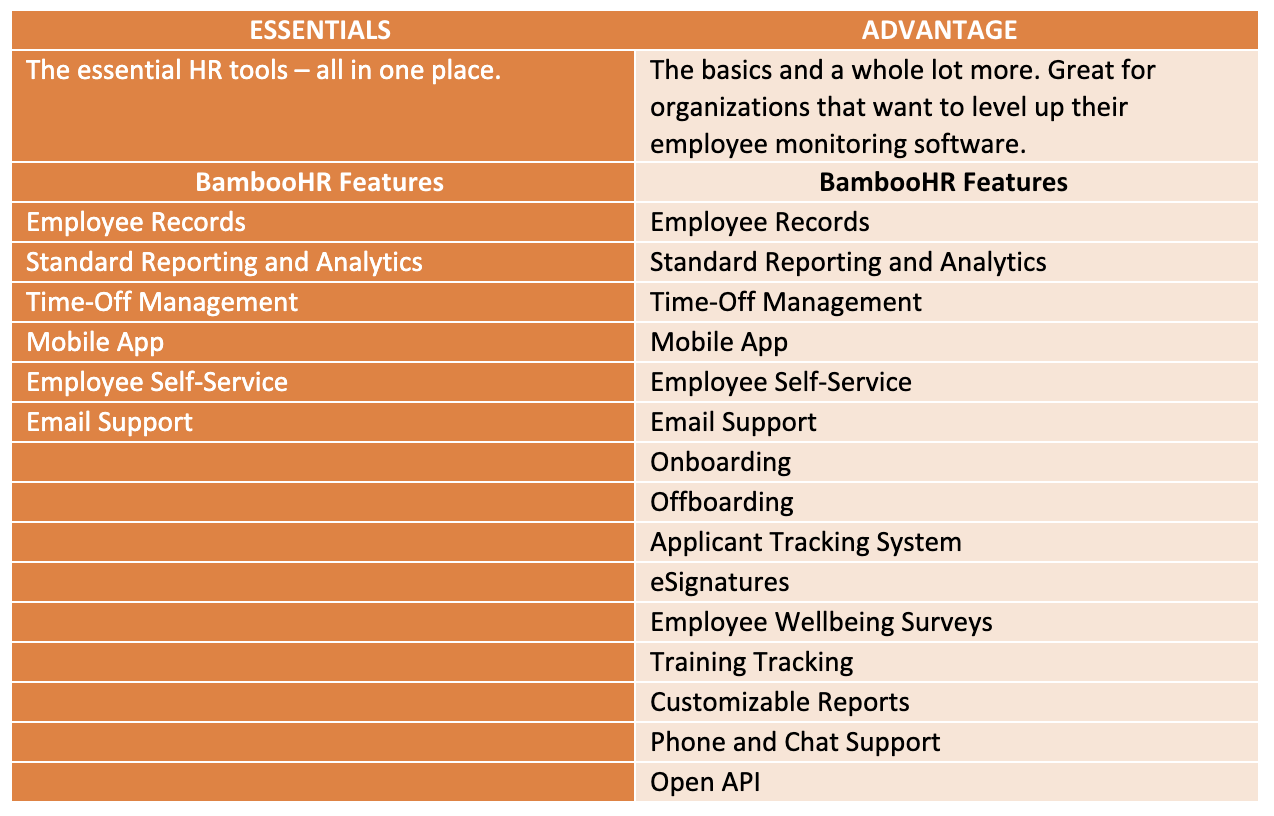 Does BambooHR have a free trial?
Yes. BambooHR has a 7-day free trial that includes access to:
Hiring and Applicant Tracking
Onboarding and Offboarding
Paid Time Off
Time Tracking
Performance Management
Benefits Tracking
Employee Database
Reporting and Analytics
BambooHR Mobile for iPhone and Android
If you're exploring other options instead of BambooHR, you might want to consider the following:
Headquarters address: 335 South 560 West, Lindon, UT 84042-1911, USA
Year established: 2008
Size (number of employees): 1000+ employees
Global locations: 120+ countries
Businesses served: 30,000+ businesses worldwide
Number of users: 2,500,000+
Key people: Brad Rencher (CEO), Ben Peterson (Co-Founder), Ryan Sanders (Co-Founder), Brian Crofts (Chief Product Officer), Joe Donaldson (VP of Engineering), Anita Grantham (Head of HR), Justin Judd (CFO), Tara Martell (VP of Customer Experience), Trevor Ralls (VP of Operations), Jed Smith (VP of Sales), Alan Whitaker (Head of AI)
BambooHR was founded on the principle of setting people free to do more meaningful work. At the core of BambooHR's mission is the belief that people are the key to workplace excellence. By providing HR professionals with the knowledge and tools to effectively work with people, BambooHR empowers them to build a thriving culture, implement effective policies, and establish best practices that ultimately benefit the entire organization.
Many human resource teams today continue to deal with a huge bulk of paperwork and recordkeeping. Your organization doesn't have to be a part of that. The right HRIS software can help your HR department:
Become efficient, powerful, and agile.
Make HR processes fast and easy.
Streamline administrative tasks – giving your HR team more time to do work that directly impacts your bottom line.
Overall, BambooHR is a solution for SMBs that want to take a big step forward in how they handle HR processes. HR managers, recruitment teams, and general managers seeking a user-friendly, comprehensive HR platform will find BambooHR to be a satisfactory choice.
Still not sure? Read our article on what you need to know about choosing HRIS software to gain more insight.
Thinking of investing in BambooHR for your organization? Let us know in the comments.