Goodbye, momento pins: Here's what the future of employee recognition looks like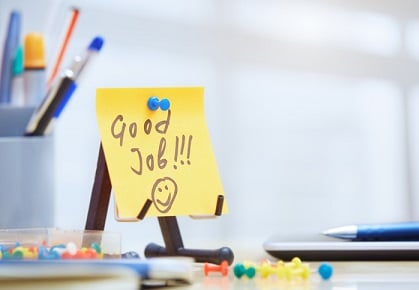 A commemorative pin for a decade's service might be a quick and easy staff reward, but it's hardly going to excite your employees – and HR professionals know it.
A recently-published Conference Board of Canada survey of 383 organizations found that 89 percent had recognition programs, with long-service recognition the most common (96 percent), followed by manager-to-employee programs (92 percent), teamwork/internal collaboration (81 percent), team performance (80 percent) and retirement recognition (64 percent).
But at organizations that only had long-service or retirement recognition, just 27 percent of HR professionals felt employees were satisfied.
That number rose to 51 percent at organizations that also had performance-based recognition.
Nicole Stewart, author of
the Conference Board's report
, says recognition is a challenge for organizations to get right – but the impact of it is clear.
"The number one reason they have these programs is to increase employee engagement," she says.
"When you look at the service-based recognition programs, it's recognition every few years. When you get to that performance-based [recognition], it's more personal and more timely, there's more flexibility in it, those are some of those things that drive engagement – employees feel recognized by their managers, by their colleagues."
However, companies also increasingly want to see a return on their investment in recognition programs, Stewart says.
"They really want to drive engagement … When they're done well and they're driving engagement and performance, you can see a return for it."
To achieve that, HR professionals need to think about what appeals to their workers when designing a recognition program.
"Organizations are trying to revitalize [long-service recognition] a little bit and try to have something that appeals more to a broader group of employees with it – more points or thoughtful gifts, as opposed to those momento pins that we've seen in the past."
It needn't be costly, she says – but it should be tailored to your organization.
"It's very personal, and that makes it hard for organizations to get right, because everybody appreciates different things, but it's something to think about that not everybody wants a big show of being recognized.
"That's one thing that's important to keep in mind – make sure that it's personal and it's sincere and it's timely."
Related stories:
How to avoid the 'compensation trap'
Want the latest HR news direct to your inbox? Sign up for HRD Canada's daily newsletter.