It's part project management tool and part video game – and it's all set in space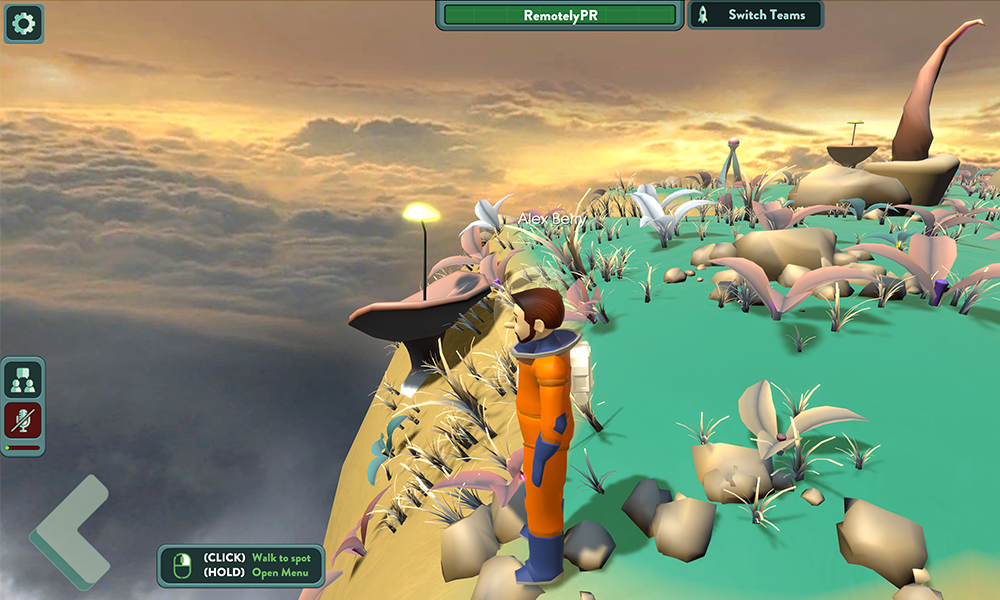 Space … the final frontier.
While it's hard to imagine bringing the weight of everyday work into the zero-gravity environment of outer space, a new team collaboration software is doing just that. Remotely is taking work-from-home employees on a space adventure.
This isn't your typical two-dimensional team/project management app where you simply follow channels or discussion threads. The platform has the interface of a video game. Think: The Sims.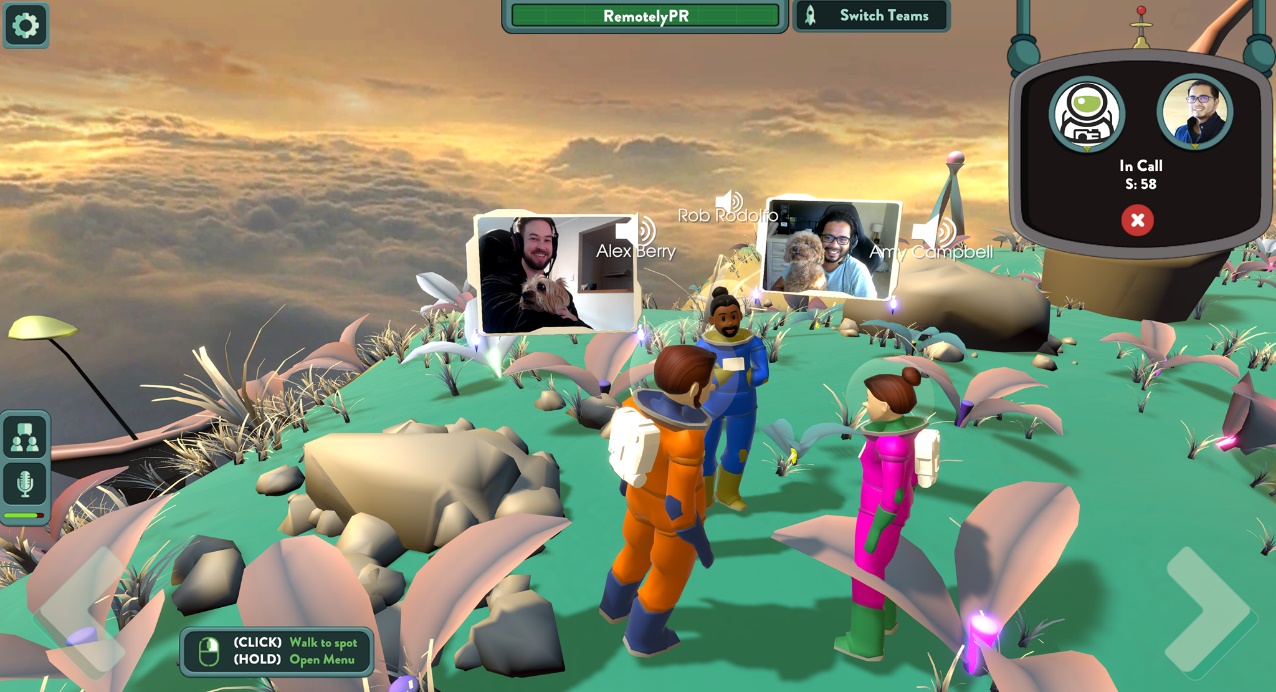 Social interaction on the platform| Credit: Remotely
Only this time, the animated characters in your universe are your own colleagues who control their own characters' movements and exchanges on the platform in real time just as everybody works online remotely.
There's a science behind this form of online interaction.
"We did a lot of early research on the social and behavioural customs and benefits of why we, human beings, work in offices. The conclusion was that there's connection through cultural norms and shared experiences. They bond us together and make us feel part of something. We collaborate to create something bigger than ourselves," Remotely founder Adam Berry told HRD.
"These are often described as water cooler moments. However, it's much more than that. When we are in an office, we receive visual cues: people hushed over in a corner, who is meeting with who in a private meeting, people laughing at a joke or a shared experience," he said.
Read more: How the COVID-19 outbreak ushered in a new way of working
A gamer himself, Berry said his aim with the collaborative platform is to "replicate all of the visual cues of an office, setting our status to tell our colleagues we are in a meeting, at work or not available for interruption".
The platform also shows other team members the specific applications their colleagues are working in. App icons such as those of Trello or Microsoft Excel appear above their avatar.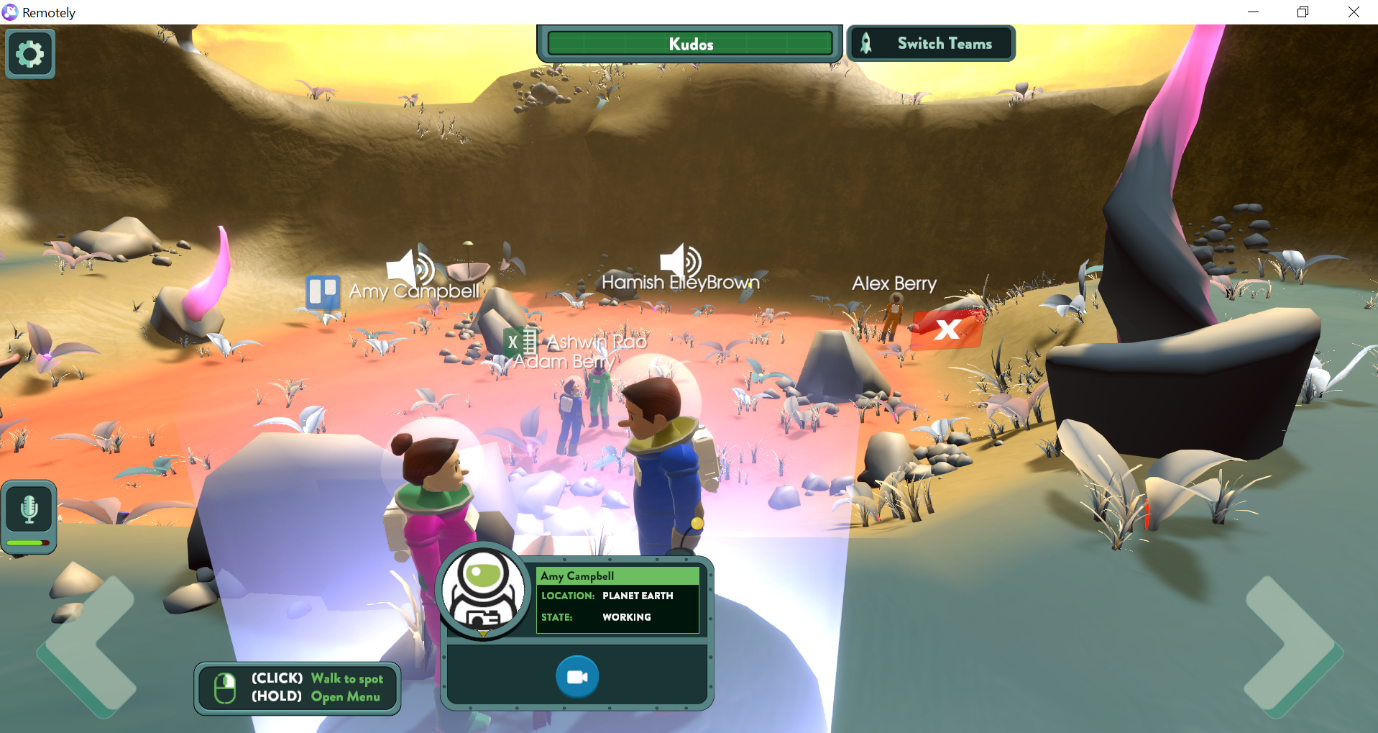 Avatars show employees are working | Credit: Remotely
When colleagues want to engage in "office chat" in their downtime, there are signals in their avatar that would indicate whether co-workers are available to talk.
"At that point, as people walk up to me [in the animated interface], I see them approaching and we have audio proximity, which gets louder as they get closer. Just like in the real world," Berry said.
"Of course, we are receiving these visual and audio cues, even though we are working at home, distributed all over the world."
It's those ambient sounds of an actual office environment which most remote workers miss, studies say. Some workers have even resorted to using apps that recreate office noise.
"Our research clearly demonstrated that audio proximity, a sense of presence, visual cues and some productivity insights and reporting, could largely replicate the office environment for remote workers. Over 20% of productivity is lost because 19% of remote workers feel lonely and 17% report issues with collaboration and communication," Berry told HRD.
Remote working culture is evolving amid the pandemic – but as teams start adjusting to their new environments, so will their methods of collaboration and communication.
Read more: HR to push for a 'permanent' remote work policy
"Companies start to create their own online culture that reflects the way they use to work in an office. For example, at a full-team stand-up meeting at 8:45 a.m. each day, I've heard people say, 'See you on planet'. The vernacular of work is changing too," Berry said.
"Post-COVID 19, we are seeing new categories of remote work exploding. There's particular interest in full-time remote work and hybrid remote work (a few days in the office, a few at home)," he said.
But if the point of Remotely is to bring teams together, then why is it set in outer space? Berry considers the vast unknown to be "the ultimate example of a remote working environment".
"Hard to get further away from the office, really," he said. "Discovering new planets, new environments, new outfits and new creatures."
"Companies are having to consider remote work setups for their teams, and even those who return to a physical environment, will need to adopt remote working practices as a business continuation strategy," he said. "It will be unacceptable to a CEO or HR team, that the company cannot go to the office in the morning, and not be able to work remotely in the afternoon, due to an event."