What are top concerns holding people back?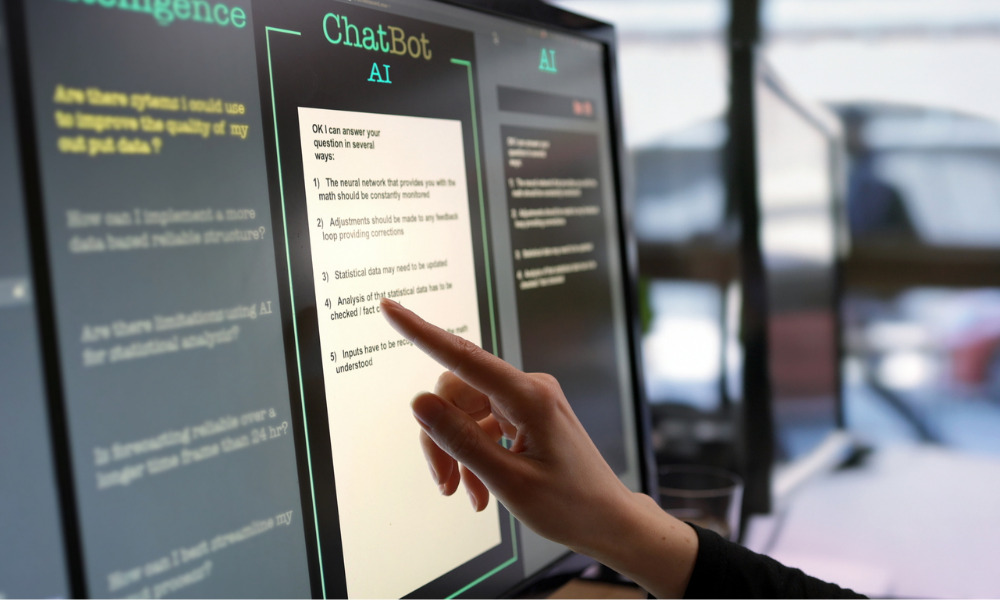 Amid all the talks of generative AI, how many Canadian HR departments are actually using it?
Very few, according to a survey by the Human Resources Professionals Association (HRPA).
Two-thirds (67 per cent) of respondents say their organization has no plans to use this technology. Meanwhile, 15 per cent are using it for other business areas while 10 per cent are planning to do so.
Only 12 per cent of the 205 HR professionals surveyed say their organization is using generative AI for HR functions while 13 per cent are planning to do so.
The top HR functions for generative AI are:
Writing job descriptions (63%)
Writing policies (56%)
Administrative tasks (56%)
Writing interview questions (50%)
Research (35%)
Training (33%)
Communicating with job appliants (23%)
Onboarding (19%)
"Generative AI may help to automate certain day-to-day HR tasks but there are still many HR duties AI can't replace," says the report. "In fact, when used correctly, generative AI can help transform the HR role, allowing HR teams to be far more productive, responsive and efficient. Here are just a few emerging ways HR can harness AI-powered tools."
Concerns about generative AI
So, what's holding people back from using the new tech?
Not surprisingly, 66 per cent of respondents say they need to learn more about it.
Other concerns include:
Data privacy and security (31%)
Need to see more advancements with the tech (23%)
Quality of output (21%)
Plagiarism and intellectual property (20%)
It would not be helpful with the work we do (15%)
However, more than half (56 per cent) of HR professionals say they are not concerned about employees using generative AI in an unauthorized way — though 31 per cent say it depends on their role in the organization.
Who has a policy?
As for a formal policy addressing the use of generative AI in the workplace, just 0.5% of respondents say they have one, finds HRPA — echoing the results of a previous survey.
That's in contrast to 86 per cent who don't and 13 per cent who are planning to implement one.
"HR professionals are also partnering with AI to write policies," says the HRPA. "This could potentially save time for HR professionals so, it's no surprise that 54% of respondents, who are self-employed, were twice as likely than any other group to use or plan to use generative AI for this purpose."
Pros and cons to tools like ChatGPT
When it comes to the benefits of using generative AI, time savings (79%) easily came out on top.
Also beneficial are:
Improved efficiency (71%)
Higher-quality work deliverables (45%)
Easing heavy workloads (39%)
Cost savings (29%)
Among companies already onboard with the use of ChatGPT, 48 per cent say they've replaced workers since the new tool became available, according to a previous report.
Encouragingly, 63 per cent of respondents have not experienced any challenges with the new tech, finds HRPA.
But downsides can include:
Data privacy and security risks (29%)
Increased risk of bias or discrimination (21%)
Plagiarism and intellectual property complications (21%)
Leadership pushback (18%)
Poor quality outputs (8%)
Employee pushback (8%)
"Many respondents indicated that they have not planned for risks associated with bias and discrimination, which is concerning considering how prevalent bias can be in AI
programs that have been designed by humans who carry their own personal biases," says the report Generative AI in the Workplace.
There are several emerging ways HR can harness AI-powered tools, according to the HRPA:
Content creation: Generative AI tools, like ChatGPT, can be trained to write effective job descriptions to attract the right candidates: "It's one of the main reasons HR professionals are using AI right now."
Automation of repetitive HR tasks: AI can be used to automate responses to employee questions – like "How many days off am I entitled to?" – or requests – such as changing a payroll password. HR can also train AI to populate FAQ documents or use it to auto-create workforce schedules that align with employee preferences and availability, it says.
Previously, one executive claimed that "many content writers today are now exclusively using AI to write," and that he can finish their eight-hour workload in 30 minutes using the same method.
Recruitment: HR can program generative AI to learn from employer's hiring history, role requirements and existing resume data to handle high volumes of resumes and identify candidates who meet the selection criteria.
"Chatbots then can be used to conduct an initial interview of candidates in the form of prerecorded questions, gathering information about skills, training and employment history. These automations can give HR professionals more time to prioritize the most qualified candidates to ensure that they are creating an exceptional candidate experience."
Employee engagement: Using AI, employers can ask employee questions every few weeks to better understand what promotes employee engagement in real-time. Also, "AI could help HR spend more time evaluating the data and developing a plan of action based on the findings, which can aid in improving the employee experience and overall company climate," says HRPA.
Other uses: HR teams can also use AI:
to collect accurate salary range and benefits information to create more fair compensation packages
onboarding
learning and development
employee monitoring
internal mobility processes are some other ways HR is employing AI