New guide from UKG provides tips and best practices for HR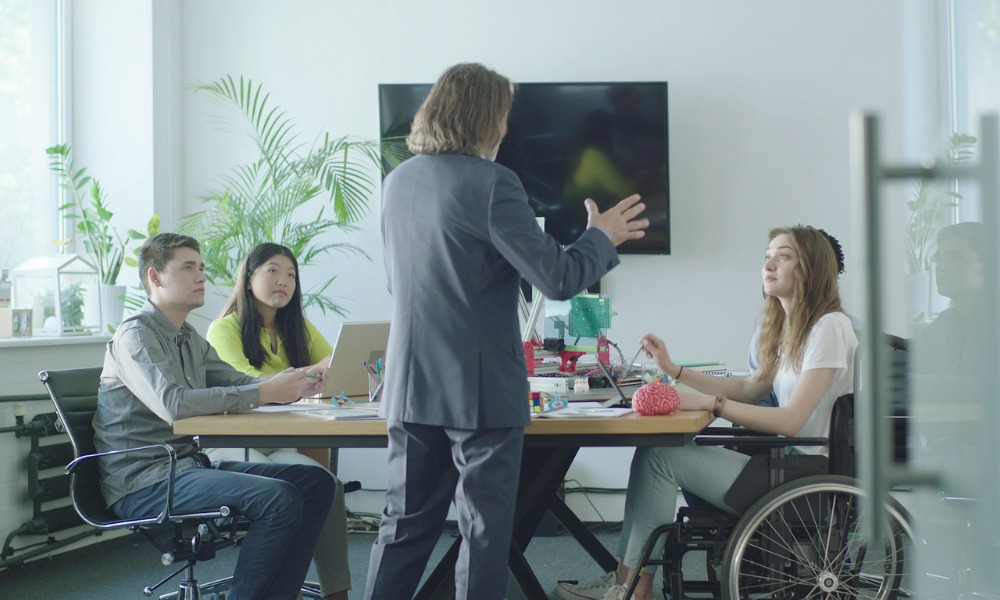 This article was produced in partnership with UKG.
While there has been a growing focus on diversity, equity, and inclusion (DEI) in the workplace, too often, the accessibility aspect is overlooked.
Why? For one, disability is complex — it can be transient, situational, or permanent, according to Tamisha Parris, founder and CEO of Parris Consulting, a diversity, equity, accessibility, and inclusion-focused consulting firm based in Vancouver.
"Disability is ubiquitous and impacts more individuals than some other equity-deserving identities, and yet — paradoxically — people with disabilities often feel excluded from workplace DEI initiatives.
"And, importantly, disability is often invisible, as seen with conditions such as chronic pain or fibromyalgia," says Parris, who developed the Canadian Employer's Guide to Accessible and Inclusive Meetings in partnership with UKG.
Meetings are one of the principal ways a company communicates. That's why they must be inclusive in every sense — including accessibility.
Why accessible meetings matter
The impact of inaccessible meetings is profound. They contradict the values of inclusion; they prevent companies from leveraging the skills of employees with disabilities, and they may lower engagement and hinder growth in the job for employees with disabilities.
It's also a missed opportunity to build cohesive teams where everyone appreciates each other's diverse strengths.
If a meeting isn't accessible, team members may not have access to needed information. Employees may also be left out of decisions if a person with a mobile impairment cannot attend a meeting that's hard to physically access.
If there are barriers, team members may not fully understand their role in a project or the timeline's impact on their work. And employees may not be able to share their ideas fully.
"For example, does your boardroom table allow someone on crutches to enter and sit down easily? If there's a presentation, can everyone perceive it, and if not, how can you assist? Are people with disabilities enabled to contribute fully to the meeting? And if they need an accommodation, do you have processes in place to grant it smoothly?"
Myths about accessible meetings
Unfortunately, persistent myths may prevent people from making meetings more accessible. The biggest one is that accessibility costs a lot of money — but most accommodations cost nothing or have a one-time cost of under $500, according to Parris.
Another myth is that it's time-consuming and effortful to prepare for an accessible meeting.
"But all good meetings take preparation and good preparation results in a better meeting for everyone. And if you create an accessibility checklist that you can use before every meeting, it will become standard practice," she says.
Also, people may think that meetings will be less fun if they're designed to be accessible, particularly off-site team-building activities, says Parris. "However, there are plenty of accessible venues where you can hold a great event that can include everyone."
Culture is key
"Having a culture of accessibility means you don't just say you're accessible — you actively work on disability inclusion," says Parris.
"It means you model accessible practices, embed accessibility into everything you do, and communicate expectations to employees that they will do the same."
A culture of accessibility takes root when leaders model accessibility from the top down. That can include creating policies for accessible meetings and ensuring all employees are aware of them and know how to implement meetings based on those policies.
Policies work best when they're clear and easy to follow, says Parris, and there are vital questions to ask, such as: "What are you trying to achieve?" (for example, "I'd like everyone to be able to participate in all meetings.") and "How will you achieve the goal?" (for example, "Employees will use an accessibility checklist before every meeting and address any issues before starting.")
For more tips for HR professionals on how to make meetings accessible, download a complimentary copy of the Canadian Employer's Guide to Accessible and Inclusive Meetings.