Employers could face harsher penalties if they fire people during off-peak hiring times, warns one Ontario judge.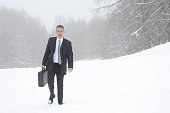 Summer officially arrives this weekend but one Ontario judge has issued a seasonal warning to employers that may just mar its long-awaited return.
According to Justice Sean Dunphy, employers who fire workers without cause during non-peak hiring times – particularly the summer months – could be penalized with longer notice periods and larger damage awards.
The case
Stuart Fraser was fired without cause from his senior position at Canerector Inc. after just 34 months on the job – the case was brought before Dunphy to determine a reasonable period of notice.
Canerector, an auto parts manufacturer, intended to pay no more than the statutory minimum of two weeks' notice while ousted employee Fraser was seeking 12 months'.
In his decision, Dunphy concluded that three months would normally have been appropriate but reasoned that the "time of year" had to be taken into account and extended the final award to four-and-a-half months.
The reasoning
"Mr. Fraser's employment was terminated in June and it was quite foreseeable that hiring decisions at his level might have needed to be delayed somewhat due to the summer months in order to account for vacation schedules of key decision-makers," Dunphy explained.
"While his term of service might normally suggest a relatively shorter period of notice, timing plays a bigger role where notice is short," he added.
Consequence
Employment lawyer Mark Shapiro said the ruling only served to further complicate terminations for Ontario employers.
"It would appear that now employers wishing to terminate employees in Ontario will not only need to consider the 'who, why and how' but will also have to consider when to give notice of termination," he told the Financial Post.
More like this:
Informal caregiving – is a national strategy needed?
Unionization rates falling in Canada
Wearable technology: the end of the sickie?