Some workers bristle, some threaten to quit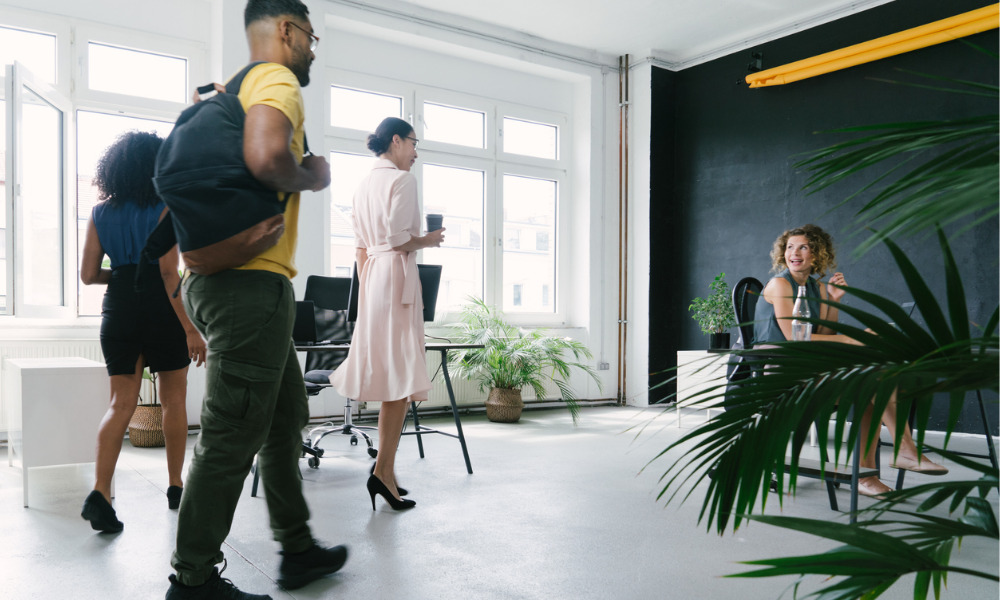 "Anyone who wishes to do remote work must be in the office for a minimum (and I mean *minimum*) of 40 hours per week or depart Tesla. This is less than we ask of factory workers," he says in a series of emails to workers.
But that return to work must include working for the home office not "some remote pseudo office" in order to fully engage with colleagues, says Musk.
But the high-profile CEO, who also owns SpaceX and is trying to purchase Twitter, is not the only leader who is facing criticism with such a heavy-handed approach to the new reality of post-COVID working.
Not the only backlash
Apple employees recently recoiled publicly when its policy of three days in and two days out was unveiled.
By forcing this non-flexible model on employees, this will only result in a "younger, whiter, more male-dominated, more neuro-normative, more able-bodied" workforce, say the Apple employees.
The argument that collaboration and creativity will flow in a serendipitous manner was strongly refuted by the employees, who sent a clear message to management.
"Office-bound work is a technology from the last century, from the era before ubiquitous video-call-capable internet and everyone being on the same internal chat application. But the future is about connecting when it makes sense, with people who have relevant input, no matter where they are based," they say in a letter addressed to the company's executive team.
Many teams are already separately sequestered, the employees argued, as they have different locations and do not include other departments.
And by placing workers in the typical workspace, it makes it harder for employees to do their best creative work.
"Being in an office often does not enable this, especially not many of our newer offices, with their open floor plans, which make it hard to concentrate on anything for an extended amount of time," say the employees.
Survey shows reluctance
While these high-profile employers are facing backlash, what about the rest of the working population, how do they feel about a full-time return to the workplace?
No, says a resounding majority of workers surveyed by Amazon.
Just 12 per cent of workers say that working entirely at their physical workplace is their ideal working scenario moving forward, while 43 per cent are likely to look for a new job if their employer mandates a return to the office full-time.
Many want to work remotely at least three days per week (30 per cent) and a further 27 per cent said their preference is to remain away from the office permanently.
"It's clear that the role that the physical office plays in the day-to-day work and satisfaction of employees has changed dramatically during the pandemic. We're not going back to how things were before, and businesses need to adjust to the many operational realities that come with that," says Nick Georgiev, country manager for Amazon Business Canada.
When further probed, close to half of workers surveyed (43 per cent) reported they expect to work primarily from home for the next year and 18 per cent expected they would work remotely for the long term.
What's an employer to do?
For employers, this presents a conundrum: should employees be given more flexibility and options, or should they be forced to do what management orders?
Legally, a recalcitrant employee can be fired, according to Puneet Tiwari, a lawyer at Levitt LLP.
"Before the pandemic, your job was working from an office location; and now that the pandemic is over, you're being recalled, you must go back — unless some other deal has been made where your employer has said, 'We are now a three-days-in-office, two-day-at-home work environment' or you renegotiated a contract which states you can now work from home exclusively, or choose at your leisure the hybrid model."
"Unless one of those factors exists, and your employer calls you back, you must go back. If you do not go back, it's job abandonment," says Tiwari.
But if you care about employee morale and engagement, tread carefully on this matter, says Stephanie Henry, an associate at Bennett Jones.
"That's something that you need to think about: 'What do I need to do to keep my employees happy and attract and retain good talent? From an employee relations perspective, employers do need to think about that, but people don't have a right to work from home unless they have a contractual right to work from home."
Ultimately, it's better for both sides to establish communication with employees rather than adopt such stringent rules, says Tiwari.
"This is an opportunity for you to reach out and discuss with that employee: 'Look, what do you want, what's your ideal scenario?' And see if there's some kind of arrangement they can make. And that could be that employee signs a new contract, which allows them to work from home."