Dread telling an employee they smell? No need to worry – Google's wacky new invention will do it for you.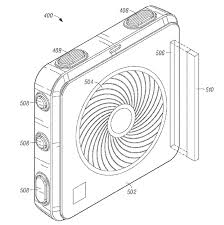 How do you tell an employee they smell? – It's an awkward conversation that most HR managers would prefer not to have but, thanks to
Google
's wacky new invention, you might never have to.
The tech giant was finally granted a patent this week for a proposed "digital deodorant" – the creation is comprised of a wearable sensor that detects changes in temperature and moisture in order to monitor sweat levels and body odour.
The built-in spray dispenser – described in the files as a 'fragrance emission device' – would be activated and a fan would 'waft' the smell out of the wearable's casing.
So no more worrying about whether you're going to offend your smelly employee – Google's Smart Spray accessory will do it for you.
The device is designed so it can include an array of odour-improving liquids like perfume, fresh breath spray, deodorant and even suntan lotion or insect repellent.
But that's not all. Google decided to take the handy little device one step further and included a function that would re-route your way home if you were about to come into contact with a friend on social media – removing any risk that the wearer offend someone with their smell.
What do you think? Would the wearable tech put an end to awkward conversations? Share your thoughts below.