One sports psychologist is lending her expertise to the business world – helping HR build better teams.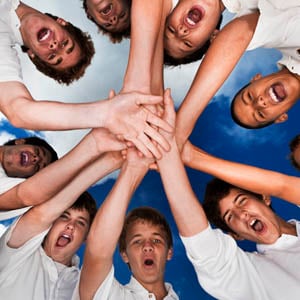 Sports psychologist Nicola Glaros has extensive experience helping athletes overcome obstacles and she says it's fundamentally similar to the world of work. Here's how you can use her expertise to build a better team.
Tell them the truth
Too many HR managers are guilty of bending the truth out of fear of causing offence, says Glaros – but that just wouldn't happen in the sporting world.
A direct approach is more efficient, sets real expectations and lets employees know you'll always give your honest opinion.
Once everyone stops lying to each other for the sake of being polite, HR managers can start building an environment where everyone has each other's back – even if one player accidentally lets the team down.
Know your goals
Whether you're an independent athlete or part of a team, you'll always be acutely aware of exactly what your goals are, says Glaros – the same has to happen in the office.
Transparency is key here – she urges employers to create a visual representation of how well the team is doing.
"You have to walk by it every day," she says. High performers will get the recognition they deserve and low-performers will be exposed.
"You don't have to ask who is sucking," Glaros says, "Everyone can see it!"
Show your personality
Whether it's professional or personal, Glaros says it's essential that employers create a culture where workers feel free to show their true selves.
Employees who feel comfortable being themselves at work won't feel as stifled and are more likely to offer ideas onto the table.
Align incentives
In sports, regardless of how well an individual player performs, if the team loses, everyone loses. Glaros says this same philosophy can be remarkably effective in business.
She suggests aligning incentives across the board – so everyone fails together or succeeds together. For example, if the entire company is on the same profit-sharing plan then everyone is working towards the same goal, fostering interdepartmental teamwork.
She also suggests making all expense supports public – "Guess who's not going to fly first class anymore," she quipped.
Embrace your team, especially in failure
No matter how good the team is there will always be setbacks – but this is the time to prove yourself as a supportive leader, says Glaros.
Don't fire somebody after a major mistake – embrace them and you'll have a more loyal, conscientious employee as a result.
"Creating an environment where you can be vulnerable is a powerful thing to do," she concluded – nobody will ever achieve true success without being able to take risks or admit failure.
More like this:
Seven habits for high-performance leadership
HRDs – you're more influential than you know
Rejecting ideas – the secret employee motivator?