Half of all absenteeism is stress-related – so what are you doing to help your team?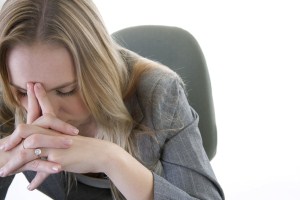 Stress affects the productivity of half your employees, but many are not taking the opportunity to use employee assistance programs and other resources. How can you support your team?
The top cause of stress is finances, with almost half (46%) of employees affected, according to a recent study from Aon Hewitt.
However about a third of employees said they were affected by issues with their job, including work changes (37%), their work schedule (34%) and work relationships (32%), with 32% also saying they were stressed about the lack of influence or control they had over how they worked.
What's more, 51% said stress affected their productivity at work, and health care costs are nearly 50% higher for employees who report high levels of stress.
"Employees are increasingly feeling stressed by work-related pressures, and this can often be destructive to health, productivity and performance," said Kathleen Mahieu, leader of behavioral health consulting at Aon Hewitt. "Employers recognize the impact that high stress levels are having on their workforces and are implementing programs to help employees recognize stress, reframe it in more positive ways and focus on what they can control.
Unfortunately, most stress management programs in the workplace today aren't being implemented in a way that's effective, Mahieu said.
High stress levels also affect employee health goals. Recent research finds highly stressed people are 30% less likely to eat healthily, 25% less likely to exercise and 200% more likely to fail weight loss programs. These employees also get half as much sleep as people reporting low levels of stress.
What HR can do:
Investigate the causes of stress and potential solutions
Consider both internal and external elements in analyzing stress. Factors outside the workplace such as family strains and factors in the workplace such as long work hours can also contribute to high stress levels in the workplace. Once you have a better understanding of your employees' triggers, you can develop new strategies for reducing workplace stress.

Encourage employees to take advantage of stress reduction resources
Make a deliberate effort to show support for stress management initiatives in the workplace by encouraging employees to participate in stress management training programs and physical activity during the workday. Activities such as meditation lessons or "bring your pet to work" days can be successful, and HR should also encourage employees to use resources such as EAPs and other benefits.

Promote emotional well-being
Encourage employees to take vacation time and offer flexible work schedules in as many roles as possible. Organizations can also sponsor and support activities that promote camaraderie among employees and get people moving such as walk and run events, company sports teams and volunteer days.