The global shopping juggernaut may have to contend with collective bargaining rights as employees push forward with a union.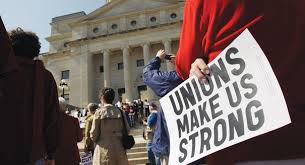 One of the world's most well-known retail brands may soon have to contend with organized labour and collective bargaining rights as its employees put unionization plans in place.
In an online post titled; 'An Open Letter to Jeff Bezos,' representatives for
Amazon
employees warn that unless the widely-publicized issues with company culture are fixed, they will "initiate a labour movement to regain our rights through unionisation as was necessary for generations of mistreated employees before us."
Published on a website called The Former And Current Employees (FACE) of Amazon, the letter explains that the comprehensive New York Times' exposé on the company's culture led to a "groundswell of top performing employees revealing their mistreatment at the hands of unethical managers who are empowered by Amazon executives and HR without sufficient checks and balances to protect their staff from abuse."
The site also features numerous first-hand accounts of the employee experience at Amazon.
One, titled 'A Culture of Fear,' claims that "Everyone is even more afraid of HR than they are of their bad managers,"
Some of the many other claims include the allegations that Amazon has a hostile, unfriendly work environment, is a leading exploiter, and is bad for women.
You can read the full letter to CEO and founder Bezoz,
here
, as well as some of the employee reviews.
For advice on working productively within a unionized environment, read our article: '
Union tactics and how to overcome them
.'
More like this:
How France's proposed bill will combat burnout
Panasonic makes landmark decision on same-sex marriage
Four ways to turn ideas into real world solutions