A Swedish professor has written an article highlighting the usefulness, albeit limited, of a certain degree of stupidity in an organization.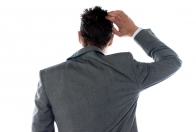 Sometimes a healthy dose of stupidity can actually serve an important function in terms of boosting productivity within an organization, according to Professor Mats Alvesson of Lund University's School of Economics and Management in Sweden.
Alvesson outlined his theory of 'functional stupidity' in article entitled "A Stupidity-Based Theory of Organizations" that was recently published in the Journal of Management Studies.
"We see functional stupidity as the absence of critical reflection. It is a state of unity and consensus that makes employees in an organization avoid questioning decisions, structures and visions," Alvesson stated in a Lund University press release. "Paradoxically, this sometimes helps to raise productivity in an organization."
This 'functional stupidity' is a partly a product of a certain, stupid style of management, according to Alvesson. When management discourages or even suppresses critical dissent, and blocks open communication within the organization, 'functional stupidity' can be the result.
The good news is that 'functional stupidity' causes people to concentrate energetically on the task at hand. The bad news is that, in a functionally stupid atmosphere, people don't think critically about what they and the organization are doing, which can lead to people missing potential issues and risks.
And, in the long-run, it seems that the bad trumps the good. "Short-term use of intellectual resources, consensus and an absence of disquieting questions about decisions and structures may oil the organizational machinery and contribute to harmony and increased productivity in a company. However, it may also be its downfall," Alvesson warned.
Some sectors are more prone to 'functional stupidity', including the mass media, the fashion industry, and consultancy firms, according to Alvesson. "Functional stupidity is prominent in economies that are dominated by persuasion using images and symbolic manipulation. It is preferable that people have an enthusiastic belief in an activity which may not necessarily fulfil a need," he said.