Our Recruitee review will delve into its features, integrations, pricing, and overall usefulness as applicant tracking software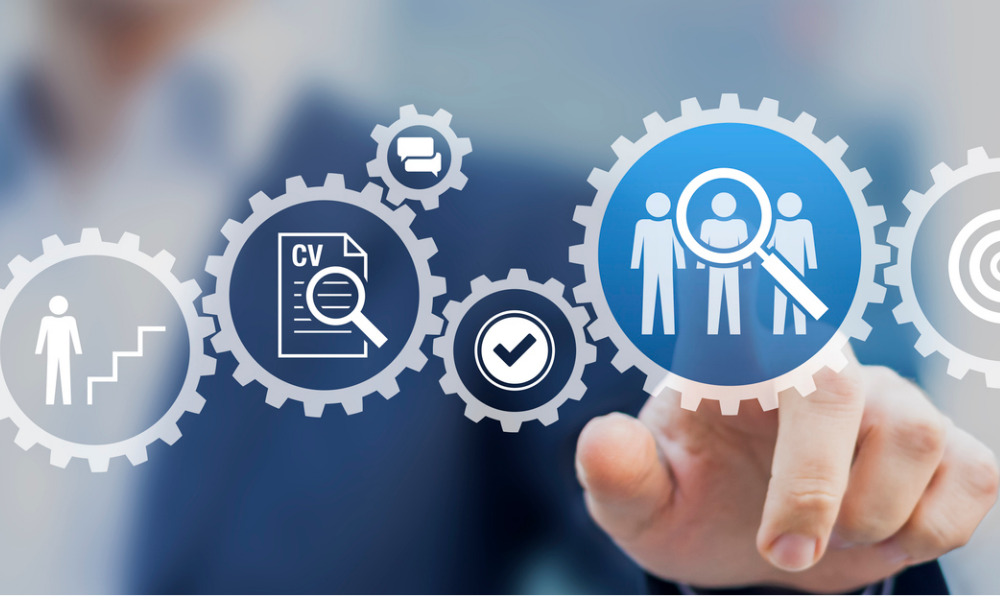 Recruitee is a hiring tool designed to help HR teams collaborate with the rest of the organization, streamlining the hiring process. With its user-friendly interface, thousands of growing businesses have used Recruitee to manage recruitment, track applicants, and find top talent.
Recruitee offers a range of features, including a multi-page careers site builder, job multi-posting, candidate sourcing tools, applicant tracking, recruitment analytics, and more. For the purpose of this review, we will delve deeper into Recruitee's features, integrations, pricing, and overall usefulness.
Recruitee is a collaborative hiring platform that includes an applicant tracking system (ATS). Recruitee's all-in-one software helps HR teams with sourcing, screening, and recruiting candidates for their open positions.
With Recruitee, HR departments get access to four essential products in one: employer branding, job promoting, talent sourcing, and applicant tracking. The software's playful design makes it easier for HR professionals to attract and retain top talent while staying organized and efficient. Recruitee has become the go-to software solution for many fast-growing SMBs across the world.
In this section, we will explore Recruitee's features in five key areas:
Identify
Source
Interview
Hire
Improve
Let's get into each of them below.
1: Identify
Pipelines
This feature offers extensive customization options, allowing HR professionals to tailor stages, generate templates, and automate tasks, minimizing the need for manual labor. By incorporating candidate reminders and a job scheduler, Recruitee helps ensure a hassle-free experience for everyone involved, and prevents any oversight.
Hiring team
This functionality allows for team setup, where hiring roles can be assigned and customized for each team member. Enhanced visibility options are available, including the discretion functionality, which ensures confidentiality for salary information and private notes.
CareersHub
HR teams can construct their own careers site and monitor hiring data independently, without relying on the expertise of a developer or marketer. This feature offers editable building blocks, providing access to a wide range of templates and pre-designed sections that can be easily customized.
Users have the flexibility to create custom pages that showcase their company values, team, offices, and available job opportunities. With a seamless employer branding experience, HR can ensure their careers site aligns with the unique look and feel of their brand.
Recruitee's CareersHub also offers a multi-language functionality, allowing HR teams to communicate with their target audience in their preferred language.
API & Webhooks
By leveraging the API and Webhooks provided, users can establish personalized automations between Recruitee and their existing technology infrastructure, facilitating seamless integration and data flow.
Key features:
Customizable pipelines
Workflow templates
Roles and visibility
Job scheduler
Overdue candidate reminders
CareersHub
Multi-language feature
API & Webhooks
2: Source
Multi-posting & smart campaigns
With access to over 2,900 free and paid job boards locally and internationally, HR professionals can promote their job openings across a wide range of platforms.
Here is a screenshot from Recruitee's website with some of Recruitee's partner job boards: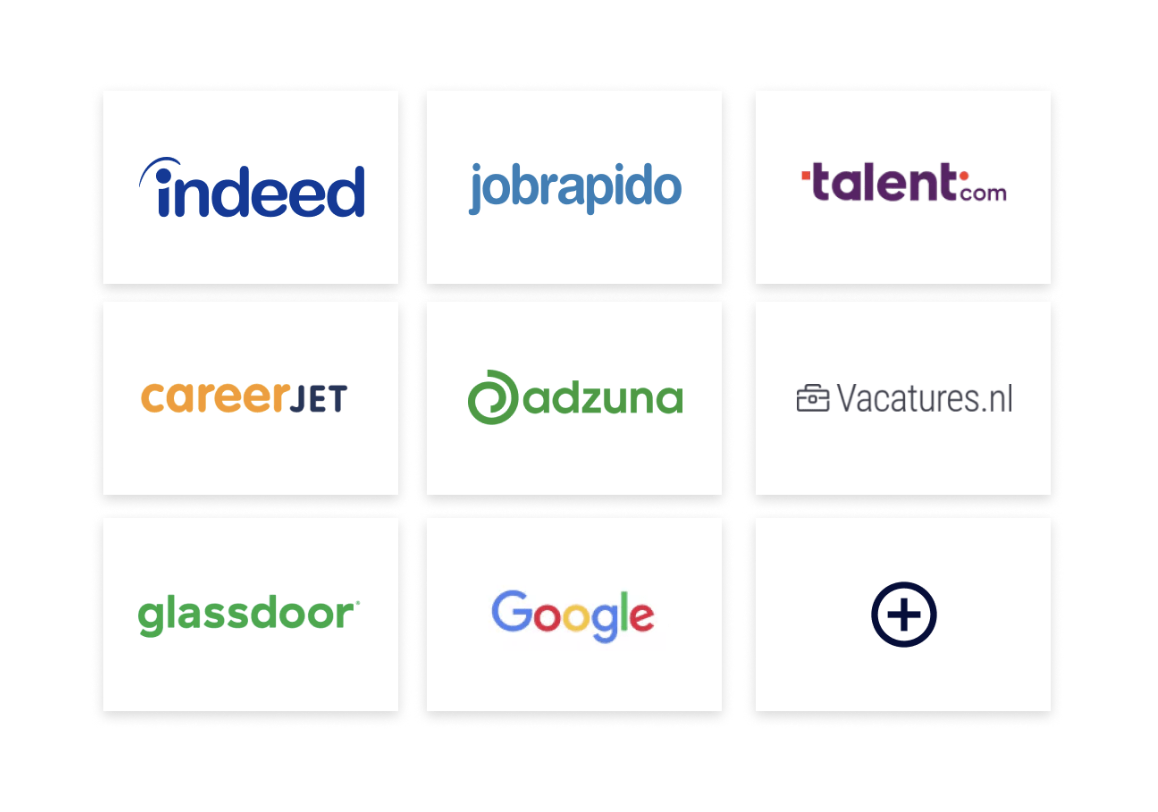 Recruitee also has a smart campaigns functionality that enables users to design and implement customized campaigns, maximizing the visibility of their job listings and reaching a larger pool of potential candidates.
ReferralsHub
HR professionals can empower their colleagues by implementing a referral program through this feature. Recruitee includes an engagement booster that adds a gamification element to employee referrals, offering fun and unique rewards to encourage participation and enhance the referral process.
Key features:
Multi-posting & Smart campaigns
Free & paid job boards
Sourcing tool
ReferralsHub
3: Interview
Assessment
HR can ensure unbiased feedback through the assistance of Fair evaluations. With this feature, HR teams can hide evaluations from between team members, allowing them to provide their unbiased opinions and determine which candidate truly stands out.
Recruitee also helps streamline the screening process with the use of Knockout questions, enabling HR to automate pre-screening and saving time.
Communication
Recruitee offers automations that facilitate consistent and meaningful communication, ensuring that applicants remain connected and engaged throughout the hiring process.
Interviewing
HR can deliver a captivating and inclusive interview experience for their candidates through this feature. Recruitee's evaluation template functionality enables users to establish standardized evaluation criteria, ensuring consistency among hiring managers when assessing candidates.
Key features:
Screening questions
Evaluations
Email templates
Event Scheduler
Video interviewing
Meeting rooms
4: Hire
E-signature
HR professionals can secure new hires and simplify the onboarding process through Recruitee's integrations with HelloSign, DocuSign, and Signrequest. Through these integrations, users can obtain e-signatures on contracts, allowing for a quick and efficient signing process, ultimately accelerating the onboarding of new employees.
Talent pools
Recruitee lets HR create talent pools to ensure that they don't miss the best candidates for the role. The platform allows users to create and manage talent pools and makes it easily accessible for teams to find relevant candidates.
Key features:
E-Signatures
HRIS
Talent pools
5: Improve
Reporting
Through personalized dashboards and custom reports, HR can gain valuable insights into their hiring metrics and track their progress towards recruitment goals. These reports can be easily shared with the rest of the team to foster collaboration and facilitate informed decision-making.
Additionally, this feature offers the ability to export reports and visuals, allowing users to conveniently prepare and present data for their upcoming hiring team meetings.
Compliance
Recruitee incorporates GDPR compliance and automation tools, saving time for HR professionals and ensuring adherence to data protection regulations.
Customer Success
With Recruitee, HR will receive dedicated support from the Customer Success team to develop a customized onboarding and rollout strategy.
Additionally, their dedicated Customer Success Manager (CSM) will keep users and their team updated on relevant information, ensuring they are well-equipped to make the most of the Recruitee's capabilities. This way, your HR team will stay informed about the latest updates and best practices.
Key features:
Reporting
Compliance
Customer Success
Recruitee offers over 120 integrations with your favorite applications, including:
Jitsi
Amazon Redshift
SimpleRecruiter
HoorayHR
TestGorilla
DocuSign
Dropbox Sign
Enboarder
Zapier
Recruitee offers three plans: Launch, Scale, and Lead. Recruitee's subscription plans are structured around the requirements of your team and the number of active job slots in your company account.
Recruitee believes in collaborative hiring, so they don't put a cap on the number of team members.
Here is an overview of Recruitee's plans and pricing tiers: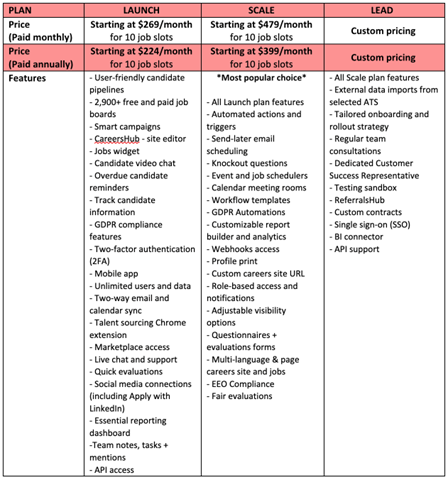 Headquarters address: Keizersgracht 313, 1016 EE Amsterdam, Netherlands
Year established: 2015
Number of employees: 200+
Global locations: Offices in Amsterdam, Poland, New York, and Germany
Businesses served: 5,000+
Key people: Perry Oostdam (Co-Founder, CEO), Paul Smoczyk (Co-Founder, CTO), Marcin Moszyk (CPO)
Recruitee was founded by Paul Smoczyk and Perry Oostdam in August 2015. After experiencing the time-consuming nature of recruiting first-hand, the Co-founders decided to come up with a hiring solution that provides a clear overview of the entire hiring process. They believed that hiring software should empower teams to work together and attract the best talent available. This product was designed to be accessible to everyone, from recruiters and hiring managers to organizations of all sizes and industries. In 2015, they introduced their creation to the world and called it Recruitee.
Recruitee was created to help bring teams together. This is why Recruitee's tools are designed to allow HR teams and professionals to customize their recruitment process and make it more collaborative.
Recruitee review: FAQs
Does Recruitee offer a free trial?
Yes! Recruitee offers an 18-day free trial with no credit card required to get started.
What are Recruitee's standout features?
Automation capabilities: Recruitee boasts that they can help companies save up to 64% of their time by automating manual tasks in the recruitment process.
Employer branding: Recruitee allows HR departments to create an amazing careers site with just a few clicks. With Recruitee's easy-to-use career site editor, HR can take your employer branding to the next level and attract top talent.
Candidate sourcing: Turn everyone into a recruiter with social sharing links, sourcing tools, and referrals. Smart campaigns allow HR professionals to post to multiple job boards at once.
What companies use Recruitee?
Recruitee is a popular tool among companies in the Information Technology and Services industry, and is most commonly used by companies with 10-50 employees.
The majority of these companies are based in the Netherlands, but Recruitee has a client base that spans across different continents.
Here is a screenshot of Recruitee's website that features just some of these companies:

Does Recruitee have an app?
Yes! Recruitee offers a dedicated mobile app for both Android and iOS users. Key features of their mobile app include:
Candidate management
Task tracker
Dark mode
What are some potential drawbacks of Recruitee?
The complex system of team roles, overlapping tasks, and communication features can be unnecessary for smaller and mid-sized businesses. Additionally, some of Recruitee's more advanced candidate management features, such as the kanban-based Pipelines, can get lost among features that small teams are unlikely to use. If you're only hiring a few people and don't want to connect your entire HR department to a hiring program, you may want to look elsewhere.
What are the competitors of Recruitee?
If Recruitee doesn't seem like the best fit for your company, there are several other options worth exploring:
Recruitee is a highly effective and simple to use collaborative hiring software that provides round-the-clock solutions to help internal teams with hiring procedures. Many businesses have chosen Recruitee due to its effectiveness and user-friendly nature.
Recruitee is best suited for small businesses that don't have a lot of recruiting needs, fast-growing businesses, and companies with remote job openings. Recruitee offers all the features required for the hiring process even in the lowest paid plan and can be easily customized according to recruitment needs. The platform also allows companies to advertise their jobs across various locations and efficiently supports both remote and international job boards.
If you're still unsure if this is the right choice for your company, we invite you to check out our HR software reviews page for more options.
Do you have experience using Recruitee? Share your own Recruitee review in the comments section below.