Our JazzHR review will delve into its features, integrations, pricing, and overall usefulness as applicant tracking software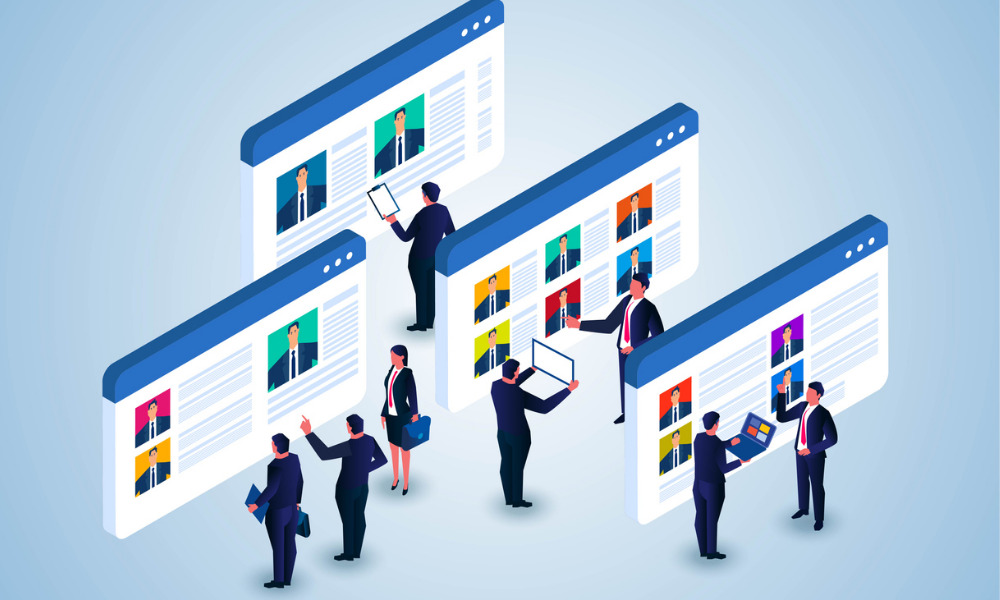 JazzHR has been providing businesses with recruiting and hiring software through their Software-as-a-Service (SaaS) applicant tracking system since 2009. With JazzHR, HR professionals can take advantage of features such as sourcing and applicant tracking, managing the entire interview process within the portal, creating and sending out offers, and many more.
JazzHR has been recognized for its user-friendly interface, simple setup process, easy administration, and exceptional customer support. In this JazzHR review, we will delve into its features, integrations, pricing, and overall usefulness.
JazzHR is an all-in-one recruiting software and applicant tracking system (ATS) that simplifies and streamlines hiring processes for companies. It is designed to help HR managers and recruiters create an effective and scalable recruiting process.
With JazzHR, HR professionals can stay organized throughout the hiring journey thanks to its customized workflows, document management, collaboration tools, and streamlined communication channels.
In this section, we will explore JazzHR's features, including:
Applicant Tracking
Candidate Experience
Candidate Sourcing
Collaborative Hiring
Compliance & Reporting
Employer Branding
Interviews & Assessments
Offers & eSignatures
Let's get into each of them below.
1: Applicant Tracking
JazzHR empowers HR teams and managers by giving them complete control over how they recruit talent and evaluate applicants. With its customizable features and automation capabilities, JazzHR streamlines the hiring process, saving time and ensuring effective communication with candidates. Here are some of its features:
Customizable Workflow: Tailor the workflow for each job posting, adapting it to suit your organization's unique needs.
Automation of Repetitive Tasks: Automate time-consuming and repetitive tasks, such as candidate notifications, to optimize efficiency.
Communication Templates: Access a wide range of pre-built templates for every step of the hiring process, allowing HR professionals to save time on crafting personalized communications.
Email Inbox Sync: JazzHR syncs with your HR's email inbox, providing seamless notifications when candidates reach out or respond to messages.
JazzHR ensures that your HR department's workflow remains smooth and the team stays focused by automatically assigning tasks. The platform ensures your hiring team never misses a beat in sending and receiving messages to candidates, maintaining efficient and timely communication.
Key features:
Recruiting workflows
Task automation
Recruiting teams
Feedback loops
Email sync
Auto-send emails
2: Candidate Experience
Ensure that every interaction with the brand creates a memorable impact. By incorporating the brand essence into various elements, such as emails and the careers page, candidates are provided with a cohesive experience. Custom workflows can be established to keep candidates informed at every stage of the hiring process. The feature includes customizable guides that equip the hiring team with all the necessary resources to conduct top-notch interviews. It is designed to transform your hiring process from cumbersome and clunky to efficient and seamless.
Key features:
Customizable career pages
Branded messaging
Custom workflows
Email syncing
Interview guides
Candidate categories
3: Candidate Sourcing
JazzHR lets HR create seamless candidate engagement across multiple platforms. With JazzHR, your HR team will be able to distribute job postings to various channels, including free and paid job boards, as well as popular social media networks
HR teams can attract candidates by highlighting the exceptional qualities of your company as an ideal workplace. Its Candidate Quick Screen feature even allows for the convenience of reviewing resumes on-the-go.
Key features:
Job posting
Employee referrals
Resume screening
Automation
4: Collaborative Hiring
Promote internal dialogue and monitor the progress of the entire team with JazzHR. Collect timely feedback from the hiring team to facilitate quicker and more informed decision-making, oversee and monitor each team member's contributions throughout every stage of the hiring process, and streamline the interview process and synchronize schedules across multiple calendars.
Key features:
Candidate feedback
Candidate ranking
Calendar sync
Mentions and alerts
5: Compliance & Reporting
With JazzHR, HR doesn't have a problem meeting reporting obligations to ensure business compliance. JazzHR provides swift access to the necessary data, enabling HR managers and key stakeholders to stay well-informed about the company's compliance status.
JazzHR allows HR professionals to generate fully customized reports that reveal actionable insights, enhance the hiring process through insightful reports, and monitor long-term recruitment trends.
Key features:
Compliance reports
Candidate sourcing reports
Recruiting pipeline reports
Custom reporting
Fast data sharing
6: Employer Branding
JazzHR lets HR teams provide candidates with an immersive experience that aligns with the company's brand and offers a glimpse into the daily workings of your company. With JazzHR, HR can:
Enhance the visibility of job openings across social media platforms to expand their reach and strengthen brand recognition.
Share and monitor job openings through various social channels.
Every interaction—or the absence of one—with your company's brand can shape the candidate experience. JazzHR helps your HR team create a positive and lasting impression on candidates.
Key features:
Custom careers pages (with custom templates!)
Integrate with existing career page
Source talent on social
Collect referrals from followers
Branded message templates
Automated communications
7: Interviews & Assessments
Enable synchronization of personal calendars with JazzHR to conveniently identify suitable interview times that accommodate the whole team's availability and empower the hiring team to ask perceptive questions that contribute to well-informed hiring decisions.
Key features:
Interview scheduler
Recruiting calendar
Guided interviews
Candidate evaluation templates
8: Offers & eSignatures
JazzHR improves the efficiency of your company's hiring process and helps businesses deliver a seamless candidate experience through the digitization of new-hire paperwork.
HR can generate offer letters using pre-filled templates and automate eSignature requests and ensure easy access to drafts and declined offers, maintaining a well-organized workflow.
Key features:
Embed configurable fields for candidate information
Automate esignature requests
Centralized document management and version tracking
Document storage
Integrating with your HR's preferred tools or current HR tech stack is a breeze. Here are some of JazzHR's popular integrations:
JazzHR offers three plans: Hero, Plus, and Pro. Each JazzHR plan comes with the ability to add unlimited users, candidates, and job syndication.
Here is a screenshot of JazzHR's website that shows their plans and pricing tiers: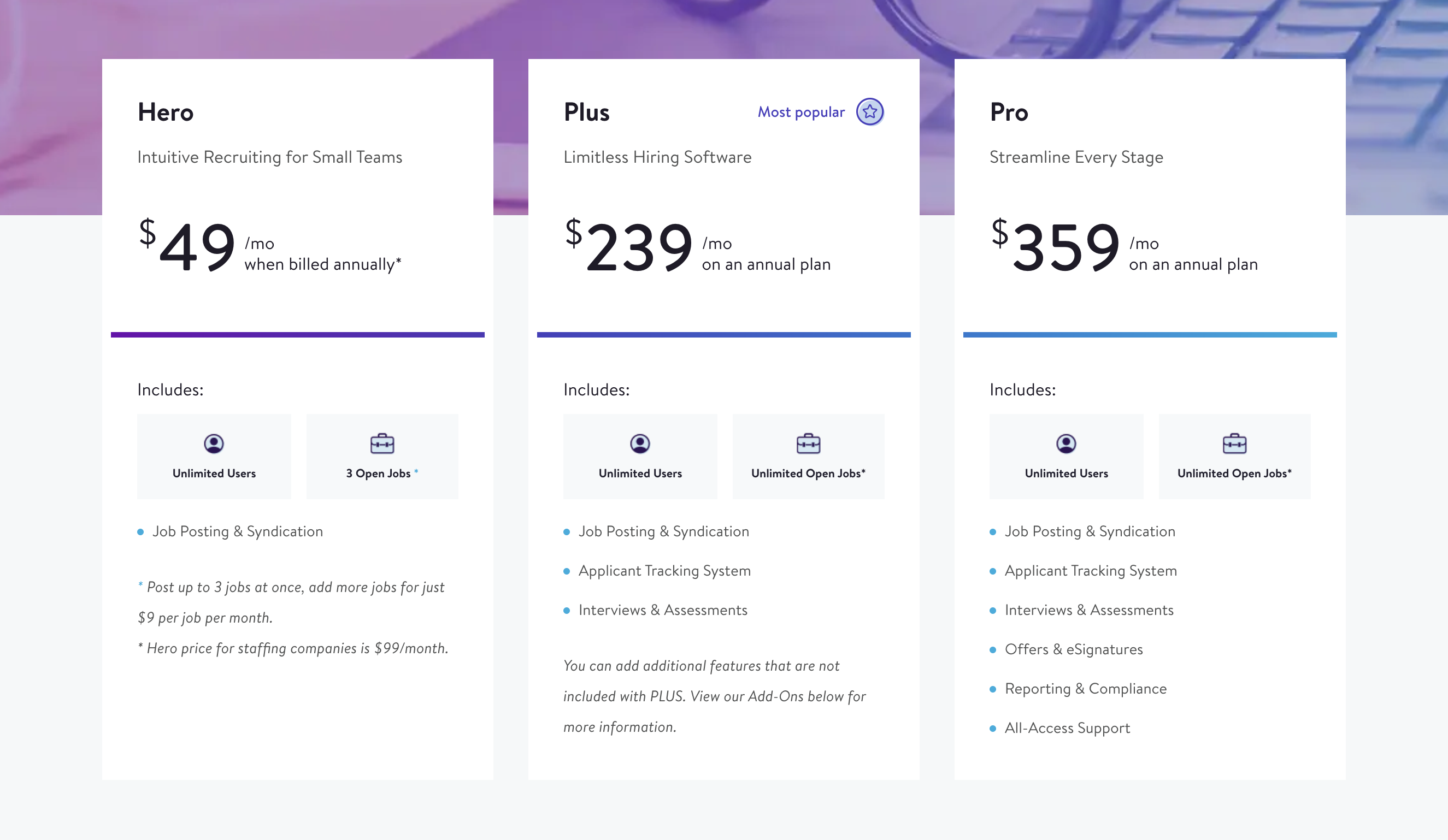 For organizations who need an HR solution for high-volume recruiting, whether they're operating across multiple locations or focusing on extensive recruitment efforts, JazzHR can provide the necessary tools to support their team's growth.
Here is a screenshot of JazzHR's website for high-volume pricing: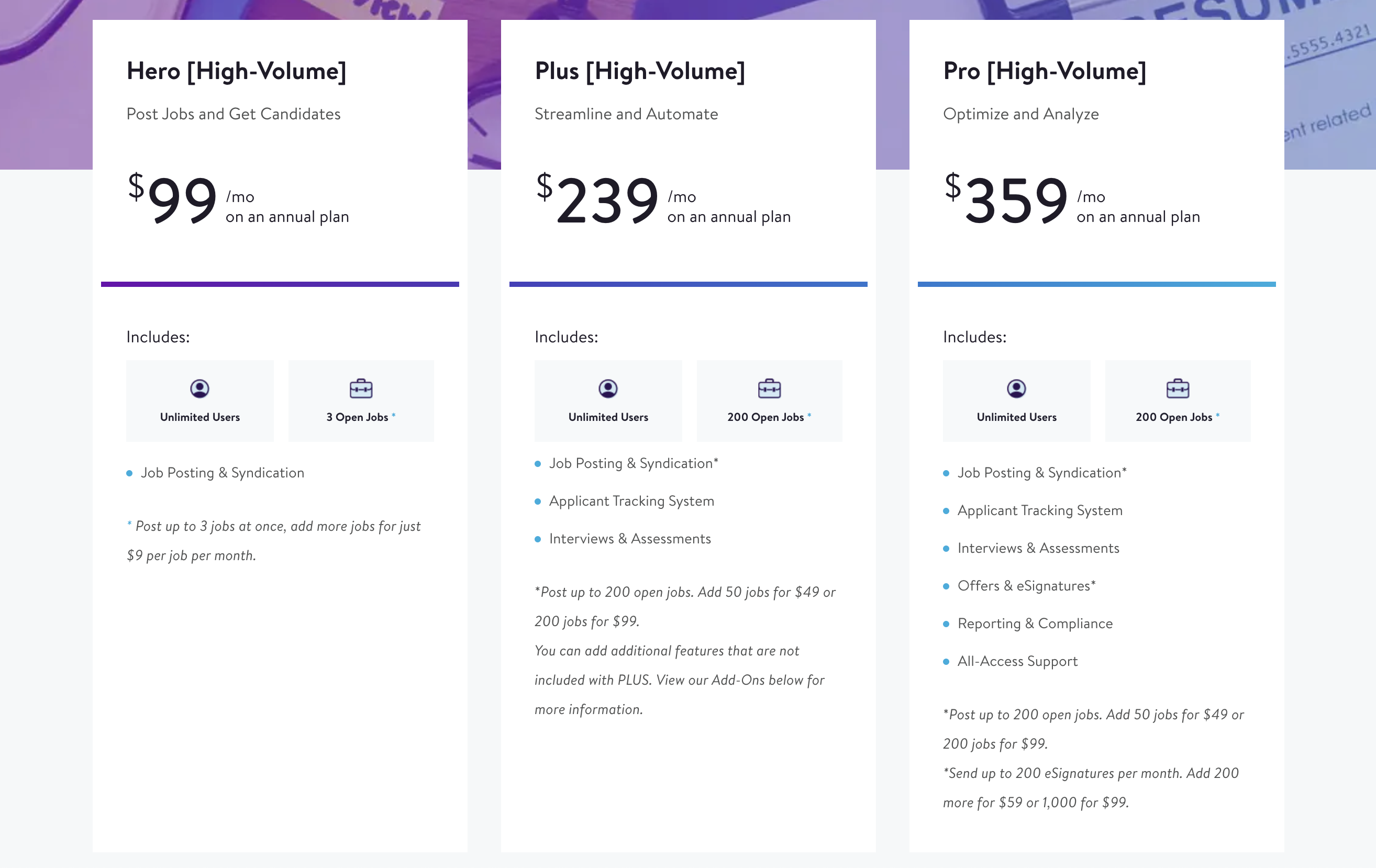 What about add-ons?
For those seeking additional enhancements to their current recruiting strategy, JazzHR offers a range of add-on features to explore, including:
Candidate Texting (Starting at $39 per month)
Dedicated Account Manager ($119 per month)
Offers & eSignatures (Starting at $59 per month)*
Advanced Reporting (Starting at $59 per month)*
All-Access Support ($49 per month)*
Zoom Integration (Starting at $29 per month)*
Candidate Export Integration (Starting at $29 per month)
Career Page Customization (Starting at $39 per month)
Bulk Emails (Starting at $29 per month)
Single Sign-On (Starting at $29 per month)
*This add-on is already included with the Pro plan.
Headquarters address: 1501 Reedsdale St, #403 Pittsburgh, PA 15233, United States
Year established: 2009
Number of employees: 100+
Locations: Offices in Pittsburgh and Waltham
Businesses served: 10,000+
Key people: Bill Phelan (President), Dave Disciascio (VP, Engineering), Samantha Spano (VP, Marketing), Joe Satovich (VP, Product Management), Mallory Zimmerman, (Senior Director, Customer Experience), Rick Mahoney (SVP, Sales)
Since 2009, JazzHR has been a driving force in the recruiting software industry, introducing numerous innovations that have later on become industry standards. JazzHR takes pride in providing startups, growing companies, and even political campaigns with powerful yet user-friendly recruiting software.
JazzHR recognizes that hiring managers are the key decision-makers during the recruitment process, yet HR professionals often receive the least support from recruiting software. JazzHR is committed to closing the loop that ties recruitment to performance, ensuring that how a company recruits is directly tied to its performance.
JazzHR review: FAQs
Does JazzHR offer a free trial?
Yes! JazzHR offers a 21-day free trial that accommodates unlimited users, and no credit card is required to start the trial.
What are JazzHR's standout features?
Here are just a few of the standout features that set JazzHR apart from the rest:
Unlimited jobs and users: Enjoy unlimited users and jobs without any extra fees or costs.
Quick and easy setup: JazzHR's platform is ready to use as soon as your company signs up, so your HR team can get started finding the right talent right away.
Highly customizable: JazzHR understands that every team has its own unique hiring process. That's why their software is designed to be highly customizable, giving your HR department the power to create a tailored solution that meets their specific needs.
Comprehensive customer support: JazzHR's extensive learning center has all of the information you'll need to effortlessly navigate the platform. Plus and Pro plan users can rely on JazzHR's team for assistance during the implementation process, ensuring a stress-free onboarding experience.
What companies use JazzHR?
JazzHR is predominantly used by companies in the Information Technology and Services industry and are primarily located in the United States. JazzHR is particularly popular among organizations that have a workforce consisting of 50 to 200 employees.
What are some potential drawbacks of JazzHR?
Online users have reported that the basic package may be too simplistic for some recruiters, and that they may need to download additional apps and integrations to access high-end features. Additionally, JazzHR's pricing is higher than some other top recruiting software packages, especially for companies that do not post a lot of jobs. However, the upper pricing tiers of JazzHR offer unlimited simultaneous job postings and no user limitations, which may justify the higher cost for some businesses.
What are the competitors of JazzHR?
Here are some alternative ATS software options to consider if you don't think JazzHR is the best fit for your needs:
With its user-friendly interface and efficient job posting and candidate retrieval capabilities, JazzHR excels across different pricing tiers. It enables easy distribution of job postings to top job boards with a single click, attracting a significant volume of applications based on the specific job and skill set requirements.
For small and medium-sized businesses seeking assistance with job posting and employee recruiting, JazzHR offers a powerful software package. Its user-friendly nature makes it an attractive choice for organizations with minimal hiring needs, while its higher pricing tiers cater to busier groups that require advanced features.
JazzHR is a great solution for small teams seeking a scalable solution that can adapt to substantial growth. It serves as an ideal tool for startups aiming to streamline their hiring processes and manage their recruitment process from start to finish. As businesses secure funding or expand their client base, JazzHR can accommodate their increasing demands. If you still feel that this is not quite the right HR software for your company, we invite you to look at our HR software review page for more options.
Do you have experience using JazzHR? Let us know your thoughts in the comments section below.
Related stories