Is your HR team struggling to keep up with administrative tasks? With HROne, you can free up more time to focus on what really matters - your people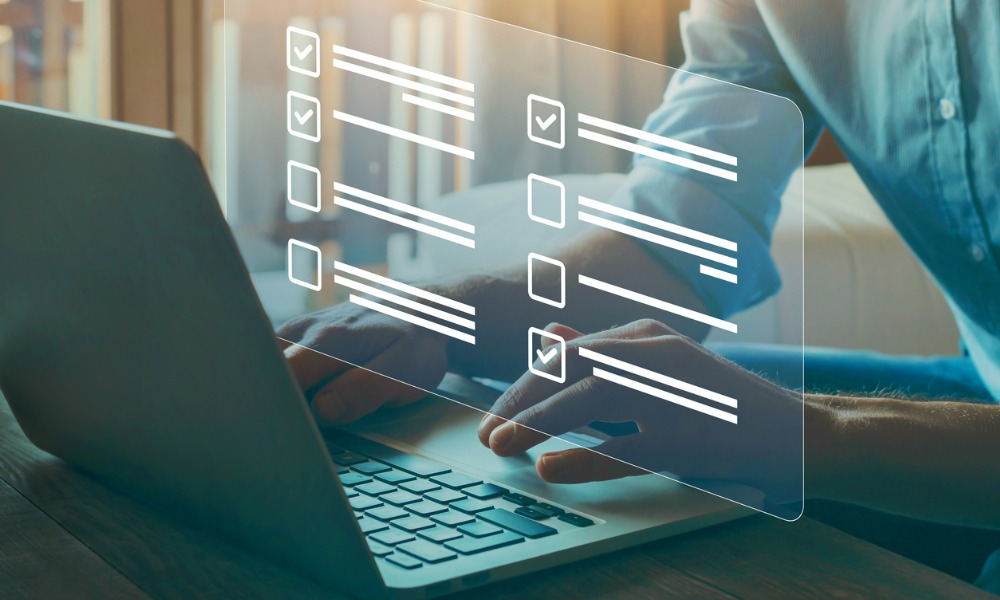 HROne is an end-to-end HCM software platform that offers a range of integrated modules designed to meet all your organisational needs, including software for payroll, attendance management, and performance management. HROne is designed to help you streamline your team's efforts and increase productivity across your organization.
With HROne, your HR team not only automates HR processes and tasks but also gains a platform that will allow them to build a happier and more engaged workforce.
HROne simplifies and automates HR operations intelligently, streamlining your workday. HROne is committed to enhancing the efficiency of your organisation's existing HR processes threefold by completely automating each workflow, policy, and HR task.
HROne offers different modules that companies can use to create a customized HR software solution for their specific business needs. Here is a list of those modules:
Core HR: HROne offers a platform that gives you full control. It allows you to configure the core HR software module to meet your organisation's unique needs. This includes creating multiple companies, defining organisational structures, roles and permissions, and granting access rights. Moreover, you can easily create and upload HR policies in the HR handbook and make rich text or video announcements.
Workforce: The workforce management software in HROne automates task assignments, such as employee confirmation, clearance, and letter generation, to designated task owners on pre-defined life cycle dates.
Payroll: With its cloud-based HCM system, you can automate your salary processes and receive a salary report directly in your email. Plus, with just one click, you can send salary slips to your employees.
Attendance: Automate your payroll processing by pre-scheduling monthly attendance with HROne's attendance management system. HROne's software enables you to calculate paydays hassle-free.
Performance: Create goals with the help of the recommendation engine and conduct prompt performance reviews. Track employee performance through regular one-on-one meetings and provide consistent feedback on employees' progress using this module's performance management software.
Helpdesk: The helpdesk module covers everything from improving ticket response time and quality, to creating unlimited ticket categories, defining SLAs, and providing agent ratings.
Expense: Customize your expense policies to meet your needs, allow your employees to submit expenses on the go, and ensure timely payouts while avoiding overpayment with HROne's expense management software module.
Recruitment: Create job openings through this module and delegate them to recruiters and consultants. You can watch them as they source candidates and schedule interviews seamlessly, making the candidate lifecycle smoother. Use predefined letter templates or create your own to release offer letters and empower managers to update feedback in real-time to keep potential hires engaged.
Asset: Create entries for asset types and subtypes and decide whether to assign them permanently or temporarily when a new request is raised. Additionally, you can update important invoice details and synchronize the onboarding and offboarding checklist to ensure that assets are assigned and taken back on time. You can also track the activity log for each asset and access a range of other features to help you manage your assets more efficiently.
Engagement: Track employee satisfaction with pulse surveys and Mood Bot. Boost employee retention and engagement by utilising appreciation badges and reward points.
This software is not designed to be a one-size-fits-all type of our software technology. It can be customized and configured to fit what your company actually needs.
Does HROne have a mobile app?
Yes. HROne has a fully functional mobile app that allows users to execute over 50 different tasks.
With HROne's mobile app, HR professionals and employees can access HR services on the go. This app allows for mobile readiness, enabling users to execute tasks, manage approvals, access ESS, upload employee data, and so much more.
How long will it take to implement HROne in my organisation?
HRone has completed over 350 successful implementations with a unique methodology that ensures systems are up and running in just 5 to 25 days, depending on company size. HRone's four-step implementation process ensures error-free policy configuration and quick user onboarding, setting them apart from others in the industry.
What are the benefits of using an HCM software like HROne?
Using HCM software like HROne offers several benefits, including:
Streamlined administration and reduced paperwork, leading to more efficient HR processes.
Improved information security and privacy with advanced security features.
Increased process efficiency due to automation of HR workflows and tasks.
Enhanced employee performance and productivity by providing tools for performance management and employee engagement.
Improved decision-making from the leadership team through access to HR reporting and analytics.
Compliance with employment regulations, ensuring that the organisation stays up to date with legal requirements.
A modern HR department requires modern hour software technologies in order to perform at their best. Any form of HR which is currently being done the old-fashioned way with paper in filing cabinets, is only slowing your entire team and process down.
HROne is designed to meet the needs of both small businesses and large enterprises, and its pricing structure is based on "purchase what you need" system, allowing you to pay for only the features you use.
Here are the modules included in the Base Plan: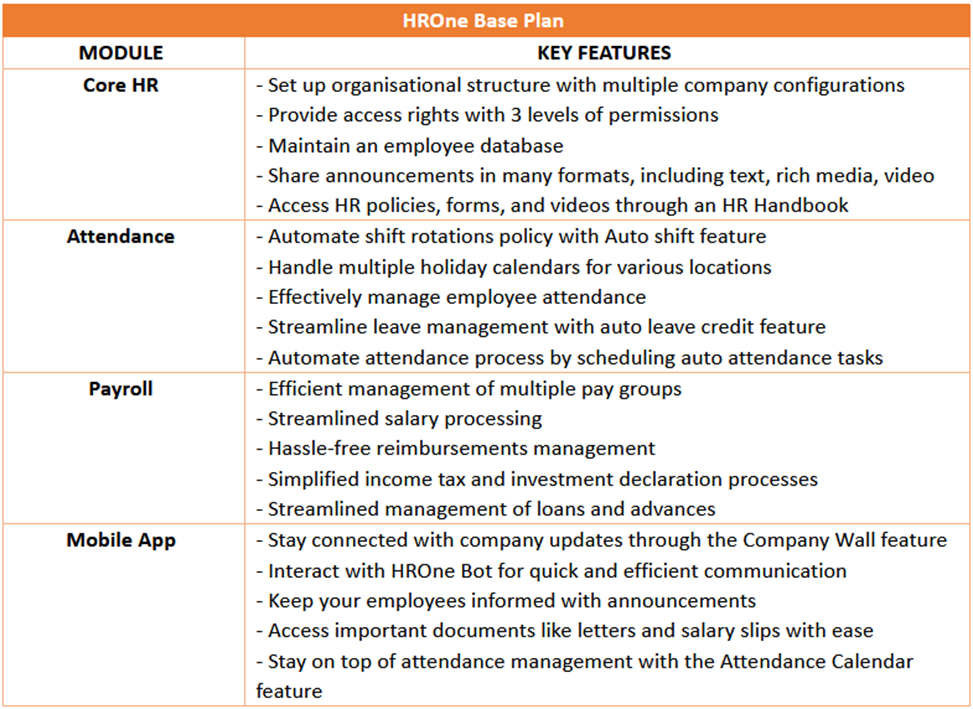 Here are the modules available as add-ons:

If you're considering alternatives to HROne, the following options may also be worth exploring:
ADP
ADP Workforce Now
SAP SuccessFactors
UKG Pro
Odoo ERP
peopleHum
Oracle cloud HCM
PeopleStrategy
Workday HCM
Headquarters address: A-8, Block A, Sector 68, Noida, 201309 India
Year established: 2016
Size (number of employees): 200+
Locations: 7 offices across India
Businesses served: 900+
Key people: Karan Jain (Founder), Magnum Gupta (Head of Product), Nitin Bisht (Head of Sales), Arvind Mishra (Head of Delivery), Jitendra Verma (Head of Customer Success), Pulkit Joshi (Head of Marketing)
HROne was founded in 2016 with the vision to automate and simplify manual HR functions. After successfully automating HR functions for over 250 companies by 2017, HROne realized that they had only solved part of the puzzle and focused on digitizing HR transactions.
In 2018, after analyzing over 10,000 customer queries and studying successful consumer apps like Ola, Swiggy, and Paytm, HROne assembled a team of experts and launched an updated version of HROne that not only automated HR processes but also simplified human interactions and delivered actionable insights to build better workplaces.
HROne is said to be the first HCM company in India to offer a consumer-centric experience in an enterprise HCM suite, providing a user experience like popular B2C brands such as Ola, Uber, Swiggy, and Amazon, but in the B2B space.
Over 900 organisations in more than 20 industries have placed their trust in HROne to manage their day-to-day HR functions.
I have a company with over 1000 employees, can HROne accommodate us?
HROne is a scalable HR platform that caters to the needs of startup companies with as few as 50 employees to large enterprises with up to 5000 employees.
Companies can start with core modules and then add other modules as they grow, providing flexibility for businesses of all sizes and industries.
My review has shown that this is a reliable and trusted piece of HR software technology. The customization features which it has can be beneficial to companies of all sizes.
The software's autopilot feature allows most functions to run with minimal human intervention, enabling HR professionals to concentrate on tasks that require their attention, such as interviewing, negotiating, and working on key metrics such as employee satisfaction and attrition rates.
If you are new to the HR software space, you can learn more about what to consider in the purchase of an HCM platform in this article. That article, along with the white paper it links to, can help you better determine what it is you actually need.
Do you have experience using HROne for your company? Let us know your thoughts in the comments section.