Can HR help keep travellers' worries and stresses at bay amidst the global pandemic?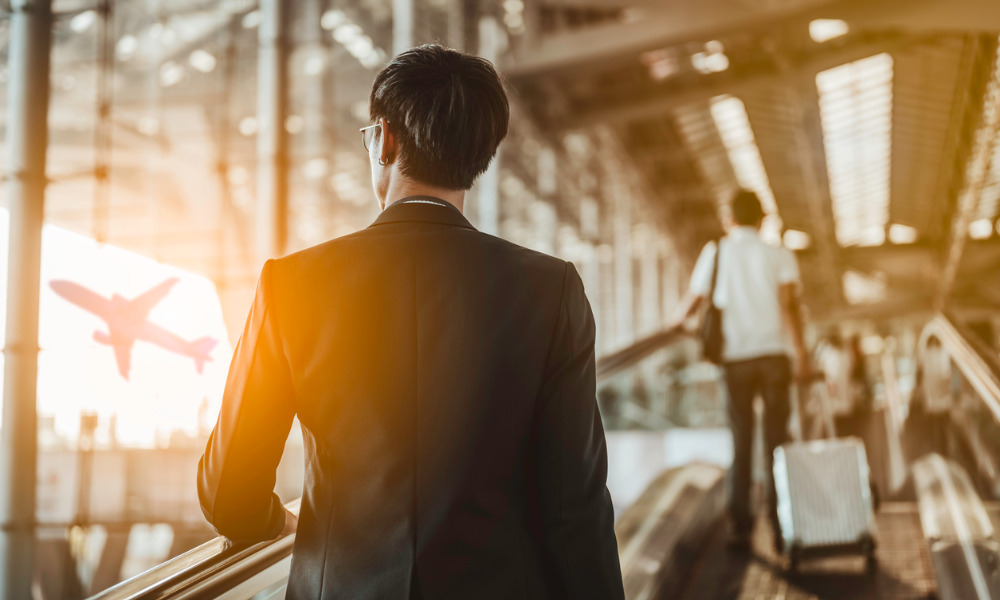 Are your employees ready to resume business travel?
As there's still no coronavirus vaccine available, a new study found that 91% of Asia Pacific business travellers feel concerned about resuming travel.
Although 43% of APAC business travellers say they are worried about resuming travel once restrictions are lifted, over a quarter (29%) feel excited as well.
The new study found that nearly three in five professionals have positive feelings about travelling again — if anything, to 'get back to business'.
However, they remain worried about getting sick during the trip (55%) or infecting their family upon returning(51%).
What's more, the trip itself is likely to be anxiety-inducing. About half (54%) are concerned about being on a plane, with 48% worried about using public transportation, and 41% about staying in a hotel.
READ MORE: COVID-19: Can HR 'compel' employees to travel?
Can employees refuse travel?
Frequent flyers have made it clear that they expect employers to implement new health and safety measures, found SAP Concur.
Organisations that are not proactively protecting employee well-being on business trips could risk consequences – half of business travellers said they would ask to limit travel if their company does not implement the measures they want
Another 14% would even request for a position that does not require travel, with 5% going so far as to consider quit and find another job altogether.
These findings are timely after Singapore announced plans to resume in-person industry events.
While the size of these events will be limited to just 250 attendees and will be subject to approval by the authorities, Ministry Chan Chun Sing focused his announcement speech around business travellers — and how the government will find ways to keep the whole experience safe.
One critical consideration is how meetings can be conducted safely and efficiently.
READ MORE: Singapore to allow in-person industry events from October
Eager to get back to business
The importance of ensuring that face-to-face meetings remain safe can't be overstated amidst the ongoing pandemic.
Despite this, the idea of resuming these meetings is exactly why business travellers are eager about returning to the skies.
SAP's study found that about three in five business travellers expect a dramatic decline in the signed business deals and contracts due to a 'force stop' in meetings.
Half (55%) believe a lack of these international meetings have led to a drop in 'new business'.
Travel concerns
Regardless, whether they resume travel or not is dependent on how safe they feel throughout the trip — including before and after the actual trip.
Professionals have always found business travel stressful at some stage, but COVID-19 may have made things worse. Now, nearly half of business travellers (48%) said they experience the most stress during the trip.
This compares to those who feel stressed before (21%) or after the trip (31%).
When the same study was conducted last year, only a third of travellers cited the trip itself as the most stressful stage of travel.
With the pandemic remaining still top of mind worldwide, more than two in five said their health and safety is their top priority while travelling for business.
Business travellers from China (57%), Malaysia (55%), and Taiwan (53%) are especially concerned about personal health and safety.
READ MORE: Business travel remains a 'highly stressful' affair
How HR can reassure travellers
When business travel resumes, almost all (97%) business travellers across the region will consider some measures critical for safely returning to the road.
These include:
mandatory personal health screenings for travelling employees (45%)
limiting travel to only the most critical trips (39%)
easier access to personal protective equipment (37%)
Additionally, employees will increasingly require guidance from organisations on how to stay safe when they travel.
Some 96% of travellers said company trainings would be beneficial, especially trainings on:
- How to protect their health and safety while travelling (61%)
- How to maintain healthy habits while travelling (51%)
"In this new normal, emerging expectations around health and safety requires the travel industry to adapt, innovate and transform," said Dr Carl Jones, VP and head of travel, APAC and Greater China at SAP Concur.
"For a start, organisations should update their travel policies and create a mechanism to clearly define essential travel – not just from the corporate standpoint but also taking into account government regulations and employees' appetite for travel."