Singapore will soon have access to a viable vaccine – can HR mandate a policy around it?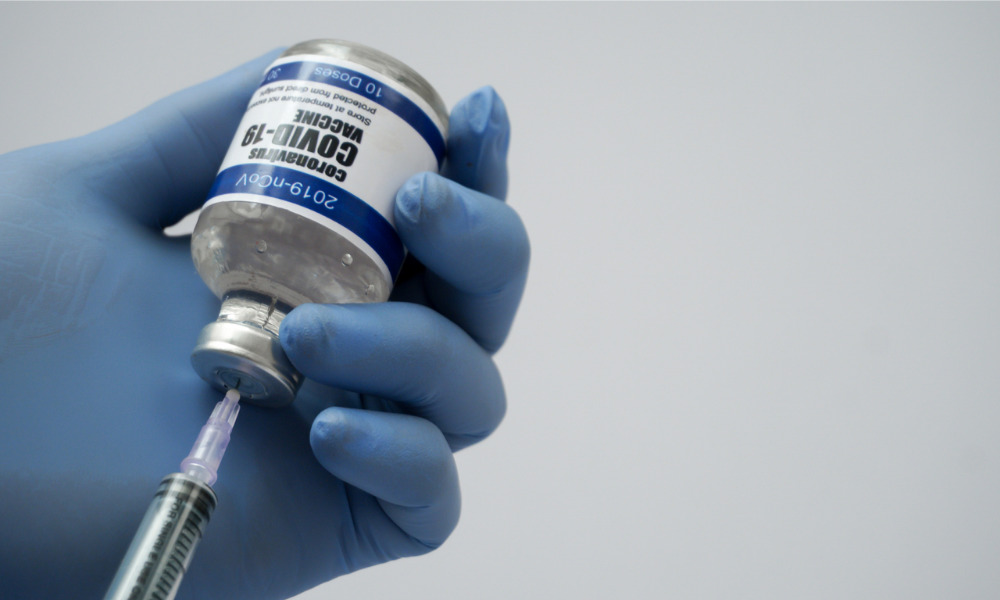 Singapore's prime minister yesterday (December 14) announced that the Health Sciences Authority has approved Pfizer's COVID-19 vaccine for use.
The first shipment of the vaccines should arrive by the end of the month. Meanwhile, the PM expects other vaccines to arrive in Singapore in the coming months.
"If all goes according to plan, we will have enough vaccines for everyone in Singapore by the third quarter of 2021," PM Lee Hsien Loong said in a virtual state address.
Read more: PM Lee: Singapore to move into Phase 3 of pandemic
Access to the vaccine will take a while, so he shared the recommended vaccination strategy by a team of doctors and medical experts.
According to the committee, priority will be given to the most at-risk groups of individuals: healthcare workers, frontline personnel, the elderly and the vulnerable.
Read more: Should CEOs be vaccinated before employees?
Vaccines: Voluntary but 'strongly encouraged'
The rest of the population will have to wait their turn. Regardless, vaccinations will be made voluntary, though highly encouraged in Singapore.
This is in line with the World Health Organisation's (WHO) stance on the issue.
"I don't think that mandates are the direction to go in here, especially for these vaccines," said Kate O'Brien, director of the WHO's immunisation department, in a recent virtual news conference.
"It is a much better position to actually encourage and facilitate the vaccination without those kinds of requirements. I don't think we envision any countries creating a mandate for vaccination."
The agency did, however, say that it is up to individual countries to conduct their vaccination campaign. PM Lee shared a glimpse of Singapore's strategy during the virtual address.
"The committee has proposed that our entire adult population should be vaccinated, but to make vaccinations voluntary," Lee said.
"The committee proposes to progressively vaccinate the rest of the population. And to cover everyone who wants a vaccination by the end of next year."
Vaccinations will be free for all Singaporeans and long-term residents, so he strongly encouraged individuals to 'get vaccinated when the vaccine is offered to you'.
A local health official also recommended that all individuals above the age of 16 get vaccinated.
"When you get yourself vaccinated, you're not just protecting yourself, you're also doing your part to protect others, especially your loved ones," he said. "The more of us are vaccinated, the harder it will be for the virus to spread."
Read more: COVID-19 vaccination: Mandatory request or PR nightmare?
Can you force employees to take the vaccine?
The uptake of the vaccine is yet to be seen, but in a limited study of 515 respondents in September, Professor Eric Finkelstein at Duke-NUS Medical School found that at least 20% of residents in Singapore would not want to be vaccinated even if it were free.
The reason for the resistance went undisclosed, though more detailed studies will have to be conducted to get a clearer picture of residents' attitudes toward the vaccine.
To allay concerns about adverse reactions or allergies, officials explained that the HSA will continue to actively monitor the safety profile of the vaccines and track for signs of complications, both globally and locally.
This would allow the authorities to 'react quickly' if they needed to manage any safety issues. The same will be done to determine the vaccine's effectiveness in providing immunity – officials will conduct a long-term assessment campaign and continue to review data, and adjust the vaccination strategy accordingly.
Read more: 'Cautious optimism': Early Covid-19 vaccine success sparks questions for HR
While the government has made it voluntary here, HRD spoke to two employment lawyers to find out what employers can legally do amidst the pandemic. Dawn Tan, Director at Ashurst ADTLaw, and Karen Mitra, Senior Associate at Ashurst shared their insights.
"Whether or not an employer can require an employee to take the vaccine will depend on whether the requirement is lawful and reasonable," they said.
"This will necessarily depend on the individual facts of the case, such as the employee's role and individual health circumstances."
It will also likely depend on whether the government makes it a requirement for specific groups to take the vaccine or leaves it as an 'entirely voluntary matter' for everyone.
"For employees in high-risk roles such as healthcare, or whose roles require them to care for vulnerable individuals, it will more readily be argued that the requirement to take the vaccine is lawful and reasonable," they said.
"This will certainly be the case if the government requires vaccination for people holding such roles, even if it is not mandatory for everyone."
ADTLaw LLC and Ashurst LLP together form Ashurst ADTLaw in Singapore. Ashurst LLP is licensed to operate as a foreign law practice in Singapore. Where advice on Singapore law is required, we will refer the matter to and work with licensed Singapore law practices where necessary. The information provided is not intended to be a comprehensive review of all developments in the law and practice, or to cover all aspects of those referred to. Readers should take legal advice before applying it to specific issues or transactions.