In a matter of weeks, the deadly new wave has devastated countless lives. Can leaders help?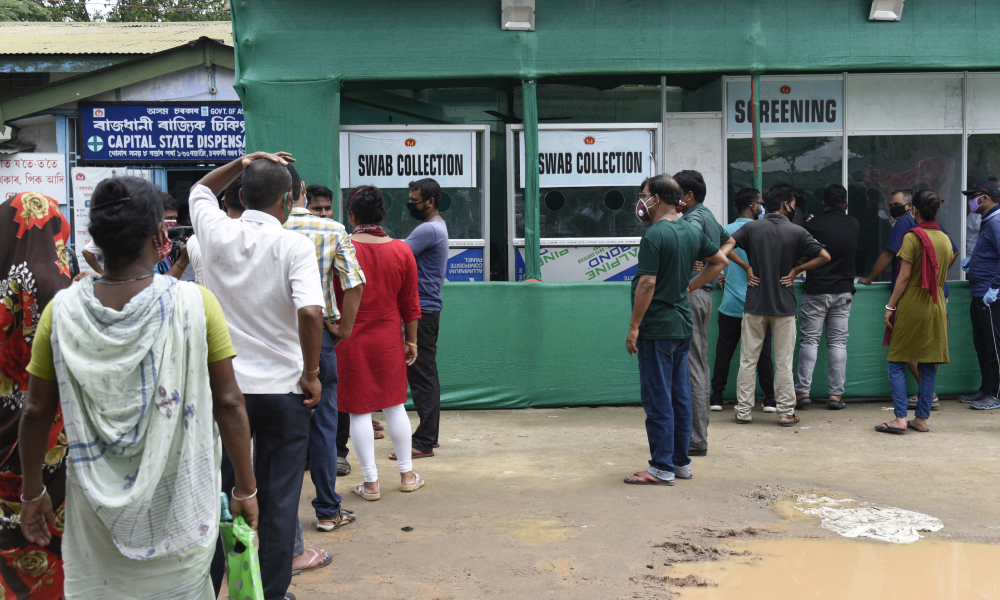 The world can only do so much to help India as the populous nation faces a deadly new wave of COVID-19. We've seen startling videos and images of hospitals turning away patients, doctors pleading for help, and public parking lots turned into makeshift crematoriums for families to perform the final rites for their loved ones. The healthcare system has crumbled under the overwhelming number of patients and has faced a dire oxygen shortage, a crucial treatment for severe COVID patients.
Fortunately, this week presented a glimmer of hope as the health ministry reported a continual decline in confirmed cases, dropping below the 300,000 daily infections since April. Before this, daily highs of 400,000 were the norm since the contagious new wave hit in February. As of Monday, the daily death toll stood at about 4,000. Local governments have also been extending lockdowns to facilitate testing and help contain the pandemic.
Despite this, experts believe that the actual reality of the pandemic may be worse than official tallies have made them out to be. This is because it's nearly impossible to get accurate reports of every single infection across the nation – especially when the virus attacks rural towns and villages. And in rural India, those who contract the virus may not even have easy access to a testing facility, resulting in an even more devastating situation on the ground.
Read more: Are leaders doing enough for frontliners' mental health?
How to support staff through the COVID crisis
Another tragic reality of the new wave is that even if you don't contract the virus, you'd likely know someone who has. Family, friends, and colleagues across the nation are forced to deal with the heavy mental burden of seeing someone in their lives suffer, whether they're nearby or living in another state, making it a very personal experience.
This is when workplace initiatives like DHL Supply Chain's 'special' Covid-19 leave can go a long way in supporting employees. The leave allows employees in India to take time off for various reasons, including the need to leave work to "fight the virus". Of course, leaders are constantly in touch with employees to monitor their health status and support with any medical needs, including hospitalisation, medication, and home isolation services.
Read more: How to be a more compassionate leader
Declan J Byrne, SVP of HR, APAC at DHL Supply Chain counts the company as "very lucky" because the business in India has been "largely protected" thus far. The ongoing wave has hit several regions, like Delhi and Maharashtra, harder than others, but DHL's multiple offices and bases across the nation has managed to remain out of its way. Regardless, Byrne said it's been an "enormous challenge" for the company and he's been reaching out to colleagues in India to find out how everyone's coping. "Let them know we care," he said.
If he's not speaking with employees, he's communicating with the local leaders to allow everyone to share any challenges, possible solutions and best practices across the organisation. "Our leaders are very focused on our people," he told HRD. "We've got quite a large family of employees in India, and to date we've been very blessed that we haven't had many issues with COVID taking a life or losing one."
DHL also offers employees and their families in India 24/7 telemedicine consultation services in case they require urgent medical assistance. On-call doctors are available to treat patients and attend to emergencies, as well as help staff get tested. This is crucial considering the current lack of emergency medical services in India.
Additionally, DHL has also been actively urging staff to get vaccinated as soon as they can. As vaccinations are not free in India, the company helps fund the shots for employees and their loved ones. "I cross my fingers every day when I see the news," Byrne said. "Whatever we can do to protect the people, that's what we're doing. We're going to introduce a vaccine program with the government, and we'll fund that for our people, and if we can help family members, we'll do that as well."
Read more: This is the top employee benefit amid COVID-19
Offer critical emotional and mental support
WWT, a global technology firm with offices in India has also been offering similar employee benefits. Staff have access to telemedicine consultations and can get medicine delivered to them, so they don't have to leave their home to get adequate treatment. WWT was also quick to offer free vaccinations for staff and their family members when they heard of the situation in India.
"Although we have very comprehensive health coverage for all our employees globally, this was not commonly covered," said Ang Sze Pheng, director of HR for APAC at WWT. "When we realised that part of this was not covered, we very quickly put together financial support for all employees for any COVID-related 'out of pocket' costs, not only for them but for their immediate family members as well, to give them peace of mind during this period of time."
WWT employees can also rely on additional COVID care leave to take care of themselves and their family members who have contracted the virus. These were some of the initiatives that were implemented after holding an intimate town hall session with all their employees based in India. Ang told us that when the deadly wave hit India, leaders, including the CEO and VP of HR, quickly set up a town hall to hear out local employees and understand their experiences.
Read more: How to deliver bad news
"When we got news of the severity of the pandemic in India, we immediately started sending out communications globally, informing all employees that this is happening. [We told them:] 'Please provide support to our employees in India," she told HRD. "After which we set up a town hall… got on a call… just to listen to their stories and also understand what kind of support they needed from the company.
"For us, taking care of our employees is a number one priority. At the same time, we also want to play our part in the community as well, so having taken care of our employees, the next step is to see how we can help in the community out there."
Additionally, leaders understood the "extremely stressful situation" being faced by employees in India. While their physical health and their loved ones' may be in order, the mental burden of having to deal with the ongoing situation daily may devastate employees. This is why leaders have been reminding staff to tap onto the company's employee assistance program for support. WWT has also set up wellness talks for staff.
"For the leaders and managers, we always emphasise on having to lead with empathy and compassion – especially during this time," she said. "It's extremely important to understand what people are going through. By listening to them and asking even a simple question [like], 'How are you today?' can go a long way."