The pandemic 'has challenged traditional thinking about how and where work is done'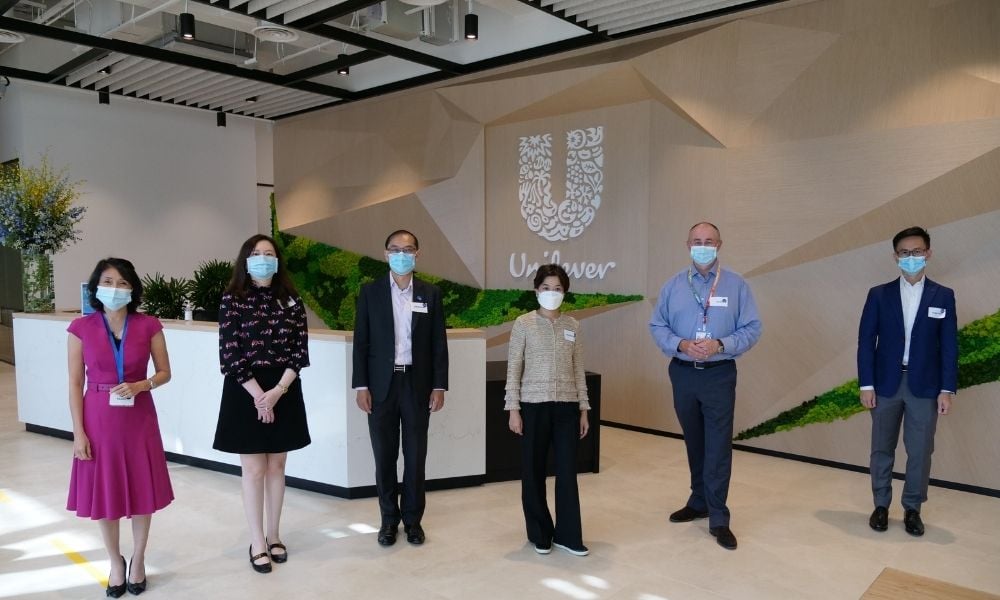 Unilever has launched a newly redesigned office in Singapore that aligns with its plans to embrace hybrid working arrangement as a permanent HR policy. Called Unilever Campus @ one-north, the office will also be a base to attract and develop future leaders.
Leena Nair, CHRO at Unilever shared that the new campus is rooted in their commitment to meet employees' desire for flexibility, autonomy, and wellness, while allowing the space for innovation and creativity. "This exceptional new campus in Singapore will be a place for our people to connect, create, collaborate and celebrate," Nair said.
"I am so excited to see this philosophy brought to life in Singapore against the backdrop of COVID-19, which has challenged traditional thinking about how and where work is done and how people work best to balance their work and personal lives."
At the new campus, employees can expect quiet 'focus zones' with height-adjustable desks, open collaboration spaces and 'project squad rooms' custom-built for igniting creativity and teamwork. Meeting rooms will feature hi-spec technology that will power a hybrid experience and recreate physical meetings. Beyond work, the campus also houses two cafes, a staff shop, hair salon, a dedicated medical centre and well-being spaces including a yoga room.
Situated in the middle of Singapore's one-north Nepal Park, the new campus sits on the Unilever Four Acres Leadership & Development site. Officially opened in 2013 by Prime Minister Lee Hsien Loong, Unilever's 'corporate university' is the only global leadership development centre outside of the UK.
Read more: These 10 well-known companies offer fully remote or hybrid work arrangements
The impact of COVID-19 on office spaces
Unilever is one of many global companies that has redesigned their office space to meet the changed needs of the workforce and the business. Companies that embark on this journey typically do an internal survey to find out what employees usually want.
There are also plenty of reports that aim to figure out how offices will look like in the post-pandemic world. One such study by global workplace experts Unispace found that about one in three (37%) employees want to continue working from home at least three days a week, even after a vaccine becomes widely available. The statistics also indicated that 10% to 30% of office space will remain unoccupied at any given time, in addition to the 40% to 50% that was already typically empty pre-COVID.
Such findings help to offer answers to a current hot topic: will physical offices become obsolete in the new world? Despite a mass adoption and acceptance of remote working in today's situation, there remains unanswered questions about office spaces, which have been mostly vacant the past two years.
However, a recent chat with an employment lawyer about the future of remote working led to relevant insights into the corporate real estate market. "If you look at real estate trends, most people assume that because of COVID and the rise in work-from-home, employers are starting to give up their office leases because there's no longer a need for it," said Goh Seow Hui, partner at Bird & Bird. "But I've got a friend in real estate who told me that the demand to invest in corporate real estate remains high.
"Investors have been choosing to put their money into corporate real estate because of the belief that in the long run, people will still want an office space. Business owners will still want a proper office location, maybe just for the credibility or the way you market your business. I think in the long run, my sense is physical working might still prevail for most of our industries."