Extended periods of remote work have proven that work-life integration is harder than it sounds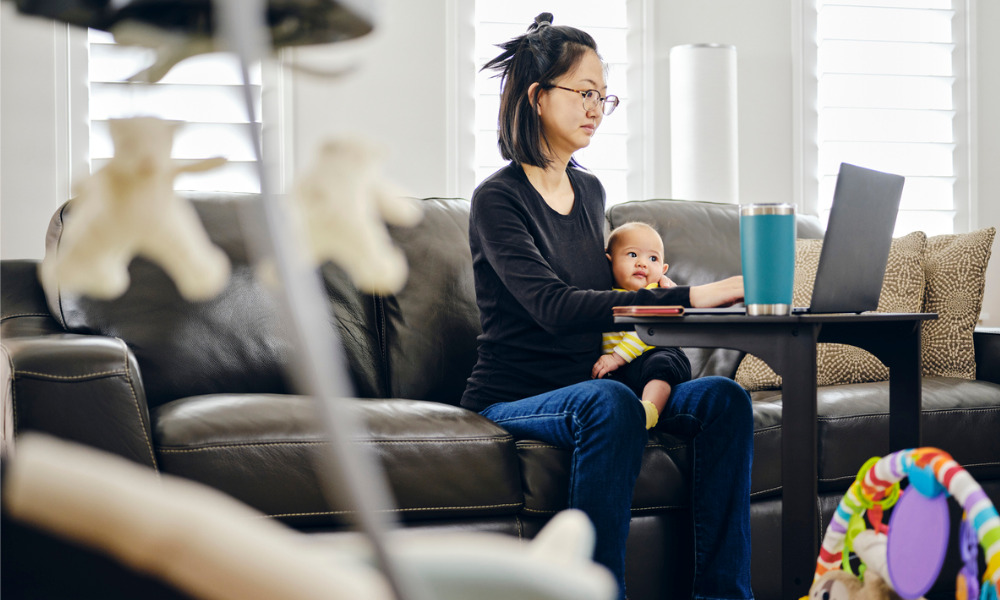 Are you doing enough for working parents?
If 2020 has done anything, it's made everyone rethink their priorities. Businesses have been forced to pay more attention on the employee experience, making HR's leadership role more important than ever.
Employees, forced to integrate work and personal life due to the extended period of remote work, have also rejigged their priorities. Balancing childcare duties with remote work can seem like a recipe for disaster – but its quickly become the norm for families across the world.
After seeing all the pandemic-motived changes, almost all (89%) employees are expecting remote work to become a permanent part of life.
Besides the desire for flexibility to become a norm, a new Skillsoft study found that over half of employees want to see a continued focus on personal well-being (47%), with another half hoping for more family and personal time (47%).
READ MORE: COVID-19: How to work at home and stay sane
While you could just offer more time off, what the study suggests is employees simply want better support to help them while they juggle their overlapping roles at work and at home.
With remote work likely to remain a norm amidst the pandemic, what can employers do for workers? This is especially for working parents who choose to keep their children at home for safety reasons, and have no plans for childcare.
So, can employers help parents balance the pressure of work targets and toddler tantrums?
"Having children learning from home and working remotely at the same can be difficult to balance," Kiljon Shukullari, Certified Human Resources Leader (CHRL), and team lead for the HR advice team at Peninsula Canada, told HRD.
"Working parents may experience stress, be distracted and their productivity and morale may be negatively affected as a result.
"In these difficult times, it is important for employers to demonstrate empathy and consideration for the individual challenges workers may be facing due to the pandemic."
READ MORE: Six ways to be a more thoughtful leader
Shukullari emphasized that empathy is key and the driving force to offering better, practical support. This could include providing accommodations and increasing benefits for staffers, among other measures.
He shared some suggestions of feasible workplace measures:
Flexible working arrangements
To help working parents balance their personal and work responsibilities, employers can provide accommodation such as flexible working hours.
Allowing employees to work when it is most convenient for them ensures they are more focused and efficient when working.
Some parents may prefer to work during hours outside of the traditional 9 to 5 workday, when their children are asleep, occupied or when other family members are home to help with childcare.
"Trusting employees to get their work done regardless of when they work will build a good working relationship and help them adjust to changes in their personal and professional lives," he said.
READ MORE: Is HR biased against childless employees?
Temporary reductions to workloads
Some employees may not be able to keep up with their usual pace of work even with flexible hours, depending on their situation at home.
For some, working late just to get the work done may upset their work-life balance, their mental health and actually cause more problems.
If an employee is struggling with their usual workload, employers should consider temporarily reducing their tasks, extending their deadlines or lowering targets to help them adjust.
"Stress, poor performance and changes in behaviour are potential signs that an employee may need help and changes to their schedule," he said.
"In order to avoid consequences such as mental health concerns and burnout, employers are advised to be proactive in supporting their workers."
Checking in regularly
Checking in regularly with working parents is important for gauging how things are going and whether any changes need to be made to working arrangements.
Virtual meetings and phone calls are a better way to discuss more personal matters, and may be preferable to messaging and emails.
An employee's personal circumstances might change at any time and working remotely with children at home can be an ongoing challenge that will require ongoing adjustments. Employers are advised to demonstrate patience and to work with employees as their situation at home evolves.
READ MORE: How to cope as a family in isolation
Vacation and leave entitlements
In some cases, working parents may simply need time off to rest, take care of their family responsibilities, or to make childcare arrangements.
To help prevent burnout, employers should encourage workers to use their vacation time and family responsibility leave.
Increasing vacation and leave entitlements can also be a big help to workers who are tired, feeling overwhelmed or cannot quickly find a childcare solution.
"Investing in the well-being of staff will pay off in the long run, with a good working culture, better retention rates, increased productivity and higher morale," he said.