Looking for a hassle-free way to manage your non-desk employees? Read on to learn how Connecteam can transform your workforce management process today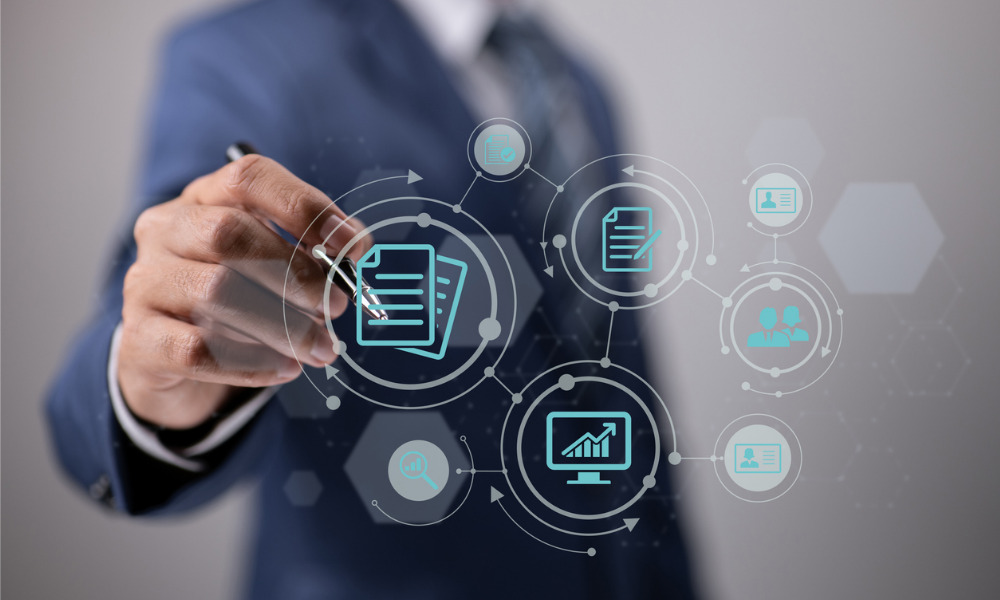 HRMS software is an essential tool for managing human resources and streamlining HR processes. By providing a central repository for employee data, an HRMS lowers compliance risks, informs decision-making, enhances employee engagement, and improves HR productivity and efficiency.
If you are in the market for an HRMS, then this review is for you. In this Connecteam review, we will look into its features, benefits, and potential drawbacks. Read on to learn more about how Connecteam can help you manage your human resources more effectively.
Connecteam is an all-in-one employee management platform designed for mobile-savvy companies with large non-desk workforces. The platform streamlines team management by providing a comprehensive app for communications, engagement, operations, and training, all in one place.
With Connecteam, managers and employees have access to a mobile-first solution for fully managing their deskless workforce.
Connecteam's app includes solutions in three key areas:
Operations Hub
Communications Hub
HR and People Management Hub
Let us explore each of them below.
1: Operations Hub
Connecteam's Operations Hub provides companies with a range of tools to simplify and streamline their daily operations. These tools include staff scheduling, time tracking, payroll processing, task management, and digital forms and checklists.
With Connecteam's time clock solution, businesses can track time on jobs and projects, manage timesheets, and process payroll.
Connecteam's platform also allows for the creation and delegation of tasks, making it easy for deskless teams to complete their work efficiently. Plus, digitizing work processes eliminates the need for paper forms and documents.
Key features:
Employee time clock for time tracking
Online timesheets
Employee shift scheduling
Task management
Digital forms and checklists
2: Communications Hub
Connecteam's Communication Hub simplifies communication with frontline teams, allowing managers to reach their employees effortlessly.
With the Communication Hub, companies can easily communicate with every employee, share resources and information, gather feedback through surveys and polls, and secure business chat messaging.
With Connecteam, your employees get access to information such as:
Benefits and wellness information
Protocols, employee handbooks, and workplace guidelines
Health and safety information
Gateway to third party services
And all other kinds of resources (even daily cafeteria menus!)
Managers can boost participation in company events and facilitate direct peer-to-peer communication, while measuring their communication's impact.
Connecteam's user-friendly interface requires no training, making daily communication effortless for both managers and employees.
Key features:
Updates and announcements
Work chat
Company directory
Surveys and polls
Knowledge base
Events
3: HR and People Management Hub
Deskless companies face challenges in onboarding, training, and retaining their teams due to high turnover rates and physical distance between managers and frontline workers.
Connecteam's HR and People Management Hub helps manage onboarding, skill building, and recognition with rewards and tokens to foster a healthy culture and connect employees to company values and success.
The platform streamlines paperwork and compliance management, simplifies employee training with customizable courses and quizzes, and provides an employee roadmap for better team management.
Key features:
Recognition and rewards
Onboarding
Mobile training and courses
Document management
Employee timeline and milestones
Quizzes
Is Connecteam secure?
Connecteam takes security seriously and enforces the following measures:
256 bit SSL encryption for all Connecteam SSL certificates
SMS verification required for Connecteam App logins
256 bit SSL encrypted login for maximum security in data transfer
Runs on Microsoft Azure cloud infrastructure
GDPR compliant to protect personal data
Connecteam offers three Hubs with different plans that cater to your company's specific business needs, ranging from Basic to Enterprise level. Customers can choose which plans suit their needs and only pay for what they require.
For the first 30 users, prices are fixed and there is a per-user, per-month fee from the 31st user onwards. The Enterprise Plan is recommended for companies with 201-10,000 employees, and small businesses with less than 10 employees can use the Small Business Plan for free.
Connecteam is flexible and allows customers to choose different plans for each Hub or opt for the Free plan. Customers can also contact Connecteam for recommendations on the best bundle for their business.
This video provides an overview of how Connecteam's pricing works:
Headquarters address: 119 West 24th St. 4th floor New York, NY 10011, United States
Year established: 2016
Number of employees: 250+
Businesses served: 36,000+
Key people: Amir Nehemia (Co-Founder and Chief Executive Officer), Yuval Magid (Chief Operating Officer), Asaf Haviv (Chief Financial Officer), Omri Erel (Chief Marketing Officer)
Connecteam's journey began in early 2016 when its CEO, Amir Nehemia, met with a global retail chain manager to discuss employee training challenges. During the meeting, the manager asked if Connecteam's system could tell him how many employees he had at that moment. This conversation made Nehemia realize the need for a dedicated solution that addressed the core problems of the deskless market.
After extensive research and meetings with industry leaders, Connecteam was born. Today, it is the only all-in-one employee management app designed specifically for the non-desk workforce. With a mobile-first approach, Connecteam offers a tailor-made, simple experience for both managers and employees without requiring any training or IT implementation.
Connecteam review: FAQs
What companies use Connecteam?
Connecteam is used by companies across a range of industries including retail stores, field services, manufacturing companies, and hospitality. Some examples incude:
BnB Clean Services (Cleaning Services)
Surf Life Saving (Nonprofit Organization)
Canada's Restoration Services (Construction)
FOX Retail Group (Retail)
Mattest Materials Testing (Construction)
What are some potential drawbacks of Connecteam?
Online users report occasional technical issues with the mobile app, such as lag or freezing, a complicated setup process for teams with limited technical expertise, and express frustration with the need for frequent upgrades to access additional features. In short; it doesn't have any major drawbacks that any other software doesn't have at time.
Connecteam review: What devices are compatible with the Connecteam app?
The Connecteam app is compatible with mobile, tablet, and desktop devices. The app can be downloaded on smartphones that run Android 5.0 and above or iOS 11.0 and above.
Connecteam review: Does Connecteam have a free trial?
Yes, Connecteam offers a 14-day trial that includes all of its features with no limitations, and no credit card is required to sign up. During the free trial, Connecteam's Customer Success Team can help HR teams and managers decide if the platform is right for their business.
Connecteam review: What are the competitors of Connecteam?
Interested in seeing how Connecteam compares to other HRMS software in the market? Check out these alternative options:
Overall, Connecteam is a comprehensive and flexible HRMS software that can help businesses streamline their employee management processes. With its customizable features, mobile app, and excellent communication tools, it can be a great fit for mid-sized and large companies that need to manage their non-desk employees and enhance communication.
We recommend Connecteam for businesses looking for a strong employee communications and management tool, with standout features such as real-time reporting, self-service portal, geofencing, push notifications, and customizable time clocks.