This monday.com review can help HR professionals determine if it is the right HRMS software for their business needs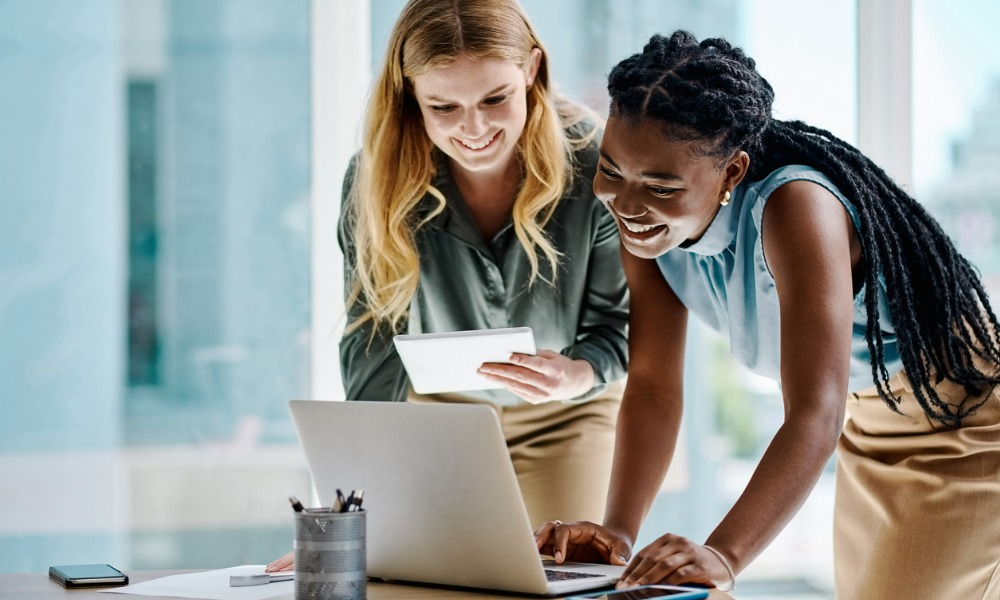 monday.com's Work OS provides an open HRMS platform that gives HR professionals the freedom to create and shape the tools that they require to manage their work seamlessly. With the ability to combine various building blocks, including apps and integrations, HR teams can customize their own unique HR solutions to optimize their business operations.
This monday.com review will delve into monday.com's features, benefits, and potential drawbacks. If you are thinking of using monday.com for your company's HRMS needs, this review can help you decide if it is the right HR software match for your business needs.
monday.com offers an intuitive project and task management platform with a clean and easy-to-navigate interface. At its core, monday.com enables its users to customize their workflows using a range of no-code building blocks. Additionally, users can explore tutorials on how to best use its advanced features such as plug-ins and workflow automations.
By combining apps and integrations into its Work OS, users can manage every aspect of their work with ease. Whether it is customizing apps or integrating different tools to improve business operations, monday.com offers the tools your employees may need to get their job done more efficiently.
In this section, we will go through the core features of monday.com.
Dashboards
monday.com's Dashboard feature allows users to create customized dashboards to track progress, timelines, and budgets. With monday.com, employees can generate detailed reports and gain access to tools to assign and prioritize tasks, share files, and monitor team members' activities.
monday.com enables users to centralize all of their work processes through:
Views: Use a variety of views including timelines, calendars, charts, and more to monitor progress.
Workload: Get a clear and detailed breakdown of the team's workload to improve workflow.
Automations: Eliminate repetitive, manual tasks and let employees focus on more impactful work.
Automations
With monday.com, employees can set up automated notifications for task deadlines and real-time updates for completed tasks, ensuring team members remain aligned and informed. Reduce time spent attending meetings and answering lengthy email exchanges by creating personalized automations, all within a matter of minutes.
Users can establish a seamless workflow with code-free automations. Employees can choose from a variety of customizable automations, including:
Status updates
Email notifications
Due date alerts
Progress updates
Time tracking
Gantt
monday.com provides users with powerful Gantt charts for their project management needs. This feature allows for a visual and customizable platform to plan, execute, and monitor the progress of projects. This feature also allows users to import Excel spreadsheets and convert them into smart boards that can be viewed as Gantt charts.
Team members can:
Easily keep track of important milestones and deadlines
Create visuals for crucial dates and key project details
Kanban
monday.com provides users with a Kanban feature capable of handling a variety of workflows. With the help of ready-to-use templates, this feature allows users to manage all communication and workflows in one place, streamlining the entire process.
Since communication and updates are consolidated, team members can work more effectively together to drive product development. The feature also offers real-time dashboards that provide insights into data in easily digestible formats.
Docs
monday.com's workdocs feature allows employees to connect, collaborate, and execute ideas and workflows. Users can set their ideas into motion quickly by transforming text in their workdocs into actionable items on any monday.com board. Users can reimagine how they work with documents and streamline their workflow in just a few clicks.
monday workdocs allow your employees to:
Collaborate: workdocs has live collaboration features including real-time co-editing, commenting, and drag-and-drop text editing.
Connect: Embed monday boards, dashboards, and videos that automatically sync and update as you work.
Execute: Transform your monday workdoc into actionable items that are integrated with all of your employees' ongoing workflows, making it easy to turn words into results.
Files
monday.com provides a collaborative space where teams can easily manage their files. With all files accessible in one place, it is easier for teams to work together and achieve their goals faster.
Here are the key capabilities of monday.com's Files feature:
Live collaboration: Speed up the editing and approval process with direct annotations and transparent status updates.
File version control: Keep track of the latest version of a file by organizing every iteration in a timeline view.
Time-saving plugins: Work more efficiently by integrating with tools like Adobe Creative Cloud and other editing apps.
Digital asset management: Find files quickly by storing and organizing them on a centralized platform.
Custom workflows: Visualize files in the context of your projects by creating workflows with due dates, assigned employees, and automations.
Secure file storage: Control access by setting permissions for stakeholders, freelancers, or clients and store your data confidently with high security measures.
Forms
By using its no-code form builder, monday.com's personalized forms can be created and shared with team members easily through a link. Its conditional logic feature allows users to ask the necessary follow-up questions, minimizing the need for multiple exchanges between employees. This feature also enables automatic actions such as routing requests to the appropriate individuals, informing team members of the final approval, or notifying clients when their projects are completed.
monday.com has a library of pre-made form templates that teams can choose from, including:
Creative request form
Registration form
IT request form
Legal request form
Facilities request form
HR request form
While some may not think of monday.com for HR, that is a mistake as even the website itself considers itself an HR software tool. Here is a screenshot of their website homepage where they clearly show this: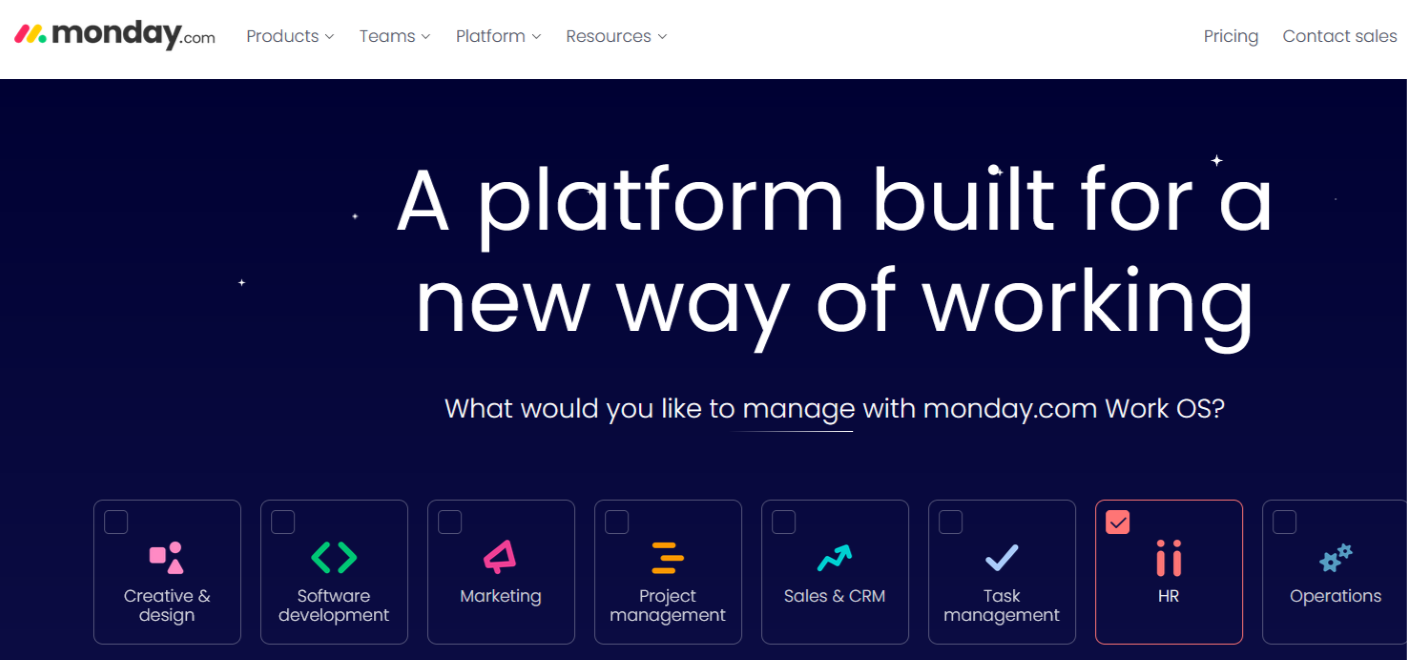 monday.com offers five products:
monday work management
monday marketer
monday sales CRM
monday projects
monday dev
1: monday work management
monday work management provides a simple way to manage tasks, workflows, and processes. monday work management allows for better communication and collaboration in a shared workspace and offers over ten different views to help streamline work and ideas.
monday work management is highly customizable, with powerful workflows that can be tailored to meet specific needs. Additionally, ownership is integrated into the platform to help ensure accountability and connectivity among team members.
Who is monday work management primarily for?
monday work management is great for professionals and teams who are responsible for managing tasks and workflows.
Use Cases:
Project management
Task management
Client projects
Business operations
Resource management
Hiring processes
2: monday sales CRM
monday sales CRM is a powerful tool that enables users to manage their work in one centralized location. Users can edit deal stages, add columns, manage multiple pipelines, and more. monday sales CRM also includes automation features that can help close more deals, such as assigning leads to representatives, setting reminders, and integrating with email.
monday sales CRM provides an overview of contact details, deal progress, and next steps to close deals with just one click. Users can build real-time dashboards to gain insights into expected revenue, team performance, and other key metrics.
Who is monday sales CRM primarily for?
monday sales CRM is designed for sales professionals and customer-facing teams who need to track their leads, sales, and customer interactions.
Use Cases:
Sales pipeline
Contact management
Lead management
Lead capturing
Customer projects
3: monday marketer
monday marketer allows users to monitor ongoing campaigns and make strategic decisions that align with their company's goals. With automations, workflows can be kept running efficiently, and the team can be notified of key information such as top-performing keywords, campaign deadlines, and final approvals.
monday marketer also includes features such as forms, annotations, and versioning to ensure that relevant information passes seamlessly between campaign managers, copywriters, and designers. Additionally, users can launch Google Ad search campaigns directly from monday.com, enabling them to manage, track, and optimize their marketing efforts in real-time.
Who is monday marketer primarily for?
monday marketer is great for marketing and creative professionals and teams who require a visual and flexible platform for managing their campaigns.
Use Cases:
Campaign tracking
Event management
Content calendar
Brand management
Product launches
4: monday projects
With its powerful features, monday projects enables users to easily connect all moving parts of their projects, drive impact, and reach their goals faster. Users can manage multiple projects from one location, create custom dashboards, assign teammates, and identify bottlenecks and risks to keep moving forward.
monday projects also offers automation capabilities for project approvals and tasks, saving valuable time for the team. With clear, visual, and intuitive project dashboards, users can see the status of all their projects at a glance, ensuring they stay on track and reach their goals.
Who is monday projects primarily for?
monday projects is best for PMO teams and project manager professionals who need a centralized platform to manage project timelines, tasks, and resources.
Use Cases:
Project requests and approvals
Portfolio management
Risk register
Resource management
Advanced gantt
5: monday dev
monday dev enables users to construct agile workflows that facilitate the product development process from idea to launch. monday dev offers a range of tools, including sprint planning, custom roadmaps, and Gantt charts. monday dev also offers the ability to automate task assignments, product design approvals, and workflow integration with popular tools such as GitHub.
Who is monday dev primarily for?
monday dev is designed for product and development professionals and teams who require a collaborative platform for planning and executing product development cycles, managing bugs, and releasing updates.
Use Cases:
Roadmap planning
Features backlog
Sprint management
Retrospective
Bug tracking
monday.com allows users to set up integrations quickly with both free and paid apps. These apps can expand your company's work OS capabilities by providing custom views, widgets, automations.
monday.com's apps marketplace offers third-party integrations for tools like MailChimp, Facebook, and Hubspot, but also has unique monday.com-specific expansions. In addition, monday.com provides API documentation for developers.
Some of monday.com's most popular integrations include:
Dropbox
Slack
Zapier
Salesforce
GitLab
Jira
Asana
Trello
How secure is monday.com?
Protecting customer data is of the utmost importance to monday.com, and as such, the platform is designed with rigorous security requirements and protocols in place. These include:
ISO 27001, ISO 27017, ISO 27018, ISO 27032, ISO 27701
SOC 1 Type II, SOC 2 Type II, SOC 3
GDPR
CCPA
HIPAA
monday.com undergoes annual security audits and assessments to maintain the highest levels of security.
Headquarters address: 6 Yitzhak Sadeh St Tel Aviv 6777506, Israel
Year established: 2012
Number of employees: 1,500+
Locations: 11 offices across the globe
Businesses served: 180,000+
Key people: Roy Mann (Co-Founder & Co-CEO), Eran Zinman (Co-Founder & Co-CEO), Eliran Glazer (CFO), Shiran Nawi (General Counsel), Yoni Osherov (Chief Revenue Officer), Daniel Lereya (VP of R&D and Product), Hila Levy-Loya (VP of Customer Success), Rotem Waissman (VP of Design), Tal Haramati (Technology Lead), Ouriel Weisz (VP of Operations)
monday.com began when an entrepreneur recognized a significant problem in the workplace: As companies grew, they faced challenges in keeping their employees engaged, productive, and content. Existing project and task management tools proved inadequate for the task at hand. The solution was to develop an effective team management tool that would connect people to workplace processes, regardless of company size or industry.
However, the goal was not just to create a functional tool - it was to create a tool that people would love using. Today, thousands of teams worldwide rely on monday.com Work OS, resulting in increased engagement, collaboration, and efficiency.
At the core of monday.com's values is the belief that transparency and collaboration are key to creating a culture of ownership and empowerment, leading to more productive employees from HR to every department.
monday.com review: What are the competitors of monday.com?
If monday.com does not quite fit the bill for your business, do not worry - we have compiled a list of alternative options that are worth considering:
What companies use monday.com?
More than 180,000 customers across the globe rely on monday.com. Check out a few of the case studies published on their website:
Check out this Nasdaq video case study:
How much does monday.com cost per month?
monday.com starts at $24 per month for up to three users, and increases based on the plan and the size of the team. If your company has more than 40 users, we recommend contacting their sales directly to get an accurate price.
A free version of monday.com is available for independent professionals who only need access to the essential features of the platform.
monday.com is a versatile platform suitable for teams of any size and function, across a range of industries. Whether your company is a startup looking to gain momentum or an established business with tightly knit cross-functional teams, monday.com's intuitive interface and customizable features provide a powerful tool for efficient work management.
With the ability to tailor workflows to fit specific business needs, teams can streamline their operations and improve their overall productivity. Being able to do all of this, while also tying into a number of core HR functions, makes it a unique tool.
Discover the advantages of HRMS software and how to find the right fit for your company in our article. If you are still searching for the ideal HR solution, our HR software reviews can help you explore more options.
Do you have experience with monday.com? Share your thoughts in the comments section below.