A CFMEU representative has been fined for confronting and bullying a Fair Work inspector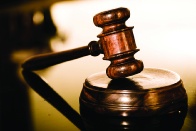 Luke Collier, an organiser from the Construction Forestry Mining and Energy Union (CFMEU), has been convicted after attempting to bully a government building inspector.

Magistrate Megan Greenwood described Collier's behaviour as "cowardly, bullying, disgusting and disgraceful" after the union representative confronted a Fair Work Building and Construction inspector during a union blockade at Sydney's Barangaroo in 2014.

During the confrontation, Collier played the song Who Let the Dogs Out through his megaphone, the Sydney Magistrates Court heard.

The inspector said Collier referred to him as a "f***ing grub" and "lower than a f***ing paedophile". He also broadcast his mobile phone number to other workers, saying "Why don't you give him a call and tell him what you think?"

Collier then asked the inspector directly, "Do you think your phone number's the only thing I've got?" the court heard.

This statement was meant to intimidate, Greenwood found.

Collier was convicted – without the court passing sentence – and was ordered to pay a $1,000 penalty. He was also placed on a two-year good behaviour bond.

However, Greenwood dismissed two more charges – one of common assault and another for intimidating a female inspector – which were laid against Collier. The Commonwealth Director of Public Prosecutions (CDPP), which initiated the case, is considering appealing these dismissals.

Fair Work Building and Construction director Nigel Hadgkiss criticised Collier's behaviour during the 2014 incident.

"Luke Collier's conduct towards our investigators who were simply going about their lawful duties was simply reprehensible and rightfully resulted in yet another conviction being recorded against his name," he told HC.

He also slammed the union for continuing to hire Collier at its WA branch.

"Given Mr Collier's behaviour towards government officials on building sites, it is disappointing that the Western Australian branch of the CFMEU has seen fit to reward this type of conduct with employment opportunities."

The CFMEU failed to provide comment prior to publication.

This is not the first judgment against Collier, who was convicted of assault against members of the Australia First Party last year. He served three months in jail starting in December 2015.

He was also convicted in 2003 for recklessly causing injury and again in 2007 for theft.