Australia's frontline staff need more support than ever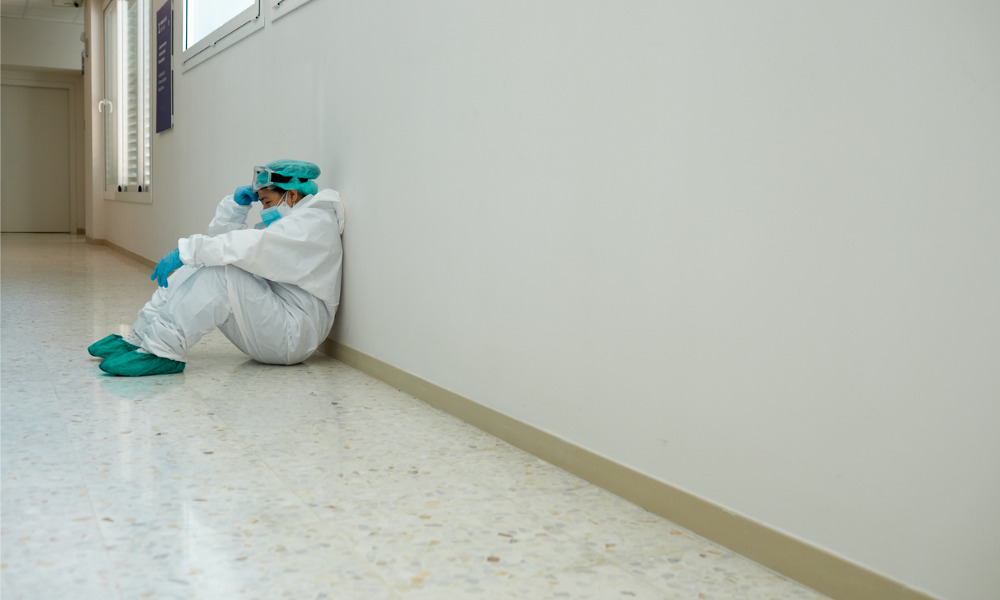 In the fight against COVID-19, Australia's frontline healthcare workers are at the heart of keeping the nation safe. Working in an already stretched and often understaffed industry, healthcare workers have experienced unprecedented levels of pressure since the pandemic arrived on Australia's shores.
As a result, healthcare workers are exhausted. New research from Accenture has found globally, at least three quarters of healthcare workers are exhausted, burnt out, overwhelmed and frustrated. Of the more than 15,000 respondents, 86% reported feelings of anxiety and 93% said they have felt stressed.
The figures show that across the globe, healthcare workers have hit breaking point. The result is more employees leaving the profession, and with Australia's international border barring entry to new overseas workers, it's vital for healthcare providers to hold onto their talented staff.
Speaking to HRD, Christian Nejm, Head of Government and Health Strategy at Accenture ANZ, said the extra emotional toll facing healthcare and agedcare workers in the country must be acknowledged.
"In this climate, with so much dependent on the effective running of our healthcare systems, it has never been more crucial for healthcare and agedcare organisations to listen to their employees and truly understand what drives employee satisfaction and wellbeing," he said.
"The agedcare sector has been in the limelight since the Royal Commission, which highlighted significant workforce challenges, and Covid has simply amplified this pressure. Workforce wellbeing will be imperative to ensuring staff retention and the stability of our most critical sectors."
Read more: Flexible working: Is it given or is it earned?
While dealing with a pandemic on the frontline will undoubtedly bring increased stress levels, how employers support their staff plays a huge part in maintaining a psychologically safe workplace. It's not enough to blame the pandemic alone for worsening mental health in the healthcare sector. Instead, it's a time for HR leaders to step up to the challenge and redesign people strategies that take a holistic approach to wellbeing.
Nejm urged HR leaders to start from scratch, reassessing the physical and emotional needs of their employees.
"This means accounting for the specific needs of individuals, rather than taking a blanket approach. Employers can do this by engaging with staff at a grassroots level – understand their views by talking to them on a regular basis, setting specific times to meet with them, asking about their priorities and their motivators and identifying those who have 'checked out' or are visibly reaching breaking point," he said.
"While prioritising conversations can understandably be difficult in the intense and fast-moving environments of healthcare, it is important for leaders to set an example and know how to recognise excess employee stress and low morale amongst their teams.
"Investing time in getting to know your staff may not only save you the cost of losing them to another provider or industry, but may also boost their own wellbeing and ultimately enhance patient care and contribute to a sustainable healthcare system."
Read more: Workplace COVID-19 vaccinations could begin in September
Gathering real-time feedback and data is an essential tool for HR leaders for get a truer picture of burnout levels. By being proactive and putting the right mechanisms in place, HR leaders can help to prevent employees from reaching breaking point where they're more likely to leave the profession altogether. Taking a data-led approach, they can identify any links between burnout levels and staffing gaps and allocate resources where they're needed most. Support and training for an organisation's people leaders is also going to be vital to help managers spot the signs of burnout.
Accenture's Care To Do Better research points to six key areas that when satisfied, lift levels of employee engagement and take a total wellbeing approach. Those areas include opportunities for career growth and upskilling, a strong sense of belonging to the organisation, financial security, feeling purposeful in their work, being in good physical health and experiencing positive mental wellness.
While the pandemic has pushed the healthcare industry to its limit, it's also created an opportunity to rethink people strategy and really make sure that those caring for others are also cared for themselves. Whether physical, mental or financial health, employers are in the spotlight.