New wave or not, some of us are forced to head into work – can leaders keep everyone safe?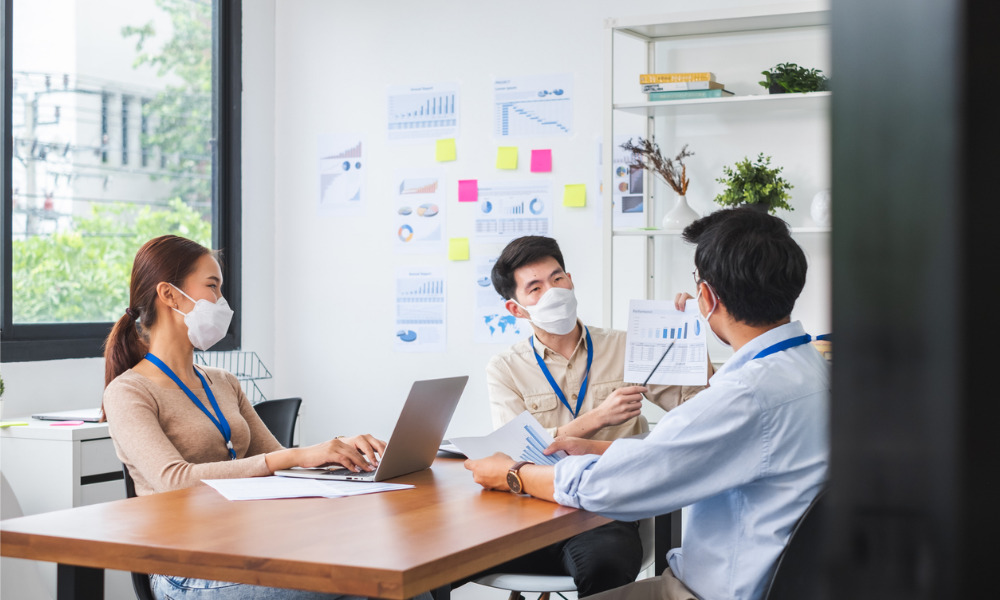 The bulk of professionals, namely corporate employees and office-based staff, have had the privilege of working from home for the past year. Even in the current 'heightened' phase two of COVID-19, most of us have the option to work remotely 100% or head into the office on some days, with safety measures like split team arrangements firmly in place.
For others, like service staff in retail or F&B, site-based employees, or medical front liners, they've had no choice but to head in daily. With Singapore's new COVID-19 wave labelled as being "likely more dangerous" than last year's peak pandemic period, how can employers ensure that all employees, regardless of where they're based, feel safe and comfortable with doing their jobs?
A 'serious' and 'dangerous' new outbreak
Singapore's new wave of COVID-19 was labelled "likely more dangerous" by Dr David Lye, director of infectious disease research at the National Centre for Infectious Diseases (NCID). Dr Lye had written a warning for residents in Singapore to do "much more beyond" current government guidelines because the new mutated strains of the virus have proven to be highly contagious.
The post, seen by HRD, has been making the rounds on social media platforms like Facebook and WhatsApp. Dr Lye confirmed with local media that he had written and shared the text, urging others to forward the information.
"Our current status is likely more dangerous than just before circuit breaker last year," he wrote. "2020 was bad because of the huge outbreak in dormitories among migrant workers which could be contained by locking down albeit with a lot of resources. The many cases with no linkage now suggest the spread to community from the Changi Airport outbreak may be wide and far."
Read more: Singapore tightens COVID rules
He quoted stats that showed just how "dangerous" the new wave can be: About half of the new cases have presented no symptoms but have proven to be "equally infectious", and one in 10 of unvaccinated individuals may be at risk of contracting a severe form of the virus that will require being hooked up to an oxygen supply. "Yes, we have effective vaccines and treatment, and expanded testing capacity," he wrote. "But against us is the new mutant strains that infected Tan Tock Seng Hospital (TTSH) and Changi Airport staff despite masks and vaccination. This is serious."
He urged residents to stay home as much as possible and avoid crowded places. "Form your small social bubble," he said. "For many this is your immediate family." Wear masks the right way – over your mouth and nose – even when taking a walk in the park. Above all, get vaccinated when it's your turn to do so and encourage your loved ones to do the same. "The TTSH outbreak shows not enough vulnerable old people [are vaccinated]," he said.
Read more: How to encourage vaccination take up rate?
How to keep workplaces safe
Beyond insights from experienced doctors like Prof Lye, the daily double-digit case counts reported in the media have shown just how quick the latest COVID strains can work through the community. Unfortunately, most individuals who had contracted the virus this time were staff who work on site, example at the airport or the hospital.
Since no one can predict where the virus will hit next, what can employers do to ensure that workplaces remain safe for staff? Singapore's authorities have listed several guidelines to help employers.
Crowd control and safe distancing
Ensure that the maximum venue capacity complies with the government's latest measures – currently it stands at 25% operating capacity. Clearly demarcate queue lines and put signages up for customers to always ensure safe distancing and protect employees on duty. Implement contactless systems as much as possible, for example for takeaway at F&B joints, or payment at retail outlets.
Frequently clean and disinfect spaces
Despite restrictions, people are still free to be out and about for quick visits to places like F&B outlets, shopping malls, and healthcare facilities, so it's still crucial to be aware of and to constantly disinfect high-touch spaces and common areas. This could be touchscreen ordering or registration systems, shopping baskets, escalator handrails and lift buttons.
Provide adequate hygiene tools
This means ensure that there are enough hand sanitisers on location and soap dispensers in the washrooms.
Comply with contact tracing measures
The use of the TraceTogether application is now mandatory across Singapore, so ensure that the check-in device, on top of additional temperature screening systems, are up and functional at all sites and enforce its use for employees as well as customers.
Keep masks on at all times
Ensure that everyone always wear their masks and stop 'mask-off' services, like food sampling or make-up services, immediately.
Read more: COVID-19: Who's responsible for enforcing safety at work?
Enforce safety measures and be open to feedback
Those are just some safety measures that employers must comply with as long as the virus remains in the air. Another one that you can put in place to ensure employee safety is to shorten work hours if possible. Major retailer BHG had implemented this at their stores, especially in the initial stages of the pandemic.
However, Naomi Pinkerton, head of HR at BHG Singapore, acknowledged that it is difficult to tweak work arrangements too much for employees based in retail stores or warehouses due to the nature of the job. Regardless, leaders must actively engage with teams to ensure everyone feels safe and comfortable at work.
"It's really about keeping communication lines open and trying to understand what the issue is," she told HRD. "If it's a frontline worker who really doesn't want to be in the workplace, I can't think of any way we could accommodate that because that's the role unfortunately. [It] probably would depend on the situation and we could accommodate for a while, so I think it's case by case."
Read more: Are you a 'bad manager'? Here's some warning signs
Alternatively, managers can, for example, find out if staff are more comfortable with working in the back of the store, away from crowds, or work at a location nearer to their home. Whatever the case, an employer's top responsibility is to enforce safety measures and ensure that staff stay at home if they're sick. BHG has appointed safety management officers at their stores to keep everyone safe and makes frequent announcements to remind everyone to stay vigilant, wear their masks, and adhere with the venue's safety measures.
"The advisories are there for a reason, so we're definitely making sure we follow them," Pinkerton said. "The most important thing for us is really communication because everyone's managing things differently and coping with [the crisis] differently.
"So if someone makes a comment and feels uncomfortable [at work], I think it's really important to understand why and open that dialogue with them. If they're not comfortable talking to their line manager, they can talk to the HR team or to somebody else, but it's really important to understand 'why' in the first instance and then see how we can accommodate."