The city-state will be lifting its lockdown in three phases, starting with the reopening of more businesses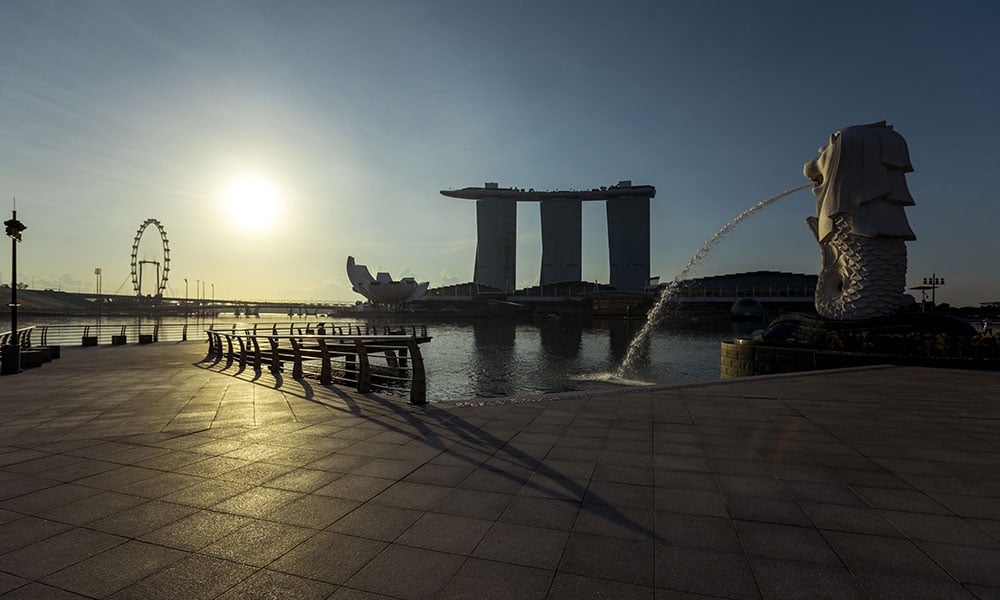 The Circuit Breaker measures will be gradually eased from June 2 onwards, announced Singapore on Tuesday (19 May). The city-state will be lifting its lockdown in three phases.
The Ministry of Trade and Industry said businesses will be allowed to resume activities in a phased manner.
"With the phased approach, we are ready to help our workers go back to work and allow businesses to resume in a safe way," said MTI in a statement.
However, the ministry clarified that the scheduled resumption of business activities from June 2 "is ultimately dependent on the health situation".
"Should community transmission rise, MTI will re-evaluate the timeline and the businesses that can resume operations," they said.
The multi-ministry taskforce announced the end of the Circuit Breaker following an assessment of the situation in Singapore and revealed a controlled approach to resume activities safely over three phases.
READ MORE: MOM reveals checklist for businesses to resume operations
Phase one: Safe re-opening
This will be implemented from June 2 and involve the resumption of activities that don't pose a high risk of transmission. More businesses will be allowed to reopen with measures in place.
Schools will also reopen for some students, namely the graduating batches in primary 6, secondary 4 and 5. Other students will alternate between home-based learning and school. Pre-schools will fully reopen by June 10.
Besides businesses that are currently operating, those in settings with lower transmission risks may resume activities including:
Most manufacturing and production facilities such as those in the semiconductors, pharmaceuticals, medical technology, precision engineering, and energy & chemicals sectors.
Most businesses with employees working in offices or settings that do not require interactions with large groups of people, such as those in finance & insurance, wholesale trade, health & social services, IT & info services, professional services as well as logistics and storage.
"Telecommuting should be adopted to the maximum extent," said MTI. "Those who have been working from home so far should continue to do so. Employees should only come into the office when demonstrably needed."
This could mean employees who need access to specialised systems/equipment that cannot be accessed from home, or to complete a contract or transaction that is legally required to be completed in person and on-site.
Additional frontline-operated consumer services will be permitted to resume as well.
Taking into consideration the large number of businesses involved, MTI will grant companies eligible for a reopening in phase one a "class exemption" to resume business. Businesses must also comply with the strict requirements of safe management practices.
"Businesses should continue to act in a responsible manner, and not plan or organise events that could draw large numbers of employees or customers, such as 'welcome back' sales and parties," said MTI.
The government will work closely with industry associations and businesses to help them prepare and implement the specific measures before they resume operations.
"Employees also have a part to play to keep their co-workers, customers and families safe," said MTI. "They should practice safe distancing, maintain good hygiene practices such as washing their hands frequently and wearing a mask, do not go to work if they are unwell, and avoid social gatherings at and outside the workplace."
READ MORE: Working from home to continue for 'foreseeable future'
Phase two: Safe transition
If the virus transmission rates remain low and stable over the subsequent few weeks, then Singapore can move into phase two with the gradual resumption of more activities, according to Ministry of Health (MOH).
In the second stage, the city will work towards allowing social activities in small groups, including dining in at restaurants and attending gyms. If the situation is safe enough, all students will fully return to school.
"More firms and businesses…will gradually be allowed to re-open, subject to safe management measures being implemented and practised by employers and employees in these workplaces and their ability to also maintain a safe environment for their customers," said MOH.
"Employers should, however, still ensure that those who can work from home continue to do so."
Phase three: A new normal
Depending on the COVID-19 situation and MOH's risk assessment, Singapore will continue to ease measures gradually and adapt to a 'new normal', which will remain until an effective vaccine or treatment is developed.
By this time, social, cultural, religious and business gatherings or events would have resumed, although gathering sizes would still have to be limited in order to prevent large clusters from arising.
"We have to do this in a very careful and calibrated manner, because we do not want to risk a flaring up of the virus again," said Minister for National Development Lawrence Wong.
"And importantly, we do not want to sacrifice the efforts that all of us have put in over the past few weeks in controlling the outbreak."
Alexander Krasavin, Partner, Radford and Regional Commercial Head, APAC & MEA at Aon said that leaders have to be especially careful when planning a return-to-work strategy.
"The first signs of the significant impact of the COVID-19 pandemic on the global economy are just beginning to emerge," Krasavin told HRD.
"Business leaders in Singapore are grappling with challenges that affect every aspect of their organisation. They must make well-considered decisions on returning to the workplace that will not only protect their balance sheets but also their people.
"The human capital decisions businesses make now will shape the future of work and indeed their organisations."