2020 left employees feeling disengaged, burnt out, and downright exhausted – what can leaders do?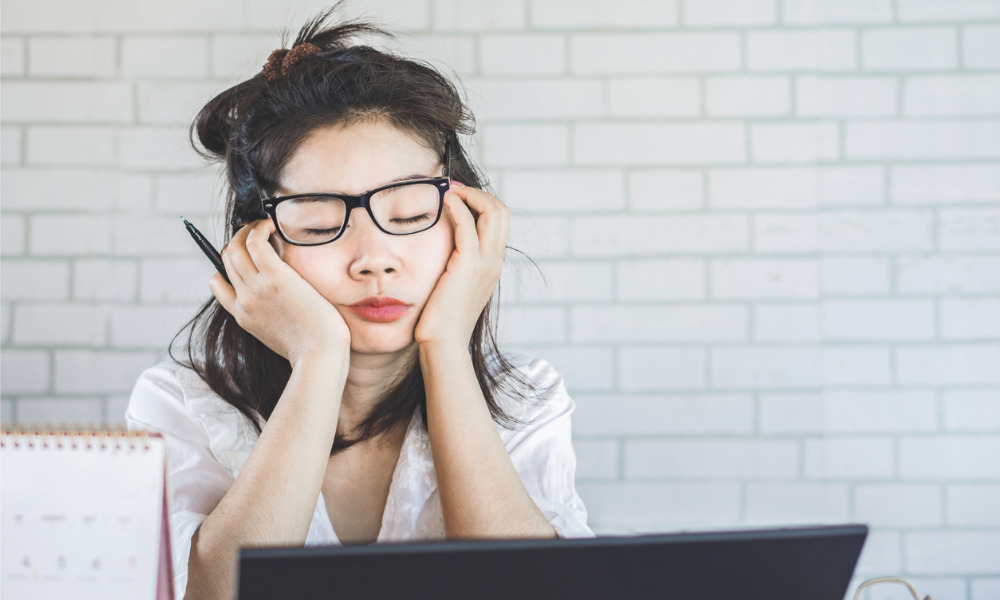 Change was the only constant in 2020 and may continue to be so as we head into an uncertain new year.
Many are stepping into 2021 with a sense of cautious optimism, but the impact of a prolonged crisis may just increase the risk of suffering from 'change fatigue'. What can leaders do to help employees manage it?
Signs of 'change fatigue'
Change fatigue is a result of the need to constantly battle and endure rapid changes in the work environment. 2020 created the perfect storm for that – a disruptive work life and the added anxieties over one's personal health and safety, as well as overall well-being.
Change fatigue can manifest in many ways, including feeling indifferent or resistant to new changes at work, burnout, increased levels of stress, and an overall negative attitude.
If left unchecked, individuals can quickly become disengaged and unproductive at work, as the mental exhaustion over a difficult year sets in. This could lead to a rise in absenteeism or even conflict in the workplace.
All of this is made worse as new waves of infections hit countries globally – people are forced in and out of lockdowns and made to cope with a ding-donging on 'return to work' strategies.
Take Hong Kong for instance, employers allowed workers to gradually return to work in May as COVID-19 cases decreased, only to pause their plans when the third wave hit in July.
The city saw a repeat when they went into lockdown in December amidst a 'very worrying', aggressive fourth wave.
Does that make it any easier to cope with the stresses of a prolonged crisis? Not really, according to a recent Cigna study.
The study revealed that people remain worried about the long-term and uncertain impact of the COVID-19 pandemic.
Even respondents from New Zealand and Taiwan, countries that are perceived as having been successful in controlling the virus, remain stressed out.
Singapore also reported record low scores on the well-being survey, despite the low number of COVID-19 cases and relaxed restrictions in the city-state's 'phase three' of containing the virus.
Globally, about half (48%) of respondents said uncertainty about the future is their biggest cause of stress, whether they're worries about the impact of the pandemic or financial insecurity due to the economic recession.
Read more: Post-pandemic panic? Leaders reveal top concerns
How can leaders help tackle change fatigue?
Regardless of the reason for the stress, sheer mental exhaustion can set in as we're expected to adapt to a constantly changing work situation.
Armaan Seth, head of HR at Syngenta Asia Pacific shared with HRD that he understands how the crisis can push people to their breaking point.
"I believe that we are still going to continue working in a very, very different way," Seth told HRD. "There are some who can continue working remotely. There are some [who will] continue working on the field.
"It's going to be difficult to ensure that people continue with their enthusiasm and patience.
"At some point, people will start complaining. There will be some people who will start feeling a little detached from the organisation."
As with all things during this crisis, he admitted that 'there is no one answer to the problem' – especially if you're leading a region as diverse as Asia.
"Every country is in a very different state of COVID reality," he said.
The number of infections and containment efforts can vary widely across borders. Also, government regulations and work processes may differ from one country to the next.
This is why he believes it's crucial to enable close collaboration between HR teams across the region, while empowering leaders to decide the best way to navigate the pandemic for the local workforce according to the situation on the ground.
Read moree: Amex HR head: Managing mental health in cross-cultural teams
All in all, he advocated agility for leaders at all levels and suggested a clear focus on the following:
Providing platforms and building a culture of trust to encourage people to talk about how they feel
Ensuring that leaders genuinely listen to feedback and connect with their teams
While it's important to provide 'rigorous' Employee Assistance Programs to offer support and a safe space for staffers, Seth believes it's vital to develop initiatives that will enable strong bonds between peers.
Banking on more than one solution can thus help to build a culture of connectedness and understanding, thereby creating a positive employee experience at the organisation.
"We also want to ensure that people are open and don't feel scared about saying that 'this is too much' or 'I'm overwhelmed," he said.
"It's critical in 2021 to ensure that we don't slow down on employee listening, culture building, and ensuring that there's collaboration."