Employees are afraid they'll have less flexibility when they return to the office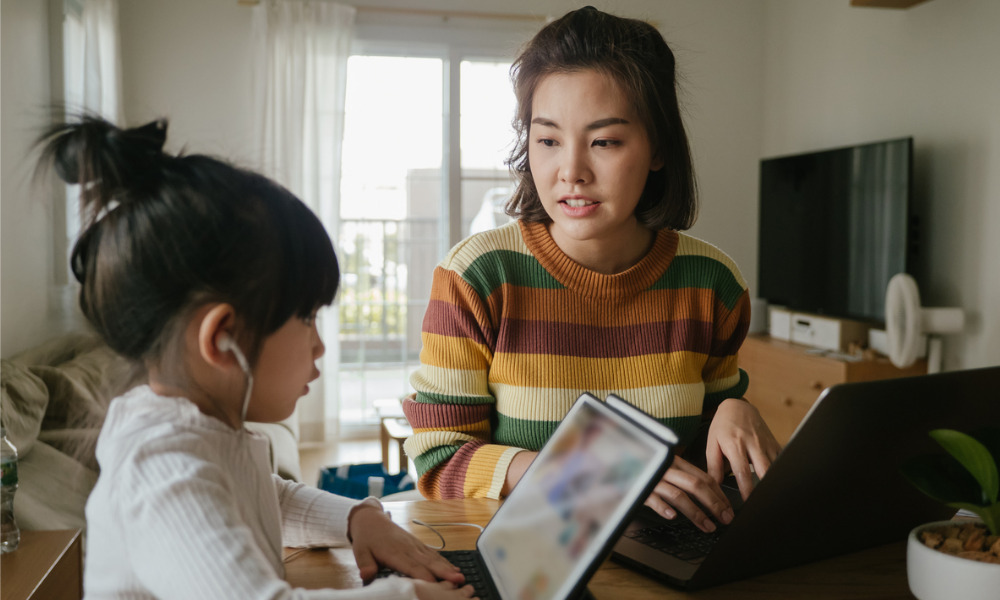 As difficult as it's been for working parents this past year, many are grateful for having had the chance to spend more time with family as they worked from home. Fathers were able to get more involved and mothers managed to adjust their schedules to accommodate their many responsibilities. The benefits may sound a little uneven but prior to this, fathers were limited to only two weeks of paid leave or so in Singapore to get acquainted with their newborns and were likely missing many firsts.
A year of working from home has enabled more bonding time, as well as a rethink of personal priorities. Despite the heightened risk of burnout and stress from remote work, a global study found that working parents appreciated the following benefits:
No commute (81%)
More time with loved ones (70%)
Time savings (70%)
Better work-life balance (62%)
More control over work schedule (56%)
More time for self-care (52%)
Read more: Remote work: 8 in 10 employees desire a long-term policy
The pandemic's impact on employee experience
After getting the flexibility that many parents have been requesting for years, it's no surprise that three in five employees would want to continue working remotely post-pandemic, with another 62% saying they'd even quit their current jobs if they can't do so. Another one in three employees would be happy with at least a hybrid work arrangement.
Workers are worried that if there is a mandatory return to workplaces, they'd have less flexibility (48%), less work-life balance (46%), as well as additional headaches over sorting out childcare responsibilities (49%). To that end, a small group of staffers are willing to give up other benefits such as vacation time (23%), healthcare (16%) or retirement contributions (13%) if allowed to keep their remote arrangements.
Read more: Working parents suffer extreme burnout during pandemic
As a mother of young children, Naomi Pinkerton, head of HR at BHG Singapore can relate to the working parent's experience since the pandemic. "I've got two kids and in the last six years I have not been able to be home to in time to put them to sleep," she told HRD. "I see them in them in the morning and then I don't see them again until the next morning. But now I can put them to sleep like two to three days a week. It's really nice and I've kind of gotten used to it."
She also shared her co-worker's experience. "She's got three boys and I think they're older, but it's been nice for her to be working at home when they're on school holidays," she said. While it is a lot more work with the whole family at home all the time, the benefit of having longer remote work experience means employees have learned to adapt and adjust accordingly – something her co-worker has done well thus far.
"She's often online and she will text me [after hours] and say, 'hey, do you have a second?', because she's still working," she said. "Maybe she takes an extra break here and there but then she makes up for it and I trust that she's going to do her job – and she does it. I think people have gotten used to it and it's good for them and for their well-being. It's good for their kids, their family and relationships."
Even if the employees don't have children, Pinkerton said the flexibility has generally allowed everyone living with their families to devote that much more time to your loved ones and do things like have dinner together or provide better care to elderly parents. "It's quite a privilege to finally have more time with family but still be able to work," she said.
Read more: Are leaders doing enough to support working fathers?
How do you sustain a positive work experience?
Now that employees are used to the flexibility and relative autonomy given in the past year, how can leaders ensure they continue to enjoy the support and sustain their positive work experience? "When you and your family are used to something for so long, and one year is very long time, how are you going to manage the situation when let's say the government says we can all go back to the office?" she said.
That's something that all leaders should consider in the organisation's return to work strategy. The same FlexJobs study also found the kind of support working parents desired most post-pandemic:
A flexible schedule and control over when you work (26%)
The option to work from home full-time (25%)
A work environment that understands childcare demands (17%)
To work from home part-time (15%)
Freelancing opportunities (10%)
An alternative schedule to a five-day, 9-6 work week (7%)
Read more: Is remote work for you? Key factors to consider
"I think it's going to be really hard," she said. "Like when we went up to 75% capacity in the workplace, we never said everyone had to come back. It was very much about, if you have a meeting and you're meant to be in the office, you can come back if you like.
It's going to be really hard but we need to continue to be flexible and open minded. I think we just have to adapt. Obviously, there may be people who will take advantage [of the policy] but going forward we just need to trust people. We need to have this mindset where we believe in our staff and give them the benefit of the doubt. If something does happen, we can rethink [the policy], but it should be case by case. So it's about being more trustful and having that flexibility."