More and more teams are feeling detached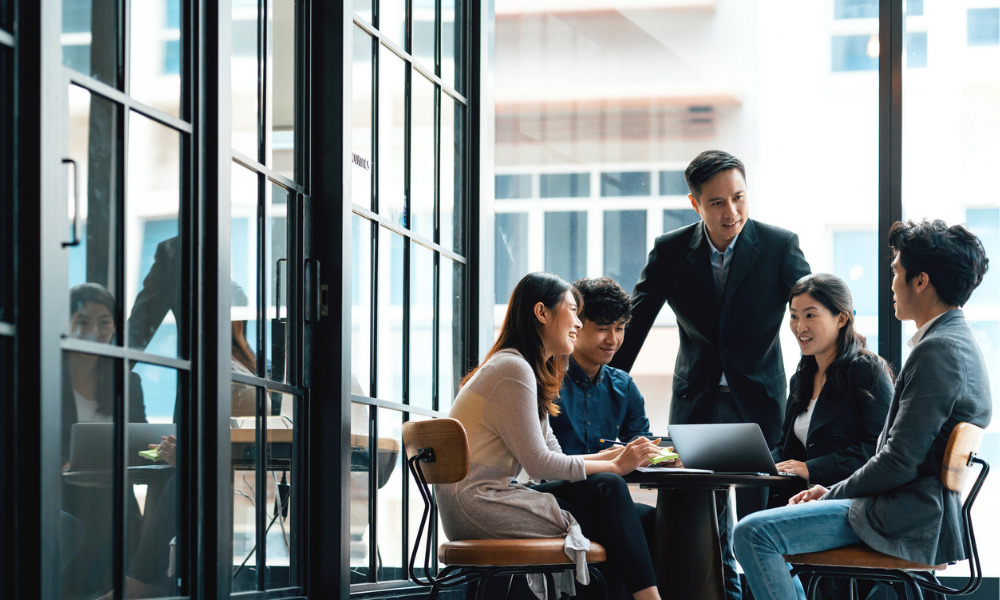 If you consider your job an important part of your identity, being able to relate to the company's values and products can impact your engagement levels and performance – whether you're in a pandemic or not. A study in 2019 found that majority of professionals (70%) did consider their jobs a reflection of their identity, with 87% saying they'd want to work somewhere where they feel like they're a part of something and "part of a family".
Sadly, only half of professionals said they actually knew what their company stood for or represented. Another 54% of respondents even questioned their company's mission and values, which they considered a clear starting point for any decision-making, found Zeno Group.
Now with remote work being the norm, it's made it even harder for employees to feel connected to the company. A poll by Engine Insights at the peak of the pandemic last year found that even younger workers were struggling with remote working. Almost all said they felt 'less connected' with their co-workers.
Read more: How to help your team find purpose at work
How remote leaders can build a sense of cohesion
So, what can leaders do? If you're at a massive, renowned brand like Mondelez International, which markets beloved consumer products like Cadbury, Chips Ahoy, Milka and Oreo, you may have lucked out, strategy-wise. Mondelez has always leveraged on their product brands to strengthen their people culture, but it's come in extra handy with staff working from home.
Ione Ozaeta-Mundin, Southeast Asia talent management lead at Mondelez International, shared that their HR team have focused on two things to strengthen a sense of cohesion and connection through the crisis. Firstly, to cultivate and sustain a sense of pride in their product brands. Next, to translate the values included in the branding into their work practices and ultimately, into their organisational culture.
"On cultivating the love of our brands, this is almost a given that it's such a pleasure because we are a consumer products company that is taking care of brands with such amazing heritage, legacy, and history," she said in a HRD panel discussion. "[The] brands touch the lives of our consumers in such an emotive way. When we bring a Cadbury treat or an Oreo pack to family and friends, we always become the favourite uncles and aunts, and favourite friends in our social groups, because we always bring the best snacks for everybody.
"And so that sense of pride, it creates a great deal of stickiness. It reinforces cultural cohesion and we cultivate that as much as we can with consumer connections – so helping our people see how we're able to delight our consumers." To better understand this, Ozaeta-Mundin said that despite being in HR, and not marketing, she's participated in consumer branding immersion sessions during the pandemic in hopes of coming up with more creative ways to strengthen the company's people strategy.
Read more: How social isolation is killing productivity
Translate your company values into practice at work
While it's important to first understand the company's values and branding, it's even more critical to ensure that they're lived and not just something on paper. This is why leaders need to figure out how to translate the values and the pride into culture. "Can people feel that the values of our brands translate to their experience and their work culture?" said Ozaeta-Mundin. "In a virtual or remote setting that congruence is more important because this 'new normal' tests the culture."
What Mondelez has done is to lean into specific brands and their values and see how they're reflected in an employee's day-to-day. Take Oreo, for example, it advocates playfulness and family bonding, said Ozaeta-Mundin. "For our team to make such an amazing product like Oreo, our own people should be inspired by their own playtime with their children," she said. Leadership thus set out to understand how their working parents spend time with their families, especially in a time when pressures run high due to a lack of any barriers between work and personal life.
"This 'new normal' tests whether the company culture makes it possible for our people to live like advocates or how consumers behave," she said. "How would our people feel if their child walks up to them in the middle of the day wanting to play for a few minutes? Do they feel like they're in an environment, which not just allows that, but recognises how important that moment is? Or will they feel constrained and fixed to a strict work schedule?"
Read more: How to help remote workers manage work-life integration
From that thought process, leadership worked out ways to enable a sense of work-life harmony and build a culture of flexibility and trust. The top leaders then made a pledge to uphold flexible working. "It was a pledge to trust each other, to work flexibly and productively," she said. "A pledge to show empathy and mindful of making space and taking time. Even today we continue to see our leaders understanding personal and family needs in their team meetings [or] in any environment they're in. They're not just taking about it, they're role-modelling it.
"In this new normal, it's no longer a nice-to-have, because of course, we are a commercial business also and performance remains an important part of our culture too, but we want our people to experience the human values that our brand stands for in a way that brings out the best in them."