Leaders are realising that things are more complicated now than dealing with a lockdown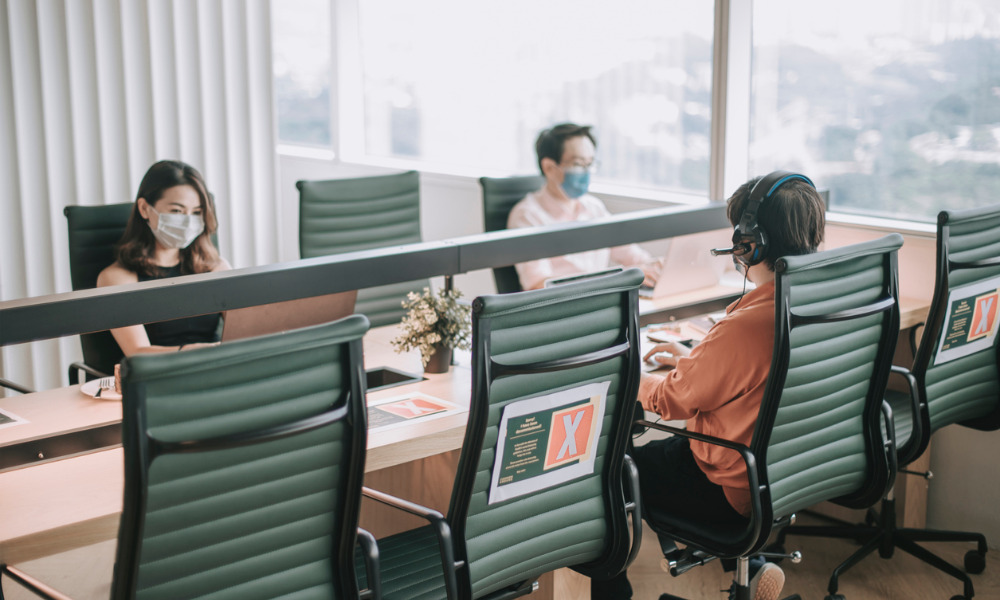 Many employers are quickly learning that returning to the workplace does not equal returning to 'business as usual' — and is actually more complicated than dealing with lockdowns, showed a new report.
As companies in Asia prepare for a return to offices, leaders are building strategies around keeping employees safe and 'energised'.
Many are also working to extend and embed the changes that have taken place during the crisis, such as expectations on leadership, and what keeps employees engaged, into overall organisational transformation efforts.
For a successful and safe return to work, HR and business leaders are working together with internal stakeholders such as facilities, occupational health and safety, and risk management to re-imagine workplaces and reality of the "new" employee experience, according to a report by Mercer.
An example of a new policy is on providing protective gear (PPE). A recent Mercer COVID-19 pulse survey revealed that 80% of companies in Asia plan to provide face masks, compared to 63% globally.
Insights into what PPE inventory is needed, when and where, and the range of testing available are part of an informed and dynamic return strategy.
Additionally, two in three employers (66%) are implementing a staggered return to the worksite to allow greater social distancing.
Since not all jobs need to return to the workplace and not all work-from-home arrangements will outlive COVID- 19, organisations are re-examining remote, flexible and blended working arrangements.
READ MORE: HR to push for a 'permanent' remote work policy
Mercer's research found that one in two firms in APAC (50% compared to 66% globally) have arranged for greater flexibility to work from home. The report also showed that employers are taking the opportunity to evaluate which roles can thrive in a remote-first 'new normal'.
"Asia was the first to be hit with the COVID-19 pandemic, impose lockdowns and then emerge from them," said Renee McGowan, CEO, Asia at Mercer.
"Early experience shows that in the return to the workplace, organisations need to be transparent, flexible and prepared to respond and react swiftly to repeat cycles of lockdown, depending on local coronavirus infection rates.
"Health and safety have been top of mind with safety measures, social distancing as well as flexible working arrangements including staggered hours and split teams emerging as new norms. How companies navigate these changes and challenges will no doubt shape the future of work and their organisations."
Many employers want to get back to growing their business, however. Despite this, there are concerns over the complexity of navigating things like the recession and the challenges with re-engaging employees.
Outsourcing activities such as the responsibility for employees' retirement plans might be considered to alleviate the burden on internal resources.
If anything, the pandemic has also demonstrated how adaptable most people and businesses can be. While employers are looking to do more with less, a focus on transforming the business and HR is now front of mind.
They are thus considering the following in their transformation strategies:
How to quicken digital transformation and re-design HR processes to make them both efficient and crisis-proof
Where to invest and divest strategically to drive growth
How best to pivot top talent into growth opportunities
Additionally, many are defining new leadership behaviours fit for a new age, along with sustainability goals, to reshape the organisation's culture and reset employee expectations.
READ MORE: Why engagement shouldn't be your main concern right now
And employees' expectations have changed: even more than before, they want their employers to take care of them. Companies ahead of the curve have thus been taking the opportunity to reconfirm their employee value proposition and align benefits accordingly.
Over half (47%) of employers in Asia said they will review employee engagement efforts as a workforce priority in the next three to six months.
"In many ways the pendulum of responsibility has swung from the public sector to the organisation," said Kate Bravery, Partner and Advisory Solutions & Insight Leader at Mercer.
"Employers that take systemic actions to improve the representation of underrepresented groups will achieve long-term success and the benefits that go along with it.
"None of us has a crystal ball to predict how this situation will evolve, so companies must remain nimble and willing to adapt quickly for the sake of their people, while keeping an eye on their own reinvention."