Tech giants are re-engineering this new model of work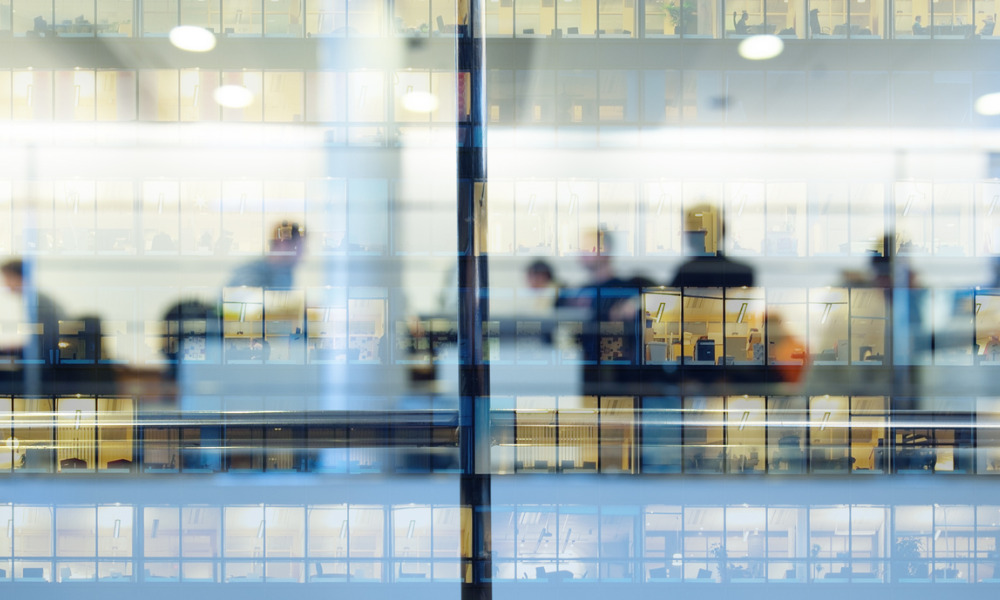 The evolution of the modern workplace is marked by the diverse range of hybrid models that have emerged since the pandemic.
Just as each organisation has a unique culture and workflow, so are there different models of "going hybrid". Tech companies, in particular, are experimenting with their signature approach to flexible work, formulating policies around the needs of their customers and employees.
Salesforce and the 'architects of flexibility'
Take software group Salesforce for example. Hard data suggest almost half of the workforce want to report to the office "only a few times per month," yet four out of five Salesforce employees still plan to "maintain a connection to a physical space".
The result? Salesforce reimagined hybrid work as having occasional catch-ups in the office for the majority of its 54,000 workers worldwide.
"When it's safe to return to the office, most of our employees around the globe will work flex. This means they'll be in the office one to three days per week for team collaboration, customer meetings, and presentations," said Brent Hyder, the company's chief people officer.
Salesforce's version of hybrid working doesn't end there, however. The tech company will segment the employee base even further based on the employees' location and the demands of their role.
"For employees who don't live near an office or have roles that don't require an office, they will work remotely full-time," Hyder said. However, "the smallest population of our workforce will work from an office location four to five days per week if they're in roles that require it."
"Our employees are the architects of this strategy, and flexibility will be key going forward. It's our responsibility as employers to empower our people to get the job done during the schedule that works best for them and their teams, and provide flexible options to help make them even more productive," the HR leader said.
Read more: Flexible working can make or break employers
Google's 'onsite/offsite' meetings
Isolation may be one of the drawbacks of working from home on a full-time basis. Some teams at Google, however, have turned hybrid staff meetings into an opportunity for people to catch up – and catch some fresh air.
For engineers, especially newcomers, the so-called onsite/offsite meetings have become an alternative to video conferencing. The arrangement calls for team members to schedule an in-person meeting on campus, and to come together outdoors in small groups. This way, they can brainstorm while maintaining their distance.
"With everyone offsite every day, how do you bring people in a more physical space?" Google Cloud CEO Thomas Kurian told Fortune. He explained how the method helped to "bring greater cohesion" to their teams, especially for newbies who wanted to meet their managers in person.
When it comes to returning to the office full-time, however, Kurian is mindful of the challenges unique to certain locations and groups of workers.
"Some parts of the world are largely back to normal; other parts of the world are still affected. So, rather than having a global policy, we've been very adaptive, letting leaders in different cities and countries make decisions because people work in a local context, in many ways," he said.
Read more: Will hybrid working create 'second-class' employees?
Vodafone's 'free-range' working
Hybrid working isn't just a matter of rotating shifts and keeping the number of on-site workers to a minimum. A holistic approach to managing a distributed workforce is to ensure employees continue to lead well-balanced lives as they juggle work and personal responsibilities.
"People have various elements to their personal lives – whether it's childcare, sport or simply enjoying our beautiful countryside – and we've recently taken remote working a step further to encourage our staff to embrace free-range working, by working wherever they have an internet connection," said Jodie King, chief people officer of Vodafone NZ.
"To facilitate a cohesive culture, most teams have at least one day where they all work from the office and schedule meetings, but managers are empowered to set a framework that works for their function," King told HRD.
'Shared ownership' of work
Unlike a 100% remote work arrangement in which policies are often decided from the top down, hybrid models allow employees and managers to "share ownership" of work decisions, said George Penn, vice president of Gartner.
"Where, and when, work gets done will be determined by what makes the most sense to drive the highest levels of productivity and engagement," Penn said.
But as Rich Barton, CEO of property marketplace Zillow and one of the pioneers of remote working last year, warned, employers "must ensure a level playing field for all team members, regardless of their physical location".
In a hybrid work model, there is a danger of fragmenting teams needlessly.
"There cannot be a two-class system," he said. "Those in the room being first-class and those on the phone being second-class."