HRD talks to three experts about whether or not HR can play a role in assistance with financial wellbeing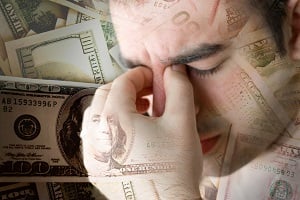 Financial wellbeing can be an important contributor to our overall happiness, according to Vicki Doyle, director corporate superannuation at AMP.

According to AMP's latest Financial Wellness report, financially stressed employees lose on average 6.9 hours of productive work per week and are absent four days per year due to stress-related sickness.

"There's real value in employers supporting financial wellbeing in the workplace," said Doyle.

"Encouraging people to set goals, engage with their finances, and seek financial help when needed can alleviate financial stress.

Doyle added that this will help to make the workforce more productive, add to the economy and help more people achieve their goals.

Indeed, many organisations provide both internal and external vendor financial planning services to their employees, said Alec Bashinsky, National partner people & performance.

"In some cases this is seen as part of an employee benefits offering or as part of a broader wellbeing strategy that enhances the offering from the mental, emotional, spiritual and physical wellbeing pillars to providing specific financial advice," he said.

"Whilst there are many pros and cons to assisting employees with their financial wellbeing, my view is this is something an organisation should not be involved with apart from providing access to banking services, etc."

Bashinsky said the main reason for this is if the advice fails or backfires the employee will blame the organisations for approving or endorsing this assistance and has the propensity to disengage the employee or create an adversarial position between them and the organisation.

Jennifer Noble, Total rewards manager, Australia & New Zealand SAP, said their organisation is conscious of managing the fine line between their employees' professional and personal lives.

"We offer a holistic health and wellness program – A Better Me – whereby a menu of options is available for employees to select (across financial, physical and psychological) based upon their specific needs," she said.

"We don't believe in a one-size-fits-all approach.

"For financial wellbeing, we engage with established partners to educate employees to make the best choices and decisions, but steer away from recommending specific organisations or services."

Noble added that the topics covered, such as estate planning and optimising superannuation, are informative but general enough not to be construed as advice.

"We do, however, ensure that our employees are supported with appropriate levels of insurance coverage, and hence offer fully paid, comprehensive life and salary continuance benefits," she said.