The head of the Melbourne Fire Brigade has slammed the United Firefighters Union for distracting from critical public safety issues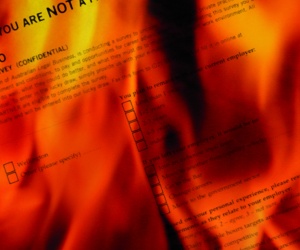 Controversy surrounding enterprise agreement negotiations between the
Country Fire Authority
(CFA) and the United Firefighters Union (UFU) have flared up again with a letter from a head fire chief slamming the union's actions.
"I wish to raise with you my serious concerns regarding the negotiations with the United Firefighters Union," Peter Rau, chief officer at the Melbourne Fire Brigade (MFB) wrote in a letter to Emergency Services Minister James Merlino.
Serious issues, he said, stem from the union's expectations that the terms of any agreement negotiated with the CFA should be reflected in a new agreement with the MFB. This would further impair the MFB from doing its public duty.
"The MFB's position has been that its own current agreement seriously impeded the delivery of effective fire prevention and suppression services in Victoria."
The main cause of concern was the requirement of the chief officer to consult and reach agreement with union officials on all operational activities.
"As the chief officer, I have to respond quickly and decisively to emergency situations," Rau wrote.
"I need to make decisions unimpeded by provisions within an industrial instrument requiring agreement from a third party (UFU)."
Rau highlighted a number of instances where the current MFB enterprise agreement led to "unacceptable situations" such as:
The union's refusal to deploy new advanced appliances during a week-long heatwave. The resulting union consultation period and FWC intervention distracted two deputy chiefs from critical operational activities
Union objections to the chief officer contacting assistant chief fire officers and commanders to determine availability during a total fire ban day, which forced the chief officer and two deputy chief officers through a six-hour FWC negotiation
"The current enterprise agreement and its power of veto over my statutory responsibilities is unworkable and undermines community safety," Rau wrote.
He continued, saying that the proposed UFU agreement for the CFA "would, if applied to the MFB, exacerbate the current MFB agreement".
"The extensive consult and agree (veto) provisions would continue to permit the UFU to interfere with fundamental operational decisions of the MFB.
"Such an arrangement is not compatible with effective and timely decision making relating to emergency management and public safety."
Related stories:
Can you dock staff for extended volunteer leave?
Judge slams "notorious" union non-compliance record
Services sector set for growth, despite hostility from unions