A new industrial relations battle to convert casual workers into permanent employees is heating up, with unions pushing the controversial move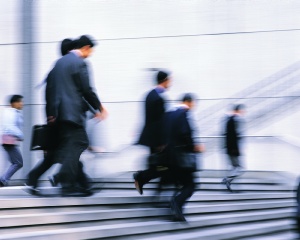 Employers could be forced to convert casual workers into permanent employees after six months, if a national union plan aimed at stopping the casualisation of Australia's workforce becomes legislation.

Under the union proposal, Australia's 2.2 million casual workers would be given the right to sign on as permanent employees once they have worked "regularly" for the same employer for six months.

The Fair Work Commission has received claims from several major unions, seeking new rights to be set in place across every industry, Fairfax Media reported.

This has sparked a new industrial relations battle, set to unfold this week.

The workplace tribunal has commenced a series of public hearings into the issue as part of its review of pay and conditions in 122 modern awards covering most Australian workers.

Employers have fought back and condemned the legal claims as "costly and thoughtless", Fairfax reported.

The change could put some 19,000 jobs at risk and drain $3.7 billion from the national economy, warns Australia's biggest business lobby – the Australian Chamber of Commerce and Industry.

"These new restrictions would stifle flexibility in the workforce and it means many employers would simply not allow contracts to run for more than six months, which would ultimately disadvantage employees," former ACCI chief Kate Carnell was quoted in Fairfax media.

"Casual employment is not the enemy; not having a job is the problem, and this is what will ultimately happen to thousands of casual workers if these claims succeed," Carnell says.

It is estimated that there are some 140,000 casual workers in the manufacturing industry who miss out on access to entitlements such as annual leave because of their employment status.

These workers are engaged in the same way as full-time employees, however due to their "casual" employment status, they receive no pay for sick days, or annual and personal leave.

The unions' proposed "casual conversion clauses" state that casuals who convert to permanent will have their employment period as a regular casual employee factored in for redundancy, unfair dismissal and parental leave.

At the Fair Work Commission on Monday, the Australian Manufacturing Workers Union proposed that an "automatic conversion" option would see casual workers made permanent after six or 12 months, unless the workers themselves choose to "opt out" and remain casual.

National President of the Australian Manufacturing Workers Union Andrew Dettmer said rules on casual employment in the manufacturing industry allowed workers a "right to request" permanent employment after six months but gave employers a wide range of reasons to refuse.

"Our research shows that 88 per cent of requests to become permanent are rejected," Dettmer says.

"In fact, 22 per cent of casual workers are too afraid to ask, despite having the right," he says.

"The system is broken. Casual employment has simply become a way for employers to exploit vulnerable workers. It's time this stopped."

However Australian Industry Group chief executive Innes Willox accused the union movement of trying to "demonise" casual work, saying that casual arrangements provided vital flexibility for both employees and employers.

"One indisputable fact is that the level of casual employment has not increased in Australia for the past 18 years ... statistics show that it remains at 20 per cent of the workforce," Willox says.