Malcolm Turnbull's newly selected cabinet was sworn in yesterday morning, with five times more women than Tony Abbott's original line-up.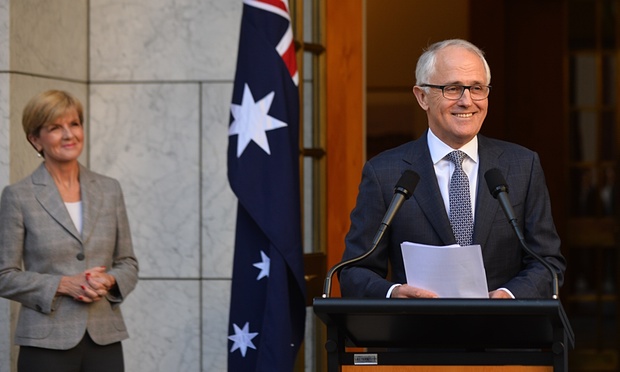 Less than a week after ousting Tony Abbott, Malcolm Turnbull has made a move that signifies more change is yet to come.
The new Prime Minister has appointed five women to his cabinet – five times the number in Abbott's initial line-up.
Newly appointed cabinet ministers were sworn in by the Governor-General at a ceremony in Canberra yesterday morning.
Turnbull's cabinet reshuffle saw the removal of older ministers, while women, moderates and young MPs were promoted.
The overhauled cabinet includes Australia's first female Defence Minister, Marise Payne; Kelly O'Dwyer, who will replace Bruce Billson as small business minister; and
Michaelia Cash
, who will take on the roles of minister for employment, minister for women (a position previously occupied by Abbott himself) and minister assisting the Prime Minister for the public service.
The cabinet will also include Julie Bishop and Sussan Ley, who remain Foreign Minister and Minister for Health/Minister for Sport respectively.
Announcing the new-look cabinet, Turnbull dubbed it a "21st-century government and a ministry for the future".
However, the new appointments have already received backlash, leading the Prime Minister to defend his decisions on live radio yesterday morning.
He said that he had selected a ministry that was ready to engage with the future, and rejected internal concerns that his allies in the coup against Abbott were rewarded with promotions.
"No-one could suggest that this cabinet, this ministry has been assembled on any basis other than merit," Turnbull told the
ABC
's AM program this morning.
"It's very tough to [let people go] but that's what leaders have to do. You have to have turnover and renewal.
"You need to have renewal in any organisation and what that means is people who are doing a good job stand aside so that new people can come through, otherwise you get no change.
"It is vital to have a contemporary, 21st-century government and that requires renewal."
The increased presence of women in cabinet was welcomed by
Diversity Council Australia
(DCA), whose CEO referred to the appointments as "a move in the right direction".
"There has never been any doubt that there are talented women who can take on senior roles in the Federal Government,"
Lisa Annese
, chief executive of DCA, told
HC
.
"It is good news that the serious underrepresentation of women in cabinet is being addressed."
She added that Marise Payne's new role was particularly "exciting".
"The selection of Senator the Hon Marise Payne as the first female Minister for Defence and her appointment to the National Security Committee is an exciting move in what has been a traditionally male dominated portfolio," Annese said.
"I am thankful that the position of Minister for Women is again being held by a woman in Senator the Hon Michaelia Cash. In addition, she also will hold the important Employment portfolio.
"The Hon Kelly O'Dwyer MP will be appointed as Minister for Small Business and, as Assistant Treasurer, is the first woman in the Treasury portfolio and she will be on the influential Expenditure Review Committee.
Nonetheless, Annese added that the number of women in cabinet remained low.
"Despite these positive moves, only a quarter of cabinet members will be women, and this is still too low," she said.
While she praised the appointments of Ken Wyatt as Australia's first Aboriginal or Torres Strait Islander Federal Government frontbencher, Annese also expressed disappointment that there was one area of diversity which was not being represented.
"I am disappointed there will not be a disability portfolio, given that over four million – or one in five Australians – are affected by some form of disability and the NDIS is currently being rolled out," she said.
"There is still considerable work to be done to improve employment opportunities in Australia for a range of diversity groups. In this regard, we will be watching to see what, if any, changes flow in policy terms from the new administration."
You might also like:
Call for Turnbull to focus on gender diversity
KPMG first of Big Four to publish pay gap details
Equal Pay Day 2015: 'Most organisations have a gap'