HR managers must be mindful of the fine line between fulfilling their workplace requirements and infringing on employee privacy when requesting proof of illness.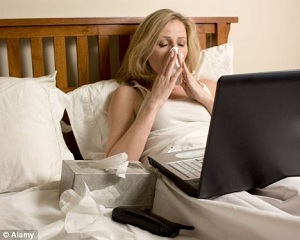 With statistics showing that on any given weekday around 300,000 Australian workers are taking a sick day, HR managers may find themselves questioning the validity of some employee claims.

More than 88 million days are taken up by sick leave each year – for legitimate and non-legitimate reasons – with the Australian economy paying the price of over $27.5 billion per year in sick leave costs and lost productivity, a 2013 study of Australian workplaces has shown.

But HR managers need to be wary of the legal implications before requesting a sick note for proof of actual illness, says employment lawyer Benjamin Marshall.

"HR can request a medical certificate whenever an employee is claiming leave or where it has a reasonable basis to believe the employee is not fit for work and wants assurance that the employee may safely continue working," Marshall, Senior Associate with Arnold Bloch Leibler, told HC Online.

The Fair Work Act says employees will be eligible for leave on medical grounds if they provide evidence that would satisfy a reasonable person of their reason for taking leave – usually in the form of a medical certificate. In some circumstances, other evidence may be sufficient, such as a statutory declaration from the employee, Marshall says.

However, HR needs to be mindful of the fine line between getting the information their organization needs and infringing on employee privacy.

"A basic medical certificate only need say that an employee is suffering from a medical condition and will be unfit for work over a specific period," Marshall says.

"Although employees are obliged to notify employers of the expected duration of their absence, they are not obliged to provide specific information about their condition to access sick leave under the Fair Work Act," he says.

Some employers may impose requirements on employees to provide more information if this is necessary to meet their duties under legislation, such as health and safety, workers compensation or disability discrimination, Marshall says.
This is the real reason your employees call in sick
Managing an employee with mental health issues – what you need to know
If HR wants to speak to the employee's doctor, they must ensure they seek permission from the staff member (unless they are merely confirming that a medical certificate is authentic) and all sensitive medical information should be kept strictly confidential and not disclosed to other employees.

However, HR can go further and require employees to provide medical reports and attend a medical examination where reasonable to confirm fitness for work, such as in labor-intensive industries.

When faced with the employee who calls in sick on a regular basis, HR can insist on appropriate evidence to confirm the employee's eligibility to take that sick leave.

"If the leave is regular, it may be a good idea to seek more information to exclude the possibility that the illness is work related and to see if there is anything the employer can do to facilitate a return to work," Marshall says.

Although managing extensive sick leave can be headache for HR, Marshall cautions that firing sick employees is fraught with risk.

"It may be possible to terminate the employment if the employer has a proper basis to say the employee is not actually sick and is abusing sick leave," he says.

This is very difficult to do in practice (see Anderson v Crown Melbourne Pty Ltd [2008] FMCA 152 for a successful example).

Generally, an employer can terminate on incapacity grounds if the employee has exhausted all of their sick leave; and been away sick for an aggregate period of more than three months in any continuous 12 month period, Marshall says.

However, employers must consider the specific circumstances, including whether further absences are likely and whether the employer can accommodate any ongoing disability, before terminating for incapacity.

And if your worker refuses to provide a medical certificate for a chucking a suspected "sickie" HR needs to consider the circumstances and legal implications before considering punitive measures.

"Whether you can fire them will turn on their reasons for not providing the medical certificate, such as whether they provided other evidence and their specific contractual obligations," Marshall says.

"It may not have been possible or practicable to comply in the circumstances or there may be other reasons that would make termination harsh, unjust or unreasonable," he says.

Marshall says there are various legal pitfalls employers should be mindful of when requesting evidence of illness and medical certificates.

"If employers do not regularly require employees to provide evidence to access sick leave then the reasons for changing this practice may be questioned," he says.

"Adverse action of this kind must not be taken for an unlawful reason. Failure to accept the evidence may also constitute unlawful adverse action."

Notable court cases include Australian and International Pilots Association v Qantas Airways Ltd [2014] FCA 32, Qantas successfully resisted claims that requirements to provide more medical information were unlawful adverse action.

In Cf. Marshall v Commonwealth of Australia (represented by the Bureau of Meteorology) (2012) 64 AILR an employee who was fired after he appeared on the "Beauty and the Geek" television show while he had a valid medical certificate showing he was unfit for work won his case for unlawful adverse action.

Common mistakes employers often make surrounding sick leave policies include:
Often employers specify that medical certificates will not be required for absences of up to one day (or sometimes more). This may limit their ability to challenge ongoing sick leave abuse where the employee is compliant with the policy. An employee only needs to provide evidence where their employer requires it.
Another common mistake is allowing staff to take sick leave without speaking to their manager directly. The manager will need to manage the absence and assess the validity of the sick leave claim and this is difficult to do without direct feedback. The manager can often assess whether evidence of illness is required.
Policies and contracts can assist employers to manage the type of evidence provided so that the expectation of a medical certificate is clear.
Related stories:
The ironic problem with HR's health issues
Should overweight staff be allowed to start work late?