Domino's Pizza is being investigated over alleged underpayment and forcing staff to do unpaid overtime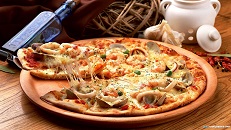 Domino's Pizza is being investigated by the Fairwork Ombudsman for allegedly underpaying staff.
Moreover, it is alleged that some workers were forced to do unpaid overtime, including claims delivery drivers and in-store employees are signing off at midnight, but still doing unpaid hours cleaning and closing up stores.
In a statement, the FWO said that in the past few months the FWO has conducted a number of site visits to Domino's outlets across the country.
These visits are continuing and as such it would be inappropriate to make further comment at this stage, the FWO said.
HC
contacted Domino's for comment and they said they welcomed the proactive auditing by the
Fair Work Ombudsman
, which complemented Domino's own comprehensive internal compliance program.
"Domino's has no tolerance for any franchisee failing to meet their obligations to their employees and is leading our industry in this effort," said the statement.
"The company has been developing and undertaking proactive internal audits for more than three years and continues to work collaboratively with the Ombudsman under our Proactive Compliance Deed, which includes a recommendation from the Ombudsman for a series of independent compliance activities."
The company added that they recognised the Fair Work Ombudsman has the benefit of additional regulatory powers, which complement our existing internal compliance activities.
"Domino's will take action against any franchisee found to be breaching their obligations, which can include terminating their sub-franchisee agreement and withholding back-payments for employees from the proceeds of any sale."
"Domino's will work with the Ombudsman to extend our existing proactive compliance deed, or to discuss a new agreement. "
Domino's voluntarily increased the rates paid to drivers in August and from 8th of January, all employees (instore and drivers) will be paid a 25% Sunday loading. A 10% Sunday surcharge will apply in all stores.
"The voluntary increase and surcharge were among a number of pricing models successfully tested with our customers, and agreed upon with our franchisees," said the statement.
"Over the past three years of self-compliance activities, Domino's has established that there is no connection between profitability and any breach of employment obligations. The behaviour does not discriminate based on earnings."
Related stories:
Burger bar boss faces further allegations of underpaying staff
Company penalised nearly $85,000 for underpaying employees
How Dominos served up a global HR framework