Jump to winners | Jump to methodology | View PDF
CHAMPIONS OF EMPLOYMENT LAW
The ongoing covid-19 pandemic in Australia has brought about increasingly complex challenges for employers to navigate over the past 12 months. From questions around the legality of mandatory COVID-19 vaccinations to changes prompted by class action lawsuits, Australia's legal landscape continues to be highly demanding for legal practitioners.
Employment law firms have been busier than ever and, as caseloads have increased for many firms, so has headcount. The winners of this year's 5-Star Employment Law Firms and Lawyers awards demonstrate the speed, skill and sophistication with which legal practitioners are operating to meet their clients' needs.
Main challenges in 2021
Although employers in 2020 were mostly reactive as they navigated the first wave of the pandemic, standdowns and the introduction of JobKeeper, the focus shifted to prevention in 2021.
By far, the most talked-about issue facing large employers has been the prospect of mandatory COVID-19 vaccinations and whether implementing such a policy would be a lawful and reasonable direction.
At the start of 2021, before the Delta variant was first detected in Australia, the case for implementing a mandatory vaccine policy seemed limited to only high-risk industries. However, the dramatic escalation of Sydney's outbreak in June turned that outlook on its head, and as the highly contagious nature of the Delta strain became apparent, employers began looking to vaccination as a key tool to operate safely.
Charles Power, a partner at Holding Redlich and a 5-Star Employment Lawyer, said what began as an occupational health and safety issue soon snowballed into other areas of the law.
"There are related concerns around meeting privacy obligations, anticipating the way that courts and tribunals will deal with the claims that are inevitably made by employees, as well as discrimination law and the requirements of the Therapeutic Goods Administration regarding incentivising vaccination," he says.
One of the key challenges for legal practitioners this year has been providing a sense of certainty in an uncertain environment, Power says. Grappling with complex public health orders and legislative changes, HR leaders have relied on their legal advisors to help navigate often unprecedented issues.
Luis Izzo, managing director at Australian Business Lawyers & Advisors, a 5-Star Employment Law Firm, agrees that clients have needed advice at a breakneck pace and in a larger volume than ever before.
"HR directors had to lean on their trusted advisor much more heavily and not just about legal compliance, but about what they should do, and simply to express their desperation," he says.
"We've been required to be a lot more proactive about getting information out there because there's just this thirst for knowledge and we almost felt compelled to provide it to the market."
Another trend Izzo has observed is a difference of opinion within businesses, particularly around contentious issues like mandatory vaccinations. Where previously clients tended to be aligned on how to tackle an issue, the pandemic has split decision makers and left HR leaders in a difficult position.
"More than ever, clients have come to us in distress or uncertainty over what they should be doing as a business," he says.
"The HR practitioners are often seeking a sanity check or a second opinion because they're facing internal conflicts."
The strong relationship between HR leaders and legal practitioners will continue into 2022 as businesses emerge from the pandemic and learn to operate with COVID in the community. What's more, as key decisions are due to be handed down by the High Court from early next year, the legal arena shows no sign of slowing down.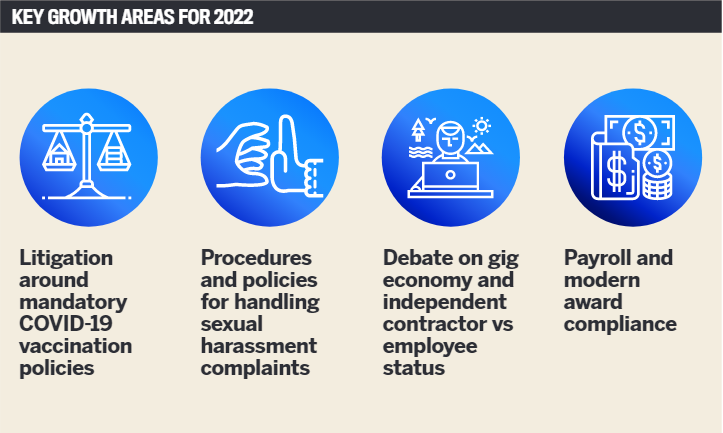 Workplace developments
The research conducted as part of the 2021 5-Star Employment Lawyers and Law Firms showcase pointed to several key growth areas. Across the board, respondents reported an increase in caseloads, particularly a spike in demand from clients in the retail, travel and hospitality industries.
One of the main growth areas highlighted was workplace health and safety, thanks to a greater responsibility on the part of employers.
"Businesses are much more attuned to their WHS obligations with respect to something that we probably didn't think was the employer's responsibility in the past, particularly within office environments," Izzo says.
"Already we're seeing regulators prosecute employers, and so all firms are advising that this is a matter employers have to take seriously."
In the same vein, the survey highlighted the rising importance of psychological safety. Izzo said the law requires employers to take more of an umbrella approach to safety, including new legislation to protect employees from sexual harassment and discrimination in the workplace.
The changes to the Fair Work Act brought about by the IR Omnibus Bill presented another major area of work this year. For the first time, the Act set out a legal definition of a casual employee and new requirements as to when casuals must be offered conversion to a full-time position. Introduced in response to several rulings on the entitlements of casual staff, Power said it was another area where employers sought clarity and certainty in the face of complex legislation.
"The casual employment amendments generated a lot of work for most of our clients as they tried to understand how they needed to respond."
Aside from COVID-19 and the legal ramifications of compulsory vaccination orders, survey respondents said the new laws around sexual harassment will be a key area of future growth.
As noted by the respondents, there has been an increased focus on prevention, as opposed to reaction, and a willingness to invest in more rigorous workplace investigations by independent parties.
Power echoed the sentiment, saying that harassment complaints can no longer be dealt with as and when they happen. The process in place for dealing with complaints of sexual harassment or discrimination must be truly effective to satisfy the requirements of the new legislation.
"More than ever, I think there is going to be a need to make sure that your policy and your procedures in this area do truly work," Power said.
Legislation around the gig economy and independent contractors was another focus this year that will continue to expand in 2022. The debate over whether workers for companies like Uber are employees or independent contractors has come to the fore, following similar legal challenges overseas.
Several key rulings are due to be published early next year that could change the way employers engage with contractors, sparking ramifications for businesses.
Additional growth areas highlighted by survey respondents included payroll compliance and the risk of underpayment claims. The changes to annualised salary agreements which came into force this year added further complexity to the issue of compliance.
Izzo said that previously, employers tended to have a "set and forget" attitude with regards to salaries, but the new rules require annual reviews and reconciliation to ensure that salaried employees are not losing out.
The enforcement of trade restraints in employment contracts is expected to be another major focus next year due to the war for talent being experienced in Australia and the temptation for employees to jump ship.
Furthermore, survey respondents said the federal election could bring additional changes to industrial relations legislation, and there is a potential increase in whistleblowing claims. Having been such an explosive issue already, claims of discrimination, unfair dismissal or privacy breaches surrounding mandatory vaccinations will also likely be tested in the second half of 2022.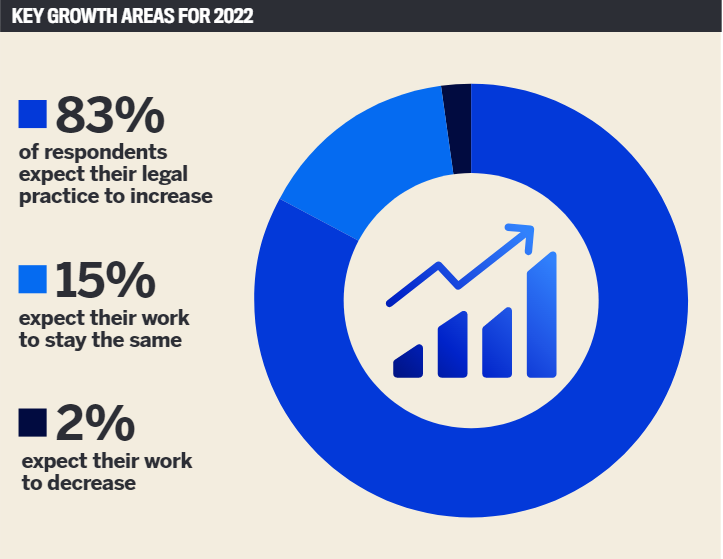 Bracing for another busy year
This year's 5-Star winners have cemented their relationships with clients over the past 12 months, playing the role of both trusted legal practitioner and an invaluable source of support. Navigating the changing legislation at speed, they have juggled soaring caseloads and the demands of working from home throughout lockdowns.
There's no doubt 2022 will be another bumper year for employment lawyers and law firms, and – with a federal election looming and the prospect of Australia reopening to the world – one that is expected to bring a new set of challenges.
Andrew Gray


Partner, King & Wood Mallesons

Anthony Longland
Employment Lawyer, Herbert Smith Freehills
Cilla Robinson


Partner, Clayton Utz

Charles Power


Partner, Holding Redlich

Chris Gardner


Partner, Seyfarth Shaw

Christa Lenard


Partner, Kingston Reid

Danny King


Principal, Danny King Legal

Dan Williams


Partner, MinterEllison

Darren Perry


Partner, Seyfarth Shaw

Fay Calderone


Partner, Hall & Wilcox

Jane Harvey
Partner, Ashurst
Jim Fox


Partner, MinterEllison

Kamal Farouque


Principal, Maurice Blackburn

Nicholas Linke


Partner, Dentons

Nick Stevens


Director, Stevens and Associates

Paul Brown


Principal, Baker McKenzie

Paul Burns
Partner, Corrs Chambers Westgarth
Paul Ronfeldt


Partner, Thomson Geer

Ruth Nocka


Partner, Dentons

Sandra Marks


General Counsel, Harmers Workplace Lawyers

Will Spargo


Partner, Lander & Rogers
The research team also spoke to hundreds of HR professionals nationwide by phone, asking them to rate the employment law firms and lawyers they had worked with over the previous 12 months. In addition, the team sought the opinions of employment lawyers themselves to find out which law firms they would recommend besides their own. At the end of the research period, the nominees that received the highest rankings in terms of work quality, specialist expertise and client service were declared 5‑Star Award winners in the field of employment law.