A lack of separation between work and home, and a never-ending pandemic has affected the best of us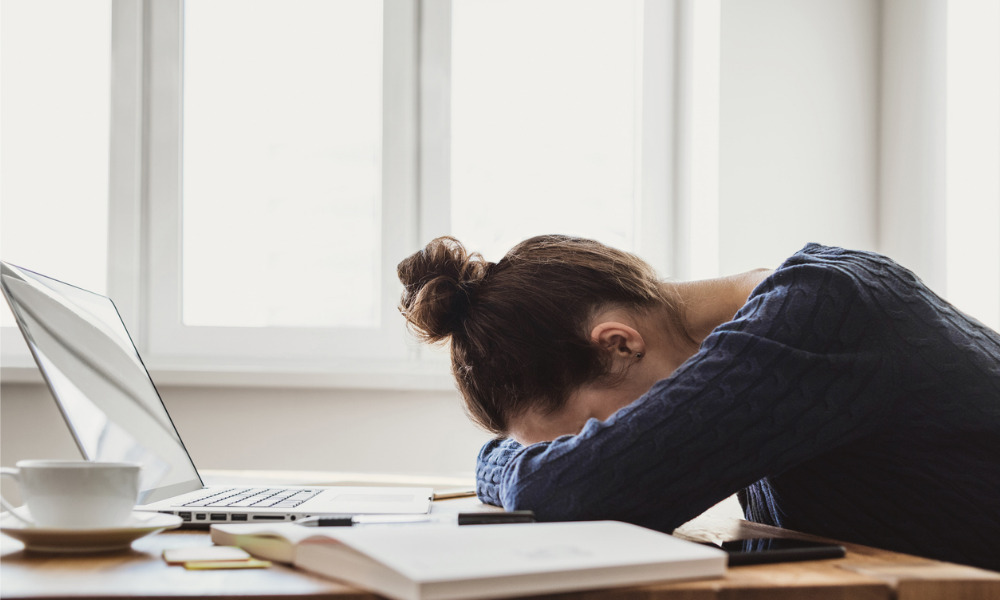 Some call it burnout, others call it 'languishing', which means you're spent but not quite empty. But exhaustion by any other name is just as tiring, so it's best to acknowledge what you're feeling and consider reaching out for help or at least to talk to someone about it. It's been a year of mandatory work-from-home and a year of going in and out of lockdown, so if you wake up feeling like you're in an exhausting loop, it's okay because others are probably feeling the same.
Yes, there have been countless advice articles sharing 10 ways to separate work from home and manage your well-being. However, when your workspace is in your home, even if you demarcate clear lines to create physical boundaries between the two, you'll always have a visual of your work setup and be constantly reminded of the looming deadlines.
It's even worse if your 'home office' is just your laptop propped up on the dining room table, where you have your meals and personal rest time. Either way, your mind may never truly 'switch off' from work, so how can you deal with the fatigue that sets in when you can't safely escape our current 'normal'?
Read more: Feeling low? 6 warning signs you're burning out
The impact of the pandemic on remote workers
The reality is many are feeling the same: one study found that more than seven in 10 professionals today are suffering from burnout. The biggest setback for workers is the lack of separation between their work and private life, according to findings from professional feedback platform Blind.
Even in the early days of the pandemic, 73% reported feeling exhausted for the following reasons:
No separation between work and life (27%)
Unmanageable workload (21%)
Job security concerns (19%)
Lack of support from manager (11%)
Lack of control over work (11%)
Another study found that as new assignments and workloads piled up as the pandemic wore on, one in four employees who took on additional responsibilities saw their stress levels skyrocket and felt the tendency to burn out.
What's more, since we're all working from home, work issues haven't been the main cause of higher stress levels. meQuilibrium, a technology firm that uses neuroscience and artificial intelligence to understand the phenomenon of resilience at work, found that those who took on extra duties at home have also been struggling through the crisis. About one in five employees had additional caregiving responsibilities, and these people saw a 16% jump in burnout, twice the increase in stress, and nearly twice the decrease in motivation.
Read more: Burnout raises your risk for this deadly heart condition
Can you avoid work-from-home fatigue?
Unfortunately, in our current virtual work environment, many are at risk of becoming part of those statistics whether they realise they're taking on more as remote workers or not. Like one HR leader told us it's easy to get carried away with work when everything's within reach. "There is this view from some people that I'm at home, I've got my schooling for my children, I've got elders in my house, I've got to do some cleaning, I've got to go shopping – and then they think that they have to be on email until 10pm," said Declan J Byrne, SVP of HR, APAC at DHL Supply Chain. "We're saying you don't have to do that. You just have to balance what you're doing and be very careful that you're not burning the candle at both ends.
"Sometimes it's very hard to get through to people because you're actually, like I am now, at your kitchen table and mentally, you just go, 'Well, what do I do next?' You're looking for something to do so there is a discipline to it." Byrne admitted that he's been guilty of 'overworking' himself on some days, but there are some habits you can keep up to avoid the dreaded exhaustion.
Read more: Even Zoom CEO now has Zoom fatigue
Consciously manage your schedule
This is an important step to take to avoid getting overwhelmed by work. When you're working from home, it's easy to mindlessly accept video meetings or set up a call every few hours. Avoid this and set your own boundaries to maintain a balanced workday that also considers your personal schedule, whether it's driving the kids to and from school or having a proper lunch break.
If, like Byrne, you manage an entire region with varying time zones, you can work the time differences to your advantage. "We've got 14 countries, so I've tried to maximise [my time] and manage Australia and New Zealand in the morning and then clock up time in India, which I do last in the day," he told HRD.
Block your calendar and take time off
Another leader, Ang Sze Pheng, director of HR for APAC at WWT goes a step further and blocks her calendar when she wants to take a break from work. "I will block my calendar for a run or even to spend time with family," she told HRD. "I will share it with the team openly and say that, 'Hey, I'm going for a run every other day, I've got it in my calendar, and you should do it as well."
She also shares with her team when she goes on holiday, for example a family staycation. She does all this to remind her teammates to take a break as well and to not feel obligated about being at work 365 days a year.
Read more: How to help remote workers manage work-life integration
Go outside and get fresh air
Another helpful habit is to go outside if you can. For Byrne, it's a daily walk. This could be a quick 10 or 15-minute walk during the day or in the evening, after you're done with work. Studies have shown that even a short walk can help you feel a little more energised and fresher at work.
Or you could engage in sports. Ang goes for regular runs near her house, while Byrne goes golfing every weekend. You could also make time to walk the dogs – this could be helpful to fix a daily schedule since your pets will get used to the routine and force you out of your chair.
"I mean we all have families so if you need to move away from your desk for a couple of hours, that is absolutely fine," Ang said. "We are all working it down. We are professionals. We should be able to manage our time as long as we are able to complete our projects on time. So, I think another part of keeping motivated is about accountability. And I strongly believe that accountability is not only for yourself – it is for the whole team, so build that accountability as a team."